Insurgents Strike in Chechnya, Dagestan, Ingushetia and Kabardino-Balkaria
Publication: Eurasia Daily Monitor Volume: 6 Issue: 171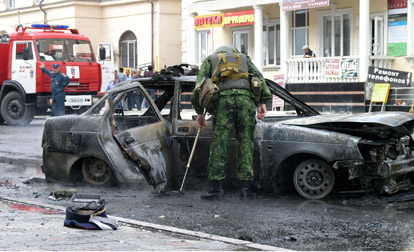 This week has seen little let up in the insurgent violence that has been on the rise across the North Caucasus for many months now.
Unidentified gunmen shot up a police car in the capital of Kabardino-Balkaria, Nalchik, on the evening of September 17, wounding one policeman (www.newsru.com, September 18). Also on September 17, two roadside bombs went off as a vehicle carrying a group of OMON special task police officers was driving by in the village of Ordzhonikidzevskaya in Ingushetia's Sunzha district, wounding two police officers. The explosive devices were detonated remotely.
In Dagestan, a militant was killed and an interior ministry serviceman was wounded in a shootout in the republican capital Makhachkala on September 17 (RIA Novosti, September 17). Police in Makhachkala said that a small camp which militants had been using as a base was discovered on a mountain slope on the outskirts of Makhachkala and that four kilograms of an ammonia nitrate-based explosive were found at the camp (Interfax, September 17).
In Chechnya, a booby-trap mine wounded a Russian army soldier on September 16 as he and his unit were searching for militants in a wooded mountainous area two kilometers outside the village of Ulus-Kert in the republic's Shatoi district (RIA Novosti, September 17). Meanwhile, interior ministry forces in Chechnya detained two suspected militants, including a Gudermes native who was wearing battle fatigues and carrying two grenades as well as an improvised explosive device (Interfax, September 17).
Also on September 16, two policemen and up to six civilians were injured when a female suicide bomber blew herself up on the newly-restored Putin Street in the Chechen capital, Grozny. A spokeswoman for the local investigative committee told Agence France-Presse that the early morning blast was caused by a "middle-aged, female suicide bomber" who approached a police car. Russian news agencies reported that the bomber's head and other body parts were found at the scene of the bombing (AFP, September 16).
A Chechen interior ministry serviceman was killed in a shootout with rebels in the village of Eshelkhatoi in Chechnya's Vedeno district on September 15. Dragan Dinaev, a militant described as "one of the ideologists of the armed underground," was also killed in that shootout. Local authorities claimed that Dinaev, along with "Arab instructors," had been training and dispatching suicide bombers. Also on September 15, a serviceman with a Russian army special unit was shot and wounded by a group of around five rebel fighters estimated while he and his unit were searching for militants in a wooded area near the village of Selmentauzen in Chechnya's Vedeno district (www.kavkaz-uzel.ru, September 16).
There were also fresh incidents of apparent government-sponsored counter-violence in the region this week. Kavkazsky Uzel quoted residents of the village of Khattuni in Chechnya's mountainous Vedeno district as saying that a local man had been abducted during a large scale zachistka security sweep in the village on September 14. The website quoted local residents as saying the kidnapping victim -a young man with the surname Sheripov and who is called "Bashit" by his friends- was taken away, because local siloviki do not like him, but that neither he nor his relatives have any links to Chechnya's insurgents.
Kavkazsky Uzel reported that according to the Memorial human rights group, the number of people abducted in Chechnya has grown sharply this year compared to 2008. Memorial reported that 76 people were kidnapped during the first half of this year, and that 57 of them were subsequently freed, four were later found dead, 12 disappeared and three remain in custody on suspicion of having committed crimes. According to Memorial, only 28 people were abducted in Chechnya during the first half of 2008 (www.kavkaz-uzel.ru, September 15).
Meanwhile, Chechen President Ramzan Kadyrov said a newspaper interview published earlier this week that when he resigns as the republic's president he would like to give lectures on Wahhabism, extremism and war. "The problem of Wahhabism is a problem for the whole of Russia," Kadyrov told Komsomolskaya Pravda on September 15. "To put an end to Wahhabis in the North Caucasus, we need to cooperate not only with Dagestan, Ingushetia and other 'local' republics. There are Wahhabis in Tatarstan, in Moscow, but they are keeping quiet," he continued.
Kadyrov told the newspaper that he will step down as Chechen leader in about five years, when life in the republic returns to "normal." He also said that he has driven Chechnya's rebels "into a corner" and will soon "finish them off" (Komsomolskaya Pravda, September 15; RIA Novosti, September 16). Over the past several years, Kadyrov has repeatedly predicted the rebels' imminent defeat.