Interaction with Turkish Air Forces Boosts Azerbaijan's Air-Combat Capability
Publication: Eurasia Daily Monitor Volume: 14 Issue: 137
By: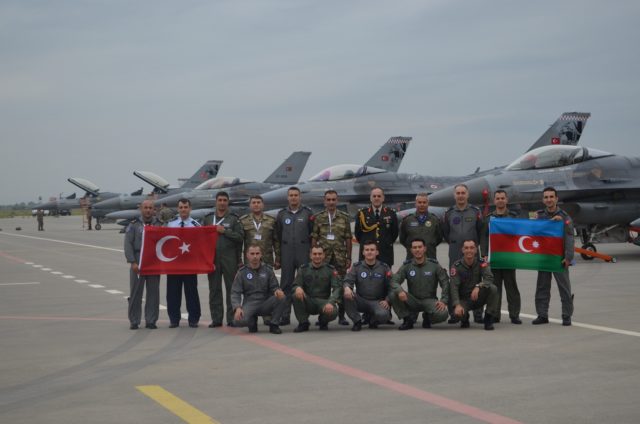 The Azerbaijani and Turkish Air Forces conducted joint flight-tactical exercises in Azerbaijan, on September 18–30, with the involvement of combat/transport aircraft and helicopters. Such systematic joint exercises help foster greater interoperability and exchange of experience between the two air forces. Additionally, these drills improve the practical skills of pilots for joint coordination and execution of conventional combat operations (Mod.gov.az, September 14, 29). Through years of joint exercises with its Turkish ally, Azerbaijan has been updating the air force's combat readiness tactics as well as adapting its airbases to contemporary standards, such as with the latest landing-departure methods and the application of instrument landing systems (ILS) (Azeridefence.com, March 22, 2016; Minval.az, September 26, 2017). Although, Azerbaijani pilots mainly train at the Azerbaijan Higher Military Aviation School, many also attend courses in Turkey (Azvision.az, February 14, 2013).
The two countries first established extensive military cooperation in multiple areas in the 1990s (Mfa.gov.az, accessed October 18). But Azerbaijani-Turkish military relations only shifted from the technical to the strategic level following the signing of the Strategic Partnership and Mutual Assistance Agreement (SPMA) in 2010 (YouTube, December 9, 2014), just days before Moscow and Yerevan signed an accord prolonging Russia's use of its military base in Armenia. Arguably, the SPMA, at least in part, sought to neutralize Armenia's tightening military cooperation with Russia (see EDM, July 29, 2013). The SPMA, which legally codifies bilateral military interaction, stipulates a reciprocal security commitment if one of the sides suffers an external armed attack. The document does not, however, authorize immediate military intervention without consultations, nor does it stipulate the creation of a Turkish military base in Azerbaijan (EurasiaNet, January 18, 2011). The reorganization of Turkey's Ministry of Defense and the General Staff after the military coup in 2016, which included the discharge of a number of high-ranking military personnel and Turkish Air Force pilots (Turkeyanalyst.org, September 26), did not radically affect the pragmatic and close cooperation between the two allies. 
Azerbaijan's Armed Forces regularly participate in joint bilateral (Turkey), trilateral (Turkey, Georgia) as well as multinational (Turkey, other countries) military exercises, with the involvement of artillery, air defense and air force units. These drills are important for improving joint headquarters planning, combat-readiness and battlefield capabilities, the coordination/coherence of military units/troops in mutual interactions, as well as the operational skills of pilots for reciprocal actions. Joint exercises also serve to achieve headquarters-troop interoperability and better operational command-and-control preparedness (Mod.gov.az, accessed October 23; Hurriyetdailynews.com, May 31, 2016; Azernews.az, June 6, 2016; News.az, May 16, 2016; Azeridefence.com, June 20, 2016, June 9, 2017). Although, Baku's cooperation with Ankara within the framework of the Azerbaijan-Georgia-Turkey triangle has an important military dimension (CACI Analyst, July 24), the three countries have never conducted trilateral joint flight-tactical exercises. Whereas, thanks to regular military courses conducted by Turkey, Azerbaijani officers study comprehensive approaches to air operations/control and staff/unit management (Mod.gov.az, March 7, 2015).
Notwithstanding the intensity of Azerbaijani-Turkish joint air forces interaction, however, Baku generally chooses to conduct Air Defense Forces exercises separately or with limited Turkish involvement (Mod.gov.az, accessed on October 25). Baku does seek Turkish experience to boost its strike capabilities, but Azerbaijan's capacity for aerial surveillance and small-scale air attack is largely supported by either Israeli-made or domestically produced unmanned aerial vehicles (UAV) (see EDM, September 25). This was highlighted during the so-called "four days war" in Karabakh (April 2016), when Azerbaijan mainly relied on drones to counter Armenia's offensive, as its manned air assets (particularly Mi-24 helicopters) proved vulnerable to being shot down by Armenian forces (Vestnik Kavkaza, April 11, 2016). Combined with Turkish-supplied Hurricane and Sakarya multiple-rocket-launch systems (MRLS) (Novosti.az, September 21, 2016), UAVs are increasingly playing an important complementary role to Azerbaijan's air-defense/assault system. At the same time, Azerbaijan became the first foreign buyer of Turkish Aselsan's and Harp Arge's high-speed electromagnetic-interference anti-drone systems. Additionally, Baku has expressed interest in purchasing Turkey's T-219-ATAK combat helicopters (Azeridefence.com, March 22, 2016; March 13, October 13, 2017). Finally, Turkey has helped Azerbaijan modernize its air force's centralized management system (Maxe.az, September 25), and there are ongoing negotiations with Turkish companies to construct a new airbase in Pirsaat, Azerbaijan (Azeridefence.com, March 22, 2016).
To date, Azerbaijan has not permitted the creation of any Turkish military bases on its territory. Nor has Turkey ever voiced a desire to establish a common air-defense system with Azerbaijan, similar to the "Combined Regional Air-Defense System" agreed between Russia and Armenia (TASS, December 23, 2015; Rbth.com, October 12, 2016).
Last year, speculation swirled about the alleged establishment of a Turkish military base in Azerbaijan, following a decree signed in July 2016 by the Azerbaijani president authorizing Turkish Armed Forces to use the Gyzyl Sharg military camp and a terminal at the Haji Zeynalabdin airbase (located just outside Baku). These rumors were dismissed by Azerbaijan's defense ministry, however, which clarified that the dedicated terminal was being used to transport Azerbaijani peacekeeping servicemen by Turkish aircraft, to temporarily accommodate Turkish pilots, and for technical maintenance of their planes; the facility was handed back to Azerbaijan afterward (President.az, Azertag.az, TASS, July 20, 2016). Turkish military personnel had already used the base on previous occasions in a limited capacity, but the new decree is supposed to strengthen the diplomatic status accorded to the specific terminal and auxiliary buildings there used by Turkey (Kavkazsky Uzel, July 23, 2016).
Amidst Turkish-Russian negotiations on Ankara's purchase of the Russian S-400 air-defense system, both Azerbaijani and Armenian commentators rushed to suggest that these advanced surface-to-air missile (SAM) complexes might at some point be deployed to the autonomous Azerbaijani exclave of Nakhchivan, which shares a border with both Turkey and Armenia, to protect against Armenian ballistic missile strikes (Inosmi.ru, August 2; Voicepress.az, August 3). Armenia is sensitive about any indications that Turkey might establish a military base in Azerbaijan—especially in the Nakhchivan region, which maintains firm military ties with Turkey through joint military exercises and consultations (Haqqin.az, May 13).
Azerbaijan's current Military Doctrine expressly excludes the installation of foreign military bases on its territory, except in cases stipulated by Baku's international treaties or in the event of a fundamental change in the regional military-political situation (Anl.az, June 8, 2010). Nevertheless, it remains to be seen whether, in case of a large-scale military confrontation with Armenia, Baku would (in accordance with the SPMA) allow Turkish military personnel to access bases on its territory or whether Azerbaijan could count on visiting Turkish aircraft to help repulse an Armenian military offensive. Although Baku retains the sovereign right to allow it, the emergence of a military base for a North Atlantic Treaty Organization (NATO) member state inside Azerbaijan would undoubtedly trigger a sharp reaction from several neighboring countries.