Interest Surging in Azerbaijani Gas
Publication: Eurasia Daily Monitor Volume: 7 Issue: 127
By: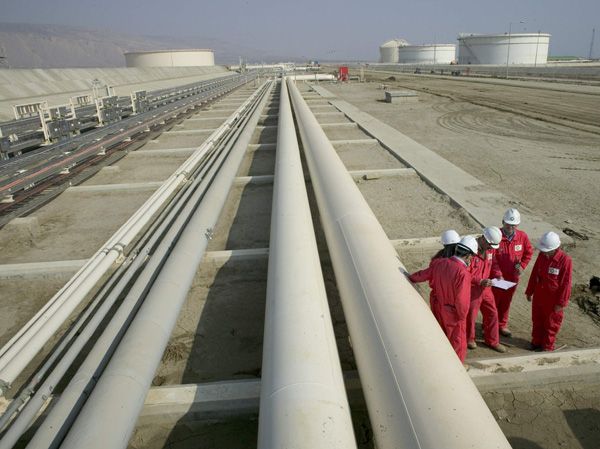 Demand for Azerbaijani natural gas is surging, with potential buyers scrambling to Baku. The gas transit agreements, signed by Azerbaijan and Turkey on June 7, have opened prospects for unimpeded transportation of Azeri gas to consumer countries via Georgia and Turkey. These agreements, and consequent buyers' rush to Baku, enhance Azerbaijan's and Georgia's role in gas supply and transit, respectively. Moreover, a reliable gas transportation regime in Turkey, once finalized, would open a floodgate for Turkmen gas via the Azerbaijan-Georgia-Turkey corridor to Europe.
While the Nabucco project tops the list of Azerbaijan's priorities, Baku is considering the full range of available transportation options and gas field development projects.
On June 29, Gaz de France CEO, Jean-Francois Cirelli, initiated discussions in Baku on possible purchases of gas from the Shah Deniz offshore field's production phase two. Gaz de France is interested in diversifying its import portfolio, while North Sea gas production (source of some 40 percent of this company's existing imports) tends to decline (www.news.az, June 29).
French companies are also restarting the Apsheron offshore gas project, suspended since 2005. Azerbaijan's State Oil Company (SOCAR), Total of France, and Gaz de France hold stakes of 40 percent, 40 percent, and 20 percent, respectively, in the Apsheron project. Gaz de France, a recent entrant, purchased its stake from Total. Azerbaijan's parliament ratified a production sharing agreement for Apsheron in 2009, with exploration drilling scheduled to start in September, targeting a reservoir 7,100 to 7,200 meters under the seabed. Proven reserves are 300 billion cubic meters (bcm) of gas and 45 million tons of gas condensate, but the exploration drilling is expected to reveal larger volumes (Trend, June 29).
Switzerland's Elektrizitaetsgesellschaft Laufenburg (EGL) has opened a representation in Baku. EGL is interested in Azeri gas to supply its power-generating plants. It is also involved in the Trans-Adriatic Pipeline (TAP) project, itself a segment of the Turkey-Greece-Italy Interconnector (ITGI), which could carry Azeri gas to Europe. The head of Switzerland's Energy Agency, Walter Steinmann, is cited as proposing that SOCAR should join the TAP project. Within the same project, the Italian Edison power-generating company hopes for an agreement this year on the purchase price of Azerbaijani gas (www.news.az, June 24, 29; Hurriyet Daily News, June 30).
ITGI and TAP, alongside Nabucco and White Stream, are components of the EU-planned Southern Corridor to Europe. ITGI and TAP, however, could derail Nabucco, if built before such time as Turkmen gas becomes available in sufficient volumes to support all these transportation projects. In Baku, top officials take the position that Azerbaijan fully supports the Southern Corridor, assigns top priority to Nabucco, but would consider all possible routes within it, as a hedge against possible delays to the Nabucco project (www.news.az, June 29).
The Nabucco consortium relies heavily on Azeri gas for the project's first stage. Managing Director, Reinhard Mitschek, has hailed the Turkey-Azerbaijan gas transit agreement for the impetus it lends to the Nabucco project. According to Mitschek in Baku, that agreement's signing increases the chances of Nabucco materializing by 2014 (www.news.az, June 23).
Along the Nabucco route, the Bulgarian government has elevated Nabucco to top policy priority while suspending the Russian rival project South Stream. Even President, Georgi Parvanov, who criticizes some aspects of the government's energy policies, prioritizes Nabucco while also considering other options for Bulgarian access to Azeri gas. On June 29-30 in Baku, Parvanov discussed with President, Ilham Aliyev, modalities of gas transportation from Azerbaijan via Georgia and Turkey to Bulgaria. A volume of 1 bcm per year is envisaged for 2011 and afterward, before the Nabucco pipeline becomes operational. Both sides reaffirmed the priority status of Nabucco and called for its implementation on schedule. First discussed during Aliyev's November 2009 visit to Bulgaria, the delivery of Azeri gas to Bulgaria looks more attractive in the wake of the Turkish transit agreement. Sofia proposes a meeting of the three state companies to coordinate the modalities (BGNES [Sofia], 24 Hours [Sofia], www.news.az, June 30, July 1).
Outside the European Southern Corridor's framework, Bulgaria and Romania have each signed agreements of intent with Azerbaijan on possible supplies of compressed natural gas (CNG) and liquefied natural gas (LNG), respectively. Georgia is a party to each of these agreements as a transit country. Trilateral working groups, one for CNG and another for LNG, have begun drafting feasibility studies. Although these options' cost-effectiveness is being questioned, the ongoing inter-governmental discussions reflect strong demand for Azeri gas, as part of supply diversification to reduce dependence on Gazprom in these countries.