Irakli Garibashvili Named as Georgia's Next Prime Minister
Publication: Eurasia Daily Monitor Volume: 10 Issue: 197
By: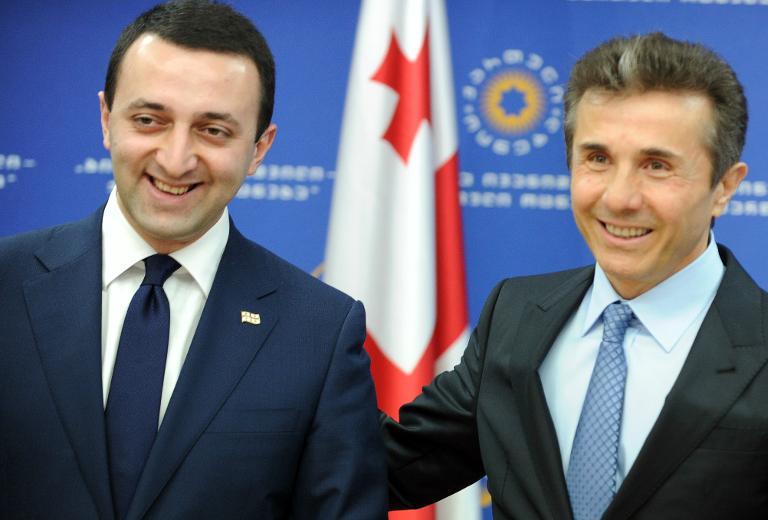 On November 2, outgoing Georgian prime minister and multi-billionaire Bidzina Ivanishvili named his protégé, 31-year-old Minister of Interior Irakli Garibashvili, as his successor when he voluntarily steps down as head of government following the November 17 presidential inauguration (Channel 1; Rustavi 2 TV, November 2). The office of prime minister becomes the most powerful position in the country as Georgia enacts its new constitution, which, following November 17, turns the country into a parliamentary rather than a presidential republic. Although, Garibashvili's nomination did not come as a shock to many, his nomination still causes alarm and points to a troubling trend that is emerging in Georgian politics.
Garibashvili's educational background is notable. After studying International Relations and Law at Georgia's Tbilisi State University, he graduated from Pantheon-Sorbonne University (also known as "Paris 1") (civil.ge, November 2). Moreover, he speaks Georgian, English, French and Russian (netgazet.ge, November 2). However, trouble lies elsewhere.
Besides his particularly young age, Garibashvili lacks meaningful political experience to navigate the treacherous world of politics and effectively lead Georgia, a country besieged by staggering political and socioeconomic problems. To date, Garibashvili's experience in politics has been limited at best. He spent his entire eight-year-long career working for entities affiliated with Ivanishvili and his family. He served as a personal assistant to Ivanishvili in 2005–2008 and then as a director of Ivanishvili's private company Georgian Dream, LLC in 2009–2012 (civil.ge, November 2). An exception was his one-year internship at the parliamentary committee for foreign affairs (civil.ge, November 2). Garibashvili moved into politics only when Ivanishvili did in 2011 and served as the minister of interior since 2012, after the Georgian Dream (GD) coalition won that year's parliamentary election (news.ge, November 2). Moreover, Garibashvili lacks his own political power base—the GD party notwithstanding, which largely submits to Ivanishvili's direct control.
The next prime minister's youth, shortage of political experience and lack of a political base are serious shortcomings for Garibashvili and Georgia, but seemingly not for Ivanishvili. All these, in fact, play perfectly well into Ivanishvili's hands. Above all, Garibashvili will always find himself dependent on his patron, Ivanishvili, for whom he loyally worked as a private employee for years. Garibashvili, in fact, is the best candidate for Ivanishvili as his political weakness and dependency will enable Georgia's richest man to rule the country from behind the scenes without taking any political or personal responsibility if things go wrong. The fact that Ivanishvili nominated his loyal former personal assistant and company director for the post of prime minister also reveals Ivanishvili to be a customary businessman who views the state as a business-like entity, which can be ruled through appointed loyal cadres and, even more so, from behind the scenes.
As Ivanishvili steps down in couple of weeks, he is ideally positioning himself to control not only Garibashvili, but the entire country from the shadows—a charge often made against him, though one he and his team have repeatedly denied (civil.ge, September 13; tabula.ge, October 21). Ivanishvili now completely dominates the Georgian political system. Similarly to Garibashvili, Ivanishvili leaves his loyal protégé Giorgi Margvelashvili as president of the country—the latter won the October 27 election (civil.ge, October 28) thanks to Ivanishvili's popular support (see EDM, July 26). Just like Garibashvili, Margvelashvili was also plucked from obscurity by Ivanishvili and therefore owes his rise to power to the GD leader. Without Ivanishvili's backing, both Margvelashvili and Garibashvili would find it extremely difficult, if not impossible, to occupy the offices that they will take up soon. Moreover, Ivanishvili continues to control parliament through his GD party, preventing any meaningful challenge to his political order from the legislature.
In fact, Georgia now represents a case of state capture by a single wealthy individual (see EDM, March 8), who skillfully capitalized on massive public disappointment against the incumbent regime, defeated it in elections, took power, manned the new regime with his loyalists, and receded backstage from where he chooses to rule the country.
However, Ivanishvili may not be leaving Georgia in entirely safe hands. Although, the incumbent prime minister lavished Garibashvili with praises for depoliticizing Georgian police while serving as interior minister (Channel 1, November 2), Garibashvili's record in this post is already tainted by extensive nepotism. Soon after he began heading the Ministry of Interior, Garibashvili's wife and sister-in-law were handed high-ranking positions at various ministries. However, he did not stop there. He appointed the nephew of his father-in-law as the head of the General Inspection at the interior ministry. Other relatives were also given a variety of jobs at different agencies. When a journalist asked him if he felt any uneasiness for handing various government jobs to his family members, he responded without hesitation that he does not consider his wife's relatives to be members of his own family (pirweli.com.ge, frontnews.ge, March 18; see EDM, April 24).
Georgia's October 27 presidential election did not leave much ground for optimism either. Although, GD candidate Margvelashvili won with 62.12 percent of votes, over 53 percent of voters did not turn out at the polls (https://www.results.cec.gov.ge/), a fact that points to the growing political apathy and public disappointment in the country. Another problem is that the GD-led government does not have a strong political opposition. Public disappointment with the ruling GD coalition did not translate into a resurgence of support for outgoing President Mikheil Saakashvili's United National Movement (UNM). In fact, UNM candidate Davit Bakradze came in a distant second, garnering only 21.72 percent of votes (https://www.results.cec.gov.ge/), just over half of the 40.34 percent that UNM received in last year's parliamentary election (https://results2012.cec.gov.ge/). This fact once again indicates that UNM continues to be in a more serious crisis than its leaders and supporters are ready to admit. The party is rapidly losing its base of popular support and, subsequently, the status of a viable opposition.
Georgia's political system is now entering a new and uncertain stage. As of mid-November, the country will formally will be ruled by two politically inexperienced virtual unknowns—overshadowed by Georgia's richest man, who claims to be giving up power, but will most likely be ruling from behind the scenes. Moreover, as long as the opposition remains weak, it is unclear what political force will emerge to check Georgia's new power alignment dominated by a single individual.