Tiananmen Attack: Global, Local or Both
Publication: Eurasia Daily Monitor Volume: 10 Issue: 197
By: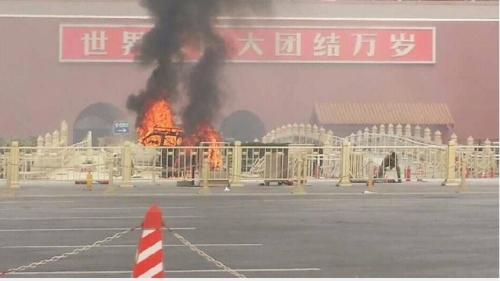 On October 23, in Beijing, a driver crashed his Jeep into a gate in Tiananmen Square, setting off an explosion that killed two foreign tourists, the driver and his two passengers, who were his wife and mother. It also injured 40 other people.
Within one week, Chinese police announced that the driver and his family were Uighurs from Xinjiang Province and that the "suicide attack" was "carefully planned, organized and premeditated" (South China Morning Post [SCMP], October 31). The police also reported that five suspects, who were all Uighurs from Xinjiang's Hotan Prefecture, had confessed to plotting the "suicide attack" and that "jihad banners" and long knives were found in residence of one of the suspects (AFP, October 31). On November 2, Meng Jianzhu, the head of the Communist Party's Central Politics and Law Commission, added from the sidelines of a Shanghai Cooperation Organization (SCO) meeting in Uzbekistan that "the group behind [the attack] was the East Turkestan Islamic Movement [ETIM], which is entrenched in central and western Asia" (SCMP, November 2).
China's initial censorship of news coverage of the incident and details about the incident led Uighur organizations in the United States, Turkey and elsewhere to question the government's narrative. These organizations pointed out the unusual circumstance of a mother and wife taking part in what Beijing described as a "jihadist" attack. The World Uyghur Congress also warned that "Uighurs in East Turkestan and across China are about to enter into a period of unprecedented repression in the wake of the car crash" (World Uyghur Congress press release, November 1).
Circumstantial evidence suggests the attack was likely a suicide operation. The explosion that detonated after the car rammed into the gate, for example, was large enough to kill all three passengers. It appears that the driver rammed into the gate in a deliberate attack at a chosen symbolic location, and is reported to have had "devices filled with gasoline" in his car (CCTV News, November 1). The layout of Tiananmen Square would also have prevented the driver from gaining enough momentum to kill himself and the two passengers solely on impact.
Suicide operations are also not unprecedented for Uighur militants or Uighurs with local grievances who have carried out attacks in Xinjiang. In 2011, two Uighurs in Aksu, Xinjiang, drove an explosive-laden electric tricycle cart into a crowd of policemen who worked at a station that had a reputation for providing "political education" to Uighurs with long beards and women with headscarves (Reuters, August 25, 2012; al-Jazeera, August 20, 2010). The blast killed eight and wounded 15 others. In addition, the 300–500-member Turkistan Islamic Party (TIP), a Uighur-led militant group based in Pakistan, claimed responsibility for a motorcycle-borne suicide attack in Yecheng, Xinjiang, near the Pakistani border, which killed 21 border guards on October 1, 2012 (Islamic Turkistan, March; Radio Free Asia, October 12, 2012).
If the Uighurs who carried out the attack in Beijing intended to avenge what some Uighurs consider to be Chinese "occupation" of Xinjiang, then the question arises whether the driver and his family were connected to the TIP (which the Chinese often refers to as "ETIM"). The TIP has verifiably claimed only one attack in Xinjiang, which was on July 30, 2011, when a car bomb detonated on a pedestrian street frequented by Han Chinese in Kashgar. Shortly after, two Uighur men who hijacked a truck and killed its driver rammed the vehicle into a group of pedestrians and stabbed them, killing about ten people. In August 2011, the TIP showed one of the attackers, who was killed by Xinjiang police in a corn field days after the attack, training at a camp in Pakistan with other fighters (Times of India, September 8, 2011).
Yet, most violence between Uighurs and Hans—or Uighurs and Uighur policemen who work for the government—are not claimed by the TIP, nor have they been proven to have any connection with outside militant groups, despite Chinese claims. Chinese officials attribute violence in Xinjiang to outside interference, such as Uighur militants in Pakistan, Turkey and Syria. While outside groups have not been clearly linked to specific attacks, Xinjiang today is more connected to the outside world than ever before, as a result of expanded trade routes from the region into Pakistan, Afghanistan and Central Asia. It is likely that Uighurs with grievances like those articulated by the TIP may learn methods from international jihadists to draw attention to the situation in Xinjiang.
Similarly, the TIP may increasingly be claiming or praising attacks that international jihadists inspire, but do not command. For example, TIP leader Abdullah Mansur praised an April 23 incident in Kashgar, in which 21 people were killed after police uncovered a group of Uighurs making explosives and who were in possession of "jihadist propaganda" (China Daily, April 30). Mansour said in a Uighur-language video statement that "the jihad operation" was a response to "Chinese Communists" killing and imprisoning Islamic teachers and scholars, the "domination" of Uighurs by Chinese culture, and the banning of Islamic headscarves for women and beards for men (Sawt al-Islam, June 27).
An early assessment of the attack in Beijing suggests that it may have been a "glocal attack"—inspired by local grievances but employing methods of violence that come from abroad. The attack is significant because it is the first time Uighur militants—whether internationally connected or not—have carried out an attack outside of Xinjiang, and in the heart of the Chinese government. The attack will increase the mistrust felt by majority Han Chinese toward Uighurs, regardless the facts of the case, as news of the official storyline spreads in social networks and government media. A likely tightening of Chinese policies in Xinjiang, which some Uighurs reject and the Han increasingly support, will likely lead to a continued cycle of violence that reflects both local grievances and international trends in militancy.