Iran Ramps Up Support to Taliban in Western Afghanistan
Publication: Terrorism Monitor Volume: 16 Issue: 15
By: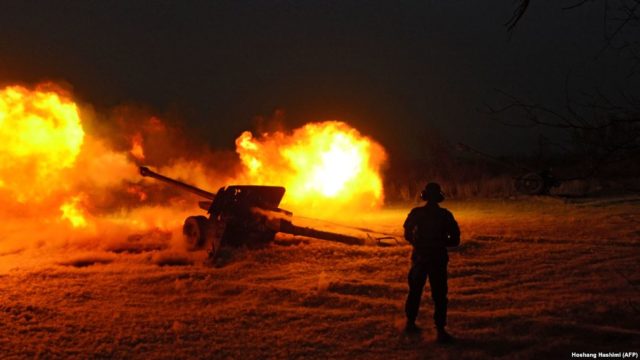 During an official visit to Iran in May, Tariq Shah Bahrami, Afghanistan's defense minister, received assurances that Tehran was fully committed to helping Kabul fight terrorism. It was a welcome guarantee, coming as Afghan forces faced a fresh onslaught from the Taliban, which typically mounts an annual offensive in April. Within months, however, the promise appeared to ring hollow as Afghan officials increasingly blamed Iran for the fighting in Afghanistan's western Farah province.
A Common Enemy
Speaking after his meeting with Bahrami on May 13, Iranian Army Chief of Staff Mohammad Hossein Baqeri declared that Tehran and Kabul shared a common purpose.
"The shared backgrounds between the two countries of Iran and Afghanistan, including religion and language, have brought them together in such a way that no obstacle can undermine their close relations, especially in combatting the terrorist groups," he said (Khaama Press, May 13).
However, as Bahrami gathered assurances and pledges of support from the clerical regime's senior officials in Tehran, a battle was brewing along the nearly 1,000 kilometer-long border between the countries. Hundreds, perhaps thousands of Taliban fighters descended on the western city of Farah, which serves as the capital of the rural Farah province.
Heavily armed Taliban fighters breached Farah's defenses in the early hours of May 15. By mid-day, they had overrun large swathes of the town, torched several government building and killed and captured government soldiers, policemen and pro-government militia members.
"The incompetent defense minister, the head of the Directorate of National Security [the Afghan secret service] and Mr. President, the residents of Farah are utterly disappointed with you because we were nearly overrun by Iranian and Pakistani spies," said Humayon Shahzada, a militia member who fought in the battle  (Tolo News, May 15).
In Kabul, Afghan interior ministry spokesman Najib Danish was more diplomatic. "What happened today has foreign links but it's still not clear which country is involved," he said.
The clashes continued well into the following day, even after Afghan officials claimed to have repulsed the Taliban attack by sending in special forces troops and calling on NATO airpower.
Iranian Influence
Provincial Governor Abdul Basir Salangi claimed that more than 300 Taliban fighters were killed in the fighting, but local lawmakers, residents, and security officials said that Taliban fighters emerged from hiding to mount a fresh attack on Afghan security forces late on May 16 (Gandhara RFE/RL, May 17). Most officials, however, pointed to a foreign hand orchestrating the fighting, and many believe that lying behind this violence is not ideology but control of local resources.
"The construction of the Bakhshabad dam in Farah and the construction of 'golden lines' such as the TAPI [the Turkmenistan-Afghanistan-Pakistan-India] gas pipeline that goes through three Farah districts are not acceptable to our neighbor," Governor Salangi told journalists, in what was a clear reference to Iran (Tolo News, May 16).
A provincial police chief, Fazel Ahmad Sherzad, was more explicit. "Iran directly interferes … insecurity in Farah is in the interest of Iran … Iran is fully funding and equipping the Taliban in Farah," he said (1TV News, May 16).
Senior Afghan officials, as well as General John Nicholson, the top U.S. and NATO commander in Afghanistan, appear to back these assertions coming from Farah. During a May 19 visit to the province, Afghan interior and defense ministers, the Afghan spy chief and General Nicholson listened to angry local leaders who demanded accountability and blamed Iran for the attacks. Last year, senior Afghan military officials claimed to have evidence that Iran was providing weapons to the Taliban in western provinces bordering Iran.
Water War
Without naming Iran, Defense Minister Bahrami made it absolutely clear that Kabul sees Tehran behind the unrest. "Farah's war is an absolute and a precise war over water management," he said. "Since Salma dam completion [in the neighboring Herat Province], and an early work launch on Bakhshabad dam, we have been in this hostility, but it is our right to manage our water," Bahrami emphasized (Pajhwok News, May 20).
Water appears to be one of the factors prompting Tehran's Shia clerical regime to now support Afghanistan's hardline Sunni Taliban movement, despite nearly going to war against it in the 1990s.
"We cannot remain indifferent to the issue [water dams], which is apparently damaging our environment," Iranian President Hassan Rouhani declared last year. "Construction of several dams in Afghanistan, such as Kajaki, Kamal Khan, Salma, and others in the north and south of Afghanistan, affect our Khorasan and Sistan-Baluchistan provinces," he said (Gandhara RFE/RL, July 31, 2017).
Back in late 2001, Tehran had welcomed and supported the U.S.-led military operation that toppled the Taliban regime. As most NATO troops withdrew from Afghanistan in late 2014, Tehran recalibrated its approach and began extending covert support to the Taliban. The emergence of Islamic State (IS) militants in Afghanistan in 2015 cemented this alliance to an extent that the Taliban leader, Akhtar Mohammad Mansur, was killed in a U.S. airstrike in southwestern Pakistan in May 2016, as he returned from visiting Iran.
Mansur had publicly warned IS against operating in Afghanistan in 2015. It is not a coincidence that IS was never able to establish a foothold in Afghan provinces bordering Iran. Later that year, Mohammad Reza Behrami, Iran's envoy in Kabul, acknowledged that Tehran maintains contacts with the Taliban but insisted that the two do not have a "real relationship" (Tasnim News Agency, December 20, 2016).
In a May 19 interview with Afghanistan's private Ariana News TV, Behrami acknowledged that Tehran has contacts with the Taliban but rejected that his country supported the fighting in Farah. "In general, we oppose the [United States'] presence in any of the Islamic countries. It has been clear and we have already announced it," he said (Ayrana News, May 19). "Regarding Afghanistan, we respect the decisions taken by Afghanistan officials. We have reached an agreement with Afghan authorities that our respective territory will not be used against each other."
He insisted that all of Tehran's contacts with the Taliban are aimed at supporting Kabul's efforts to negotiate peace with the insurgents. "All regional countries have such contacts [with the Taliban] … No country has severed this contact. It is because all of us want to play a positive and constructive role … But a few points should be adhered to in the efforts [to bring the Taliban to the negotiating table]. First, the government of Afghanistan is the main pivot. [Second], government-to-government ties should not be affected. Third, the negotiations should be between the government and others," Behrami said (Ayrana News, May 19).
Tehran's role in the Taliban operations in western Afghanistan, however, appears to have divided the movement's leadership. Abdul Qayum Zakir, the former top Taliban military commander, was one of the first Taliban leaders to have visited Iran to establish a covert relationship with Tehran (Jamestown, June 2015). But in a recent pamphlet attributed to him, he criticized the Farah offensive, declaring it to be an independent initiative of Mullah Manan Liwanai, the Taliban commander in neighboring Helmand province, and one that had not been approved by the movement's leadership.
"The recent clashes, which happened in Farah, have caused huge casualties on the mujahideen [Taliban], and this willful action was carried out by the Taliban's governor for Helmand, Mullah Manan Liwani," the pamphlet said (Arman-e Milli, translated by BBC Monitoring, May 27).
Outlook
Kabul sees Tehran's influence behind the recent clashes in Afghanistan's Farah province, with Iran working the Taliban to its advantage to secure control of local resources, particularly water.
It is likely that the U.S. withdrawal from the Iran nuclear deal in May has given Tehran an added incentive to support the Taliban in Afghanistan, in the hope of putting further pressure on Washington.
Going forward, Tehran's Shia clerical regime and Afghanistan's Sunni Taliban insurgents are unlikely to strike a long-term viable strategic alliance, but covert cooperation between the two is expected to play a role in fomenting insecurity in western and southern Afghanistan, while posing a continued threat to the U.S. and NATO military presence in the country.