Iranian Crisis Spurs Saudi Reconsideration of Nuclear Weapons
Publication: Terrorism Monitor Volume: 10 Issue: 4
By: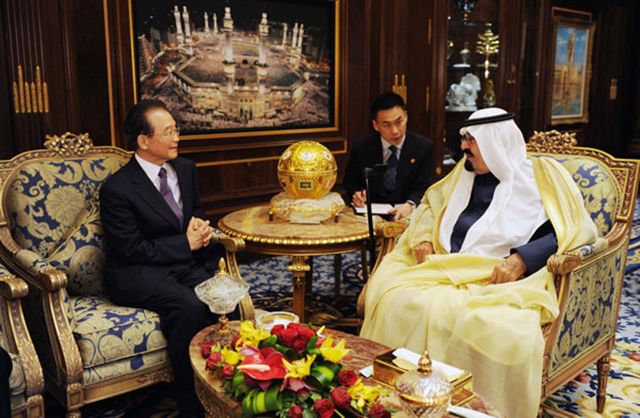 Rising tension in the Persian Gulf over the Islamic Republic of Iran's purported ambition of developing nuclear weapons could lead to a nuclear arms race between Iran and the Kingdom of Saudi Arabia. On December 5, 2011, one of the most important members of the Saudi royal family, Prince Turki Al-Faisal, stated that a nuclear armed Iran would cause Saudi Arabia to seriously consider obtaining nuclear weapons as well (Agence France Presse, December 5, 2011). Further adding fuel to speculation, a recent report in the Times of London, citing an unidentified Saudi security source linked to the Saudi Strategic Missile Force asserted that in the event of an Iranian nuclear weapon being developed, Saudi Arabia would immediately purchase nuclear weapons and begin enriching its own uranium, possibly directly from Pakistan (Times, February 9).
At present, the Kingdom of Saudi Arabia and its Gulf Co-operation Council (GCC) allies are maintaining a public position of support for a WMD-free zone in the Middle East (AP, January 25, 2012). In conjunction with this policy, Saudi Arabia is expanding its peaceful nuclear power generating capability as a means of addressing rising domestic energy demand while saving valuable oil assets for export. The Kingdom is maintaining an aggressive policy of seeking multilateral agreements to address its need for nuclear power plants, research nuclear reactors, and manufacturing capability for nuclear fuels. To achieve this goal, Saudi Arabia has signed nuclear technology agreements with Argentina, South Korea, France, and China (Arab News, January 16, 2012).
Beyond the pursuit of peaceful nuclear technology, Saudi Arabia's announcement it was considering pursuing nuclear weapons to counter a growing Iranian threat leads to many strategic questions about the Kingdom's likely deployment methods in the event it were to develop or receive nuclear weapons and the political costs that the Saudi government would incur with some of its closest allies for seeking to possess nuclear weapons. The United States, in particular, has expressed strong disagreement with a potential "Saudi nuke," both as a matter of policy towards promoting a nuclear weapons free Middle East, and due to questions amongst U.S. lawmakers whether or not the Kingdom of Saudi Arabia is a trustworthy ally. Although the Saudi and U.S. governments reached a tentative, non-binding agreement for U.S.-Saudi cooperation for civilian nuclear technology in 2008, no formal agreement exists between the two nations (Wall Street Journal, July 30, 2011). In the past year, senior United States law makers have severely criticized the possibility of Saudi Arabia's acquisition of nuclear weapons. The chair of the House Foreign Relations Committee, Ileana Ros-Lehtinen (R), captured the mood against supporting nuclear cooperation with Saudi Arabia by stating that Saudi Arabia's "ties to terrorism and terror financing alone should rule it out as a candidate for U.S. nuclear cooperation," (Agence France Presse, July 30, 2011).
In the event of a policy decision to counter an Iranian nuclear weapon with a nuclear weapon of its own, Saudi Arabia has several existing platforms for deploying nuclear warheads. At present, the Royal Saudi Air Force has dozens of operational tactical fighter aircraft and short-range bombers that could double as delivery vehicles for nuclear warheads such as the B61. These aircraft include Saudi Arabia's aging fleet of Panavia Tornados, soon to be replaced by the more capable European Typhoon, and the F-15S, and the F-15SA. These latter aircraft were the subject of a recent $29.4 billion purchase made by the Kingdom that will include 84 new F-15s and modernization packages for the 70 existing F-15s in the Royal Saudi Air Force (DefenseNews, December 29, 2011).
In addition to the Royal Saudi Air Force's air-to-ground capabilities, the Kingdom possesses one of the most robust networks of ballistic missile sites in the Middle East. It is estimated that Saudi Arabia currently possesses 40-60 aging Chinese-manufactured CSS-2 medium-range ballistic missiles, and an estimated 9-12 launchers to fire them. The CSS-2, or East Wind system, is capable of delivering only non-nuclear payloads within a 2,800 kilometer radius. The Saudi CSS-2 missiles are currently aimed at major population centers within Iran, but are terribly inaccurate and undependable, which raises questions about the Saudi leadership's willingness to deploy such weapons (Nuclear Threat Initiative, November, 2011).
Iran's nuclear ambitions, coupled with Saudi Arabia's sizable but outdated ballistic missile system, increases speculation about recent sales discussions between the Saudis and Chinese for a nuclear-capable, highly accurate upgrade, such as the Dongfeng 21 (DF-21 or NATO-designated CSS-5). If the Saudis were to purchase the DF-21, a medium-range, road-mobile ballistic missile, it would signify a considerable operational improvement in accuracy, mobility, and lethality. The DF-21 is capable of delivering 250 or 500 kiloton conventional warheads accurately within a 2,150 kilometer range. The road-mobile feature, provided by the Transporter-Erector-Launcher (TEL), makes the DF-21 more survivable as they are more difficult to target. (Missile Threat, February 14, 2012).
Saudi military planners will seek to exploit deficiencies in Iran's missile defense. Iran's indigenously developed Bavar 373 missile defense system, which was developed after Russia reneged on the delivery of $800 million worth of S-300PMU missiles, may be Iran's greatest vulnerability. The Russian-made S-300 is widely recognized as one of the world's most advanced missile defense systems. The Iranian government, however, claims that their alternative is equally capable, a claim that is difficult to corroborate given Iran's historical need to acquire advanced radar and electronics technologies from suppliers abroad like North Korea, Russia, and China (UPI, November 23, 2011).
The now public insinuation of a Saudi "nuclear option" has upped the ante in the Saudi-Iranian rivalry in the Middle East region, and would severely strain relations between Saudi Arabia and some of its strongest allies, including the United States. In over a year of turbulent events in the region, Saudi Arabia has asserted itself vis-à-vis Iran in intervening militarily against popular demonstrations against the Saudi allied al-Khalifa monarchy in Bahrain, in developing its "Iran Initiative," and by helping Qatar to spearhead a G.C.C. policy of supporting anti-Assad movements in Syria, a longtime Iranian ally. Prince Turki's statement and the continued assertions by individuals knowledgeable about Saudi nuclear strategies indicate that Saudi Arabia is motivated to confront an Iranian nuclear weapons program with a nuclear weapons program of its own. Saudi Arabia has the technology and the strategic partnerships necessary to quickly develop a nuclear weapons capability.
Nicholas A. Heras is an M.A. Candidate in International Communication at the American University (DC) and a former David L. Boren Fellow.

Andrew P. Dean recently graduated from Johns Hopkins University's Krieger School of Arts and Sciences with an M.A. in International Security Studies. He has expertise in nuclear non-proliferation and the technical methods by which nations deploy nuclear weapons. He also brings with him a strong background in national security strategy analysis and future battlefield scenario-making.