Iranian Rail Links and the Geopolitics of the South Caucasus
Publication: Eurasia Daily Monitor Volume: 11 Issue: 169
By: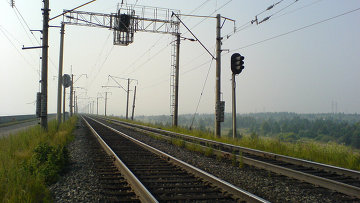 Both Armenia and Azerbaijan are seeking to link their national railways with those of Iran, something that could be an economic lifesaver for Yerevan and an additional outlet for Baku's exports of Caspian oil and gas. At present, Azerbaijan has the advantage because it does not need this route as much as Armenia does. But Yerevan's desperation, combined with Moscow's interest in maintaining the frozen conflict over the Armenian-occupied territories of Azerbaijan, is elevating what looks like a simple issue of transportation into a major geo-economic and geopolitical conflict.
Nearly a century ago, Iran established a railway link with the Caucasus and Russia via Nakhchivan (the non-contiguous portion of Azerbaijan), Armenia and Georgia. However, following the collapse of the Soviet Union and the war between Armenia and Azerbaijan, that route was blocked. Iranian trains now stop at the Azerbaijani border rather than going into the isolated Nakhchivan Autonomous Republic. Indeed, according to traveler reports, those who travel from Tehran must leave the train, walk across that border and then re-board a train or bus to go on.
Not surprisingly, Azerbaijan, Armenia and Russia, on the one hand, and Iran, on the other, have wanted to overcome this situation. In 2008, Moscow and Tehran agreed to the construction of a new rail link between Iran and Azerbaijan, which would allow Iranian goods to continue on to the Russian Federation. The Azerbaijan State Railways company reaffirmed this agreement with plans to build a new line between Qasvin and Resht in Iran and Astara in Azerbaijan. Meanwhile, in 2009, Tehran and Yerevan reached a separate agreement to build a railway line across the Zengezur corridor between Nakhchivan and Azerbaijan proper, thus linking Armenia with Iranian markets and Persian Gulf ports. Construction of the first railroad route is proceeding, but the building of the second is now very much in doubt (trend.az, November 13, 2013; ITAR-TASS, May 30, 2014).
A major reason for that is economic: Iran would have little interest in a rail line extending only to Yerevan, given the size of the Armenian economy and its limited potential purchases of Iranian oil, gas or other products. And at present, there is little chance that the pre-existing railroad going north from Armenia to Georgia and the Russian Federation will soon be reopened, given that it is blocked at the Abkhazian-Georgian de facto border. Instead, Iran clearly benefits far more from a rail line extending across Azerbaijan to Russia which is increasingly interested in economic cooperation with Iran (kavkazoved.info, September 19).
Considering Tehran's position, Yerevan's possibilities are limited; and many analysts think that the land-locked South Caucasus country is continuing to overstate the advantages Iran might obtain from a railway to the Armenian capital. Indeed, it could take six or seven years for such a railroad to be built, and its costs would be extremely high—perhaps $3.5 billion—especially since Armenia now wants Iran to build not just a rail line across the border as earlier, but also extend the line to the north of Lake Sevan.
But there is another economic obstacle to the Armenian plans: a rail line into Azerbaijan could link with the Baku-Tbilisi-Kars railroad and thus allow Iran to export to Turkey. Such a possibility would be unlikely, if Iran invested in the Armenian route. Yerevan has countered that, in the future, an Iranian line into Armenia could link up with the Baku-Tbilisi-Kars route as well. But few expect Azerbaijan to agree, given its commitment to continue to isolate Armenia from all regional transportation routes as long as Yerevan remains in occupation of 20 percent of Azerbaijan's territory.
As a result, there is little chance that Iran will build a railway to Armenia and thus help Yerevan escape the economic difficulties it now faces. That will place new burdens on the Russian Federation, which will have little choice but to support Armenia economically if it wants to continue to use it as leverage against an increasingly activist Azerbaijan and to ensure that Armenia will in fact continue to pursue integration with Russia rather than with Europe. And at the same time, there is every chance that Iran will work to expand its rail network into Azerbaijan, a move that will give Baku even more flexibility in dealing not only with Moscow but also with Western governments. Such a development will likely be seen as another vindication of Azerbaijani President Ilham Aliyev's much-ballyhooed balanced foreign policy.
What remains an open question is whether Moscow, seeing how a rail line between Azerbaijan and Iran could work against its interests, will remain as enthusiastic a backer of that project as it has been—or whether it will either drag its feet there or push for an Armenian line in order to continue to maintain Russian dominance in the South Caucasus by preventing either Yerevan or Baku from gaining the upper hand.