Iraqi Cleric Moqtada al-Sadr Visits Turkey
Publication: Eurasia Daily Monitor Volume: 6 Issue: 86
By: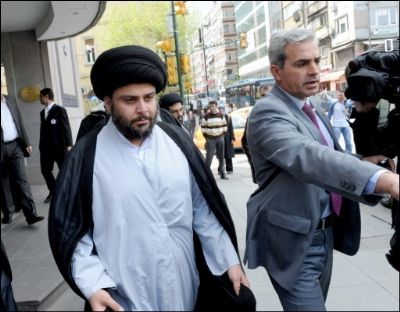 Moqtada al-Sadr, the most prominent Shi'ite opponent of the United States' military presence in Iraq, paid an official visit to Turkey for talks on the political situation in neighboring Iraq. This was al-Sadr's first public appearance since 2007. The Turkish media reported that Ankara had sent a private plane to Iran to take al-Sadr to Turkey. To ensure his security, a close protection team from the National Security Agency (MIT) went Iran to minimize the risks during his trip to Turkey (Aksam, May 2).
Al-Sadr reportedly previously asked to visit Turkey, which had been refused. However, on this occasion, al-Sadr's request was accepted as a high level visit (Aksam, May 1). It was planned by Turkey's new Foreign Minister Ahmet Davuoglu and the U.S. was consequently informed. Turkish political observers believe that al-Sadr's visit to Ankara might serve Western interests, as it provides a tool to reduce Iranian influence on Iraq (Milliyet, May 3).
During his visit, Turkey's special envoy to Iraq Ambassador Murat Ozcelik, organized Al-Sadr's program, including meetings with President Abdullah Gul and Prime Minister Tayyip Erdogan. In these discussions, both sides exchanged views on the current situation in Iraq and evaluated developments ahead of the early elections scheduled for December (www.trt.net.tr, May 1). Ankara advised al-Sadr to form a political organization to join the democratization process in Iraq. It was also reported that during the Shi'ite meeting in Istanbul, supporters of al-Sadr agreed to form women's and youth organizations -considered to be their first steps toward forming a political party within Iraq (Sabah, May 4).
Al-Sadr attended the Shi'ite summit in Istanbul, where 70 leading figures, including five Iraqi parliamentarians and the commander of al-Sadr's Mahdi Army, Sheik Salah al-Obeidi, discussed the future of Iraq (Hurriyet, May 3). Acting as a spokesman for al-Sadr, Sheik al-Obeidi said, "As a good, old friend, we have trusted Turkey and have no hesitation to travel in the country." Al-Obeidi stated: "We have put down our arms. Arms will not be raised, especially against the Iraqi soldiers, however the resistance will continue. There is economic, political and cultural resistance against the outside forces who are invading our land." Nevertheless, al-Obeidi also left the door open for a possible future resumption of the armed struggle, "only if al-Sadr wants to resume armed resistance we would do that as well" (Hurriyet, May 3).
It appears that the main reason for the Turkish government inviting al-Sadr, was to ensure his support for Ankara's policies toward the oil rich Iraqi city of Kirkuk, which is mainly composed of Kurds, Turkomans and Arabs -though almost all its ethnic elements are Shi'ite. Al-Sadr supports Turkey's position over the status of Kirkuk, arguing that it should belong to the central government. In fact, during their meeting in Istanbul, al-Sadr reportedly declared his support for Ankara's position (Yeni Safak, May 4). The Kurdish daily, Helwer Post ran an in-depth analysis to explain al-Sadr's opposition to the federal structure of Iraq, and particularly the special status of Baghdad and Kirkuk and the distribution oil wealth. The Helwer Post suggested that because al-Sadr's support base is concentrated in Baghdad and to some extent Kirkuk, this limits his ability to share the wealth of oil revenues. The status of Baghdad within a loose federation restricts al-Sadr's group accessing the oil rich regional administrations. If Iraq emerges as a viable federation, in the near future the al-Sadr group will be economically and politically marginalized within Baghdad (Helwer Post, April 11). Given that al-Sadr cannot prevent an Iraqi federation, in order to access oil revenues he must keep Kirkuk within the control of Iraq's central government rather than under the Kurdish Regional Government. Thus, it is critical for al-Sadr to cooperate with Turkey.
The timing of the visit was also significant. On May 3, the Turkish press reported that UN diplomats working on the status of Kirkuk for more than one year had finally drafted their report. They suggested delaying for five years the planned referendum to determine the status of Kirkuk (NTV, May 3). As expected, Kurdish leaders strongly opposed these recommendations. Iraq's President Jalal Talabani, a Kurd himself, clearly stated that he will not negotiate on the status of Kirkuk, which is already determined through the constitution (Yeni Safak, May 4).
As part of Turkey's strategy to maintain the territorial unity of Iraq, Ankara has held talks with a variety of groups within the country in an effort to promote its stability. In 2006, for instance, Turkey invited Iraqi Sunni representatives to discuss the future of Iraq (Milli Gazete, December 15, 2006). Al-Sadr and Turkey may now agree on the Kirkuk issue, which is an issue of vital importance to both sides. Given that the UN report advocated a five-year delay to the referendum on determining the status of Kirkuk, al-Sadr, using the strategy of abandoning the insurgency and seeking Turkey's support, may re-emerge as a powerful actor after the major defeat in 2007 inflicted on his Mahdi Army.