Sino-Russian Military Exercises Conceived as a Show of Unity
Publication: Eurasia Daily Monitor Volume: 6 Issue: 86
By: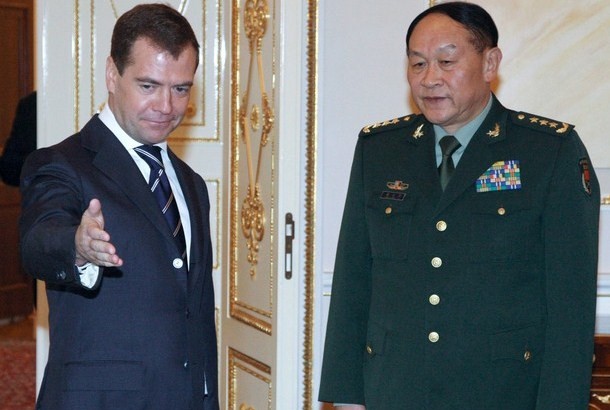 On April 29 the Shanghai Cooperation Organization's (SCO) Council of Defense Ministers met in Moscow to discuss enhancing military and security cooperation to counter terrorism, separatism and extremism. The meeting served as an important preparation for the SCO Summit in Yekaterinburg on June 15-16. The political disclaimer was issued ahead of the meeting, denying that the SCO is moving closer to becoming a military-political alliance. Nevertheless, recent military cooperation developments within the context of the SCO point to a concerted effort by Russia -which has held the presidency of the SCO since August 2008- to promote a greater say in Afghanistan through the multilateral organization. More specifically, the intensification of military cooperation aimed at countering terrorism, remains rooted in the Moscow-Beijing axis, which leaves some members anxious about their ability to influence or shape policy (www.ca-news.org, April 29).
SCO Secretary-General Bolat Nurgaliev, rules out the possibility of the organization being transformed into a military bloc. He admits that Afghanistan features on the agenda of many of its meetings, though its members are reluctant to contemplate committing troops. In fact, the SCO's approach towards Afghanistan could be compared to a forum within which its members exchange views on economic assistance in its stabilization. Their security concerns, relating to drug trafficking and terrorism, appear centered on considering strategies of containment as an insurance policy against NATO's failure. "The SCO has no military command and planning structure. Counter-terrorist cooperation is clearly seen in the military training exercises scenario with the participation of military contingents within the framework of SCO. Military attaches from various countries not specified by political blocs are invited to attend these large-scale exercises," Nurgaliev observed (www.infoshos.ru, December 16, 2008).
However, the emphasis on publicly displaying the military dimension may stem from its dominant members. Russia's Defense Minister Anatoliy Serdyukov, announced after the meeting that the SCO's "Peace Mission 2010" military exercises will be held in Kazakhstan. "Specific anti-terrorist activities will be practiced at drills in Kazakhstan. All previous and upcoming military exercises involving SCO countries are of a counter-terrorist nature," Serdyukov explained (RIA Novosti, April 29).
On April 28 President Dmitry Medvedev received Serdyukov and China's Defense Minister Liang Guanglie. Liang led a delegation to Russia's North Caucasus military district on a fact-finding mission, discussing counter-terrorism and the security situation in the region. Serdyukov expressed confidence in the further strengthening of Sino-Russian military cooperation, which despite claims to the contrary is the driving force behind the defense and security cooperation within the SCO (Interfax, April 28).
Indeed, Russia and China will hold around 25 joint military "events" during 2009, which according to the Russian Defense Minister demonstrates the growth in their bilateral military cooperation. The key joint military exercise which they discussed was "Peace Mission 2009." This was first raised during Serdyukov's visit to Beijing in March 2008 and has now been set for July and August 2009, held in three stages, commencing with military-political consultations in the Russian Far East before its final active parts take place in north-eastern China.
More than 2,000 Russian and Chinese troops will participate in the joint counter-terrorist exercise. The first deputy chief of Russia's General Staff Lieutenant-General Sergey Antonov, explained the ambitious nature of these plans: "Some 1,000 officers and men from the Far Eastern military district with armaments and equipment will represent Russia. Apart from heavy ground equipment -tanks, armoured personnel carriers and self-propelled artillery pieces- Russia will also provide frontline and military transport planes. The question of using strategic aircraft remains undecided for the time being. China will delegate approximately the same amount of personnel" (ITAR-TASS, April 30).
These plans will be finalized, including the scenario and the specific tasks assigned to each side, at a bilateral meeting of military experts in Khabarovsk at the end of May. Essentially functioning as a command staff exercise with troops involved, its active phases will occur in north-eastern China close to the border with Mongolia, using the Qiqihar airbase, 250 kilometres northwest of Harbin, where aircraft will be based (www.ruvr.ru, April 29; ITAR-TASS, April 30).
The "Peace Mission" concept began in 2005 with the first ever Sino-Russian joint military exercise, and was enlarged into a full SCO event in Chelyabinsk in August 2007. It appears that the same model will now be used for the "Peace Mission" counter-terrorist exercises in 2009, which by General Antonov's admission will involve "heavy ground equipment," and is likely to culminate in another large-scale show of force in Kazakhstan in 2010.
Unfortunately, from the perspective of Moscow and Beijing, some SCO members have reservations concerning the practical value of these exercises. In the aftermath of "Peace Mission 2007," defense officials in Tashkent characterized the exercises as Soviet in their style, and hardly serving the genuine security interests of the SCO's Central Asian members; indeed, the Uzbek participation in the exercise was restricted to officers sent to the command staff headquarters.
More recently, this divisive element at the heart of the SCO was demonstrated during counter-terrorist exercises held in Tajikistan. The SCO three-day long counter-terrorist exercise involving 1,000 troops was staged in mid-April, 50 kilometers south of Dushanbe. Russian and Tajik special forces rehearsed countering a terrorist incursion from Afghanistan. The scenario saw "al-Qaeda" members cross the Afghan-Tajik border then capturing a chemical factory, and taking hostages. Despite the importance of the SCO exercise, and the portrayal of organizational unity, Uzbekistan refused to take part. Tashkent merely stated that its Special Forces and Special Services were "occupied" with other activities (RIA Novosti, April 18).
Central Asian SCO members struggle to convince the dominant members of the organization to plan military exercises that meet their genuine security needs. Moscow and Beijing are forging ahead with plans for a new phase of "Peace Mission" exercises, which will involve a show of conventional force that fails to address the requirements of modern counter-terrorist operations. Differences over these exercises reveal a level of disunity that could prove embarrassing if a real operation were undertaken.