Is Belarus Benefiting From a Change in the West's Perspective?
Publication: Eurasia Daily Monitor Volume: 12 Issue: 17
By: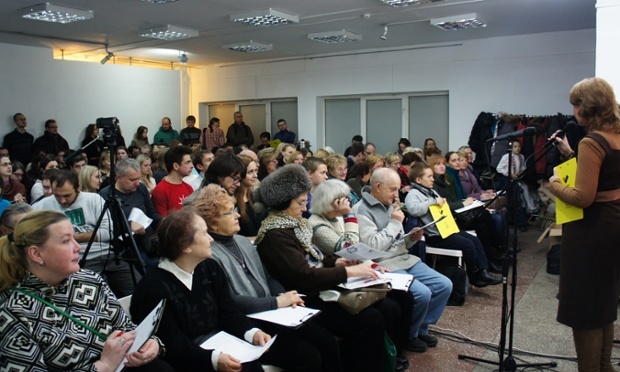 It is tempting to slip into a spiral of sensationalism when describing the concurrent trends in Belarus's foreign relations and national aspirations, even though—if history is any guide—these trends may be reversed as abruptly as they started. So far, however, tensions have been on the rise along Belarus's eastern flank; whereas, there has been steady improvement in Belarus's relations with the West. According to the assessment of the Belarusian Institute for Strategic Studies, this has been the case since the very beginning of 2014 (BISS, January 19).
Recent public appeals, championed by top officials, to expand the use of the Belarusian language domestically (see EDM, January 23) complement these above-cited developments, if only because they continue to arouse concern in Russia. For example, the Russian news portal Lenta.ru published a report titled "The Right Sector of Belarus." The "Right Sector" is the name of a radical right-wing party in Ukraine, often seen as the embodiment of anti-Russian sentiment. The article in question refers to an incident of Belarusian soccer fans shouting insults at Vladimir Putin and chanting slogans in support of Ukraine (Lenta.ru, January 23). Yet, this incident took place during a soccer match between Belarus and Ukraine on October 9, 2014. The fact that Lenta.ru has chosen to release its assessment of this event in January 2015 is indicative of the Russian attitude today.
Alexei Dziermant, from the Minsk-based, government-friendly think tank Citadel, addresses what he calls an "attempt of some forces to launch anti-Belarusian hysteria in Russia." These forces, according to Dziermant, are former Belarusian bureaucrats who did not succeed on their home turf and are funded by mendacious political consultants in Moscow. They want to drive a wedge between Russian and Belarusian leaders, the Citadel analyst argues. However, Russia should not be leery of language diversity inside Belarus: Russians have to understand that Belarus has its identity, and they should only care that this identity be complementary to that of the Russians, not hostile to it (Novorossiya, January 25). Such reasoning betrays genuine worries inside Belarus with regard to Russia's reactions. Relatedly, Belorussky Partizan, an online journal highly critical of Belarusian President Alyaksandr Lukashenka, suggested that unless Lukashenka stops "flirting with nationalists in Belarus," the resulting split in society could bring about the violent creation of a putative Mogilev People's Republic—i.e., an entity on Belarusian territory analogous to the Moscow-backed separatist Donetsk and Luhansk "People's Republics" in southeastern Ukraine (Belorussky Partizan, January 27). A virtual appeal like that to Lukashenka—by an opposition-minded media outlet—would have been surreal just a short time ago.
On the other hand, writing for Tut.by, a professedly impartial, privately-owned news portal, Yury Drakakhrust of Radio Liberty suggests that the situation with the Belarusian language is, indeed, so pitiful that some improvement in this area hardly presents a threat for Russian. Likewise, relations between Belarus and the West are so bad that some improvement in that area does not signify any ultimate change in Belarus's orientation. As for language, he argues, the Belarusian leadership implicitly realizes that, in the absence of great ideas and viable institutions, civic nationalism has limited potential to offset putative Russian aggression. So the government in Minsk is trying to borrow from a more traditional—and typical for Eastern Europe—model of ethnic nationalism, which puts an emphasis on language. Whether or not ordinary Belarusians will buy into that is debatable; after all, it is Lukashenka himself who once defeated the rise ethnic nationalism in Belarus, and much of the Belarusian public nevertheless supported him. However, according to Drakakhrust, the political regime in Minsk is now acting much like the Soviet government back in 1941—a suggestive parallel. When the German army was rushing to the suburbs of Moscow, Soviet leader Joseph Stalin relaxed constraints on the Orthodox Church. His action did not aim to replace the state's official Communist ideology, but tapped an additional resource of national mobilization inside Soviet Russia. Current appeals to boost Belarusian in Belarus fall along the same lines, he asserts (Tut.by , January 23).
Whether or not Belarus's relations with the West are as "bad" as Drakakhrust suggests, attempts at improving them are registered on almost a daily basis. Just on January 26, Foreign Minister Vladimir Makei and his deputy Elena Kupchina met with the head of the European Union's delegation to Minsk and with the Swedish ambassador (Tut.by, January 26). While the press release regarding those contacts was couched in vague terms, much more was disclosed about the visit of Andrejs Pildegovics, the State Secretary for Foreign Affairs of Latvia, the country holding the presidency of the Council of the European Union until July 2015. According to Pildegovics, the EU plans to reconsider sanctions against Belarus during the period of Latvia's presidency (Naviny.by, January 23). He also revealed that Latvia wants Belarus to be represented at the highest level at the May 2015 Riga summit of the EU's Eastern Partnership (Tut.by, January 23). Finally, contrary to the opinion of the Belarusian human rights advocates who claim that Belarus has six political prisoners, Pildegovics asserted that there are just three—Nikolai Statkevich (one of the 2010 presidential hopefuls), Nikolay Dedok and Igor Olinevich (the latter two received prison terms for their alleged assault on the Russian embassy on August 31, 2010). The Latvian guest did not insist on their release as a precondition for the cancellation of European sanctions.
According to Artiom Schreibman, a Tut.by political commentator, the EU is leaning toward de-politicizing its dialogue with Belarus. He writes, "When one looks at a real war and thousands of corpses in Europe in the 21st century [referring to the war in eastern Ukraine], any Brussels bureaucrat would willy-nilly think, 'Do I really need a democratic Belarus? Perhaps an authoritarian country that is calm and not creating problems for anybody, is good enough?' " (Tut.by, January 26). This change in mindset does not bode well for the Belarusian opposition, which has stopped being a serious negotiation partner for the West, Schreibman notes. "The war in Ukraine has changed the perspective of the Western political elites on our region; it has shifted them out of a world of abstract, lofty and universal ideals […] into the world of concrete but equally universal human fears." This ongoing change in the West's perspective on Belarus could hardly have been better said.