Is Belarus Firmly Within Russia's Orbit?
Publication: Eurasia Daily Monitor Volume: 9 Issue: 108
By: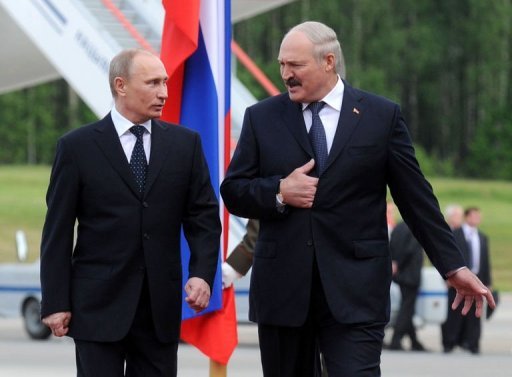 Russian President Vladimir Putin's visit to Belarus and the nature of the Belarus-Russia relationship continue to be debated. It can certainly be argued that "the Belarusian president is merely forestalling the inevitable, which is deeper integration on terms determined by Russia" (see EDM 31 May). However, as Russian analyst Arkady Moshes notes, Belarus's President Lukashenka also possesses several trump cards vis-à-vis Putin and Russia in general (ej.ru/?a=note&id=11825).
First, Lukashenka's experience in containing what he calls extremism is now in high demand in Russia. The State Duma recently passed a bill that tightens rules for public gatherings and hikes fines for unsanctioned rallies, which appears to be an adoption of the Belarusian knowhow in protest-breaking tactics (https://en.rian.ru/russia/20120606/173869005.html).
Second, without Lukashenka's acceptance, there would be no political-economic reintegration in the former Soviet space – a cherished goal of Putin (ej.ru/?a=note&id=11825).
Third, Russia politically pressured the Belarusian leader multiple times, and for the most part he avoided making concessions. For example, Russia's 2010 TV campaign to discredit Lukashenka failed to remove or domestically weaken him. Also, generous Russian subsidies through cheap oil and gas have been restored without acquisition of any major Belarusian assets by Russian tycoons. The sale of Beltransgaz, although it looks like an exception, was actually a big gain for Belarus, which received $2.5 billion for the remaining 50 percent of shares of the Beltransgaz when Belarus needed hard currency the most. At the same time the most lucrative assets (two oil refineries and a potash business) are still in Belarus's hands (ej.ru/?a=note&id=11825).
Fourth, Minsk has retained independence in its foreign policy. For example, the lack of recognition of South Ossetia's and Abkhazia's statehood on the part of Minsk led to good relationships with Tbilisi. These relationships paid off when Georgia strongly protested against signing a declaration that condemned the deterioration of human rights, democracy and the rule of law in Belarus at the EU Eastern Partnership meeting in September 2011 (See EDM October 14, 2011). In a long-term political game with Russia, Lukashenka has been a winner, Moshes concludes (ej.ru/?a=note&id=11825). Belarusian analyst Alexander Klaskovsky expresses a similar opinion in a characteristically titled article, "Belarus is too tough for the Kremlin"
(https://naviny.by/rubrics/politic/2012/05/28/ic_articles_112_177981/).
In a further sign of Belarus's economic agility, it has been confirmed that a Russian businessman bought Beltech Holding, the company managing a group of Belarusian arms producers and traders. Vladimir Peftiev, the head of the weapons exporter, fully ceded his stake in the holding's managing company to Russia's Dmitry Gurinovich. The EU froze the assets of Peftiev and three companies controlled by him while also barring the Belarusian businessman from entering the EU (Interfax, May 30). Sources in Belarus, however, claim that the reported sale is a ruse specifically designed to avoid EU sanctions (news.tut.by/economics/292475.html). To forestall the effect of potential sanctions, the intention has been announced to register the trading arm of Belaruskalii, the country's major producer of potash, in Switzerland (https://naviny.by/rubrics/economic/2012/06/04/ic_articles_113_178052/). Consequently, so far operations of the two Belarusian business owners under EU sanctions since March 2012 have been expanding. Thus, Yury Chyzh, one of those owners, has just announced two new projects – a joint venture to assemble heavy BelAZ trucks in Kemerovo oblast of Russia and a Belarusian tractor factory in Pakistan. The second business owner, Anatoly Ternavsky, has expanded his oil-related business. Both Ternavsky and Chyzh are now among the ten top taxpayers in Minsk, a position they did not hold in 2011 (https://gazetaby.com/index.php?sn_nid=45916&sn_cat=34).
In his interview to the Belarusian News Agency Belapan, the Russian ambassador to Minsk, Alexander Surikov, acknowledged that Belarus exports more refined oil products than it is possible to produce from the amount of Russian oil bought by Belarus. In 2011, Belarus exported 2 million tons of solvents to the West. Unlike other oil-related products, solvents, refined in and exported by Belarus, are exempt from having to pay export duties to Russia's treasury. There is therefore a suspicion that Belarus re-exports Russian petroleum products under the guise of solvents, thus helping to fortify Belarus and its economy. According to Surikov, this suspicion is now being investigated (https://naviny.by/rubrics/economic/2012/06/06/ic_articles_113_178083/).
Belarus also continues to play an integral role in supporting the Russian arms industry. The country has an immediate connection to a new prototype ballistic missile that was successfully test-fired from the Plesetsk Cosmodrome in Arkhangelsk region of Russia on May 23 (RIA Novosti, May 23). The launch took place from a mobile launcher placed in a special car chassis. The chassis represents a wheeled version of the conveyor MWTP-79221, produced by the Minsk Wheel Tractor Plant (https://www.mzkt.by/eng/). Such Russian mobile missile complexes as Topol-M and Yars also use the same mobile conveyor (https://naviny.by/rubrics/society/2012/06/04/ic_articles_116_178055/). Thus, so long as Belarus can maintain control over such key industries, the country's economic health and the regime's continued value to Russia should remain largely secure for the time being.