Is Chechen Leader Kadyrov Preparing to Pass Governorship to Son?
Publication: Eurasia Daily Monitor Volume: 20 Issue: 41
By: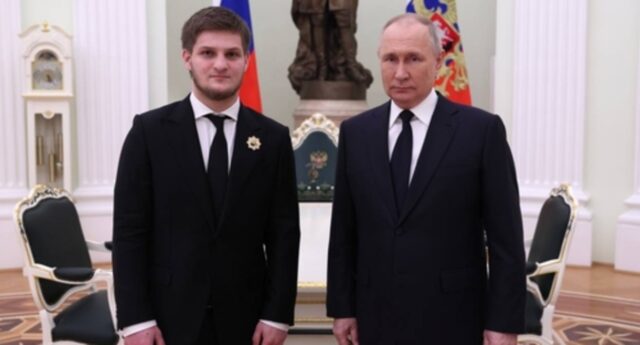 Chechen strongman Ramzan Kadyrov's health has rapidly deteriorated according to multiple media reports. Kadyrov, who has experienced kidney failure due to alleged poisoning, does not trust Russian doctors. Thus, a doctor from Abu Dhabi was invited to treat him. Due to these health issues, the Chechen ruler missed Russian President Vladimir Putin's public address earlier in February 2023 (Bild, March 3). Previously, the head of the Cabinet of Ministers of the Chechen Republic of Ichkeria abroad, Akhmed Zakaev, asserted that Kadyrov was ill. According to the exiled Chechen politician, Chechnya's governor has become dependent on strong stimulants and can no longer function without them. Observers assumed that Kadyrov was being treated for a serious illness due to his unusually swollen face, which has become apparent in official pictures and from insider information (Charter97.org, February 7). Nevertheless, neither Kadyrov himself nor other government officials have commented on his health conditions.
Kadyrov has been an outspoken hawk during Russia's large-scale re-invasion of Ukraine, which has unfolded against the backdrop of Moscow's standoff with the West. "If there is an order from the Supreme Commander-in-Chief [Putin], we are ready to go even to America, we will leave Moldova far behind. And any such order is not discussed but carried out," Kadyrov recently posted on his Telegram account (T.me/RKadyrov_95, February 12). The Chechen ruler boasted of the ability to "take Kyiv" and win the war against Ukraine. He has repeatedly threatened to kill Ukrainian President Volodymyr Zelenskyy while brandishing handguns (UNIAN, February 13).
Information about Kadyrov's illness is scant and may be exaggerated. For example, on March 8, Kadyrov declared that he had dispatched another group of soldiers to fight in Ukraine (Kavkazsky Uzel, March 8). As in other authoritarian regimes, in Chechnya, the ruler's health is highly sensitive and a protected piece of information.
However, key circumstantial evidence suggests that Kadyrov may indeed be in poor health and even preparing to step down from his position as governor. In early March 2023, Putin unexpectedly met in-person with Kadyrov's eldest son, Akhmat. Kadyrov informed the public about the meeting through his social media accounts; however, the official Kremlin website did not mention it. Putin reportedly told Akhmat of his relationship with the young Kadyrov's grandfather whose name was also Akhmat and congratulated the young Kadyrov on his upcoming wedding (Chechnya Today, March 4). The Chechen governor's son is 17 years old and runs the Chechen branch of a government-sponsored Russian youth organization.
Putin's meeting with Akhmat Kadyrov strongly suggests that Ramzan Kadyrov may be seeking to pass the Chechen governorship on to his son. By meeting Akhmat, Putin signaled that he is inclined to allow power to transition in Chechnya on Ramzan Kadyrov's terms. If Akhmat succeeds his father, he will become a member of the third generation of the same family to rule the republic. This transition is not a given, however, as competing individuals and groups might affect the final decision. Besides, 17-year-old Akhmat is unlikely to be able to govern Chechnya at this young age on his own. It is also possible that Ramzan wants to pass the title of governor to his son while remaining de facto in power.
Previously, from 2000 to 2004, Ramzan's father Akhmat Kadyrov served as the first pro-Russian ruler of Chechnya. In May 2004, the more senior Akhmat was assassinated in Grozny (see EDM, May 10, 2004). In 2007, his son Ramzan was appointed to lead the republic. Ramzan Kadyrov's rule has become notorious for its brutality and corruption. Meanwhile, under his dictatorship, Chechnya has become significantly more prosperous and calmer than in previous years, due to large subsidies from Moscow.
Ramzan's rule has been a mixed blessing for the Kremlin. On the one hand, he and his forces were quite effective in ruthlessly uprooting the pro-independence movement in Chechnya. On the other hand, however, the Chechen governor has acquired so much power in the republic that many observers doubt Moscow controls the region. On one occasion, for example, the Chechen ruler ordered the Chechen police to fire at police officers from other Russian regions who carry out operations in the republic without consulting regional authorities (RBC, April 23, 2015).
A possible succession in Chechnya might play a crucial role in Russia's domestic political dynamics. As Russia's large-scale invasion of Ukraine is developing unfavorably for the Kremlin, observers and activists point to the possible rupture of the country along regional fault lines (Radio.cz, July 25). Chechnya is often cited as the first region to seek secession from a weakened Russia. In January 2023, Polish Prime Minister Mateusz Morawiecki stated that Chechnya deserved to be an independent state. To this, Ramzan Kadyrov bitterly retorted: "Where were you when we fought for Ichkeria?" Now, according to Kadyrov, people in Chechnya want to live in Russia (Meduza, February 1). The exchange once again demonstrated that the memory of the pro-independent Chechen Republic of Ichkeria sits deep within Chechen society, even among those officials who profess loyalty to Moscow. Ramzan Kadyrov and his father used to be part of the pro-independence movement in Chechnya before switching to the Russian side during the Second Chechen War in 1999.
Forward-looking elements in the Russian government may have started preparations for the possible weakening of power in Moscow and the rise of secessionism throughout the country. As Chechnya is one of the prime candidates for successful secession, it is also one of the main targets of those Russian nationalist policymakers who want to keep the republic in the fold.
For these purposes, Moscow is likely to bet on a weak, semi-legitimate leader in the republic that can be easily manipulated. Ramzan Kadyrov remains loyal to Moscow when Russia is strong. But if and when the central power weakens, the Chechen governor may take his chances and seek self-rule for Chechnya. This understanding might also make him a target for nationalists in the Russian government. At the same time, Kadyrov's resignation would likely weaken Putin due to the long-held political connection between the two men.