Is Dagestan's Kizlyar District Becoming a New Flash Point in the Regional Insurgency?
Publication: Eurasia Daily Monitor Volume: 8 Issue: 162
By: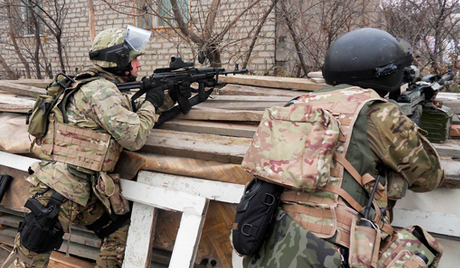 On August 31, officials in Dagestan unveiled the plan to dispatch an additional 200 troops to fight insurgents in the republic's Kizlyar district. The reinforcements are part of the 7,000-man military force that was created in Dagestan earlier this year. Dagestan's territory was divided into seven special zones to help the military command quell the region's rising militancy (www.kavkaz-uzel.ru, September 1).
The plans to boost the military presence in Dagestan's Kizlyar district mean the situation in this area is very unstable, even in comparison to many other hot spots in this volatile republic. In particular, it appears a very well-trained armed group in Kizlyar that managed to withstand an onslaught by Russian troops for several days this past June still operates in the area. During the three days of heavy fighting in June, law enforcement officially admitted losing five people, while unofficial sources said 13 servicemen were killed. Still other Russian media sources said seven servicemen were killed and 16 were badly wounded. Several casualties among the rebels were also reported, but were not subsequently substantiated by officials (www.kavkaz-uzel.ru, June 24).
Kizlyar district is situated in Dagestan's north. It was one of the areas of Dagestan that traditionally had a large ethnic Russian population, but ethnic Russians currently comprise just under 20 percent of its 62,000 people, while the largest Dagestani indigenous ethnicity, Avars, comprise about 40 percent. The district is largely agricultural and also borders the Caspian Sea. Kizlyar is not known for mountainous terrain, but there are waterways, lakes and forests that probably provide local rebels with sufficient protection (https://www.government-rd.ru/dagestan/karta/regions/kizlyarskiy_rayon).
Besides the emergence of unusually well-prepared rebel groups, there are also other signs of the changing character of the insurgency in Dagestan. On September 4, a suspected rebel leader, Ibragim Mukhuchiev (aka Abu Umar), and his wife were killed in Khasavyurt. Mukhuchiev and his wife reportedly refused to surrender to government forces and were killed when they attempted to escape (https://rbc.ru, September 4). On September 1, a Federal Security Service (FSB), Colonel Ibragim Jabrailov, died in a bomb attack in Khasavyurt. Jabrailov's mother, sister and niece, who were traveling with him in a car when it was bombed, were injured in the blast (www.kavkaz-uzel.ru, September 2).
Fighting between government and rebel forces has taken an alarming turn as family members of both government officials and rebels appear to be increasingly targeted. Several cases of female rebel suspects being killed during police operations have been reported in 2011. Whether the Russian security services are deliberately targeting family members of insurgents or female fighters are more actively participating in the fighting, this change indicates a shift in the character of instability in Dagestan.
Public protests are also becoming more common in Dagestan. On August 26, a protest action took place in Makhachkala. An estimated 200 people gathered in front of the Dagestani branch of the prosecutor general's office and demanded the release of three people who had been detained by the police. According to the protesters, Omar Omarov, Murad Gasanov and Ruslan Gadzhimagomedov were arrested on July 27 on charges of cooperating with the rebels. Those detained stated that the police planted weapons and illegal drugs in their cars to provide a pretext for their arrest. The protesters complained that the law enforcement agencies in Dagestan engage in unlawful activities, and kidnap and kill young Dagestanis. The police attempted to disperse the crowd, but eventually the prosecutor general's office invited a delegation of protesters to discuss the situation (www.kavkaz-uzel.ru, August 26). The protesters plan to stage another rally as their demands were not met. In the meantime, the prosecutors launched an investigation into whether the detention of Omarov, Gasanov and Gajimagomedov was lawful. In addition, prosecutors announced that organizers of the protest action and those policemen who did not prevent it might face administrative charges (https://dagproc.ru, August 29).
The government in Dagestan is apparently still quite sensitive to public protests, so it is trying to prevent people from expressing their attitudes in the streets. Ordinary people, in turn, are coming to realize that sometimes the only safe way to defend their civil rights is to resort to public protest.
On August 17, fierce clashes between government forces and the insurgents were reported in Khasavyurt. On August 15, a counterterrorism operation regime was introduced in parts of that district. As the Russian Interior Ministry troops were combing an area near the village Endirea, they reportedly came under insurgent fire. Six insurgents and two servicemen were killed in the sporadic fighting that followed on August 16 and August 17 (www.kavkaz-uzel.ru, August 17).
Russian Interior Ministry troops are now more and more often reported to be involved in fighting the insurgents in Dagestan. This may be oblique evidence of a worsening security situation in the republic, given that police operations have practically been replaced by military operations. If Moscow is now relying more on Interior Ministry troops, it means the Dagestani police is not sufficiently trustworthy and the rebels' fighting skills and public support likely have increased. But if Dagestan is flooded with more non-Dagestani servicemen, it may create a backlash of Dagestani nationalism and fuel further tension in the embattled North Caucasus republic.