Is Hungary Becoming China's Hub in Central Europe?
Publication: China Brief Volume: 11 Issue: 13
By: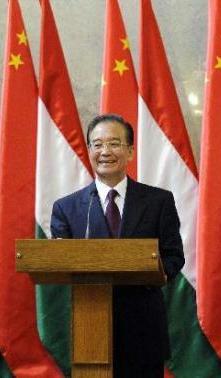 On June 24-26, Chinese Premier Wen Jiabao stopped in Budapest with great fanfare. The Hungarian government, then closing out its term as rotating presidency of the EU Council of Ministers, celebrated Mr. Wen's call on the Pearl of the Danube as an important coup for the Central European nation's efforts to attract the attention of the giant from the East. Wen's visit to Budapest was part of a tour billed to buy European debts and "help" Europe by shoring up its investments. Yet, Premier Wen's meetings with Hungarian officials were chalked up as "bilateral" instead of "multilateral" dialogues, signifying that the purpose of the visit was for business between China and Hungary rather than the European Union. During the visit, Wen and Hungary's Prime Minister Victor Orban signed a dozen agreements (Budapest Business Journal, June 26), which the Hungarian government proclaimed would create thousands of jobs in the country (Hungarian Ministry of National Development, June 23). Representing the most lucrative collection of Chinese-Hungarian economic deals to date, Wen's push to Hungary is reflective of China's growing interest in gaining economic and political access to Central and Eastern Europe (CEE).
The extensive agreements, worth around $3.6 billion, included plans for joint investment in a Hungarian solar panel production facility; a citric acid factory (Portfolio.hu, June 17); development of air, water and rail transportation (Budapest Business Journal, June 26); and plans to develop Hungary's neglected Szombathely airport into a major European cargo base (Budapest Business Journal, June 24). Moreover, Chinese telecommunications manufacturing giant, Huawei, "which already operates logistics centers in Hungary, announced in May it would expand its distribution center in the country, where it expects to employ 3,000 people and export a total of $1.2 billion worth of products this year, making it Huawei's second-largest supply center in the world" (Portfolio.hu, June 27). In 2012, Huawei's Logistics Center in Hungary predicts revenues of $3 billion (Reuters, June 8). Finally, Premier Wen promised to purchase an unspecified amount of Hungarian debt, the news of which strengthened the Hungarian forint by 0.3 percent (Bloomberg, June 27).
The Chinese-Hungarian economic relationship has been intensifying over the last several years. As early as 2009, Hu Jintao's successor-in-waiting, Xi Jinping, visited Hungary, as well as Bulgaria and Romania. Against the backdrop of a massive $1 billion Chinese loan to neighboring Moldova that August, this push was seen as a signal of an intensification of Beijing's strategy to diversify its huge foreign reserves—and accelerate the diversification of its "go global" strategy (See "Xi's European Tour: China's Central-Eastern European Strategy Reaches for New Heights," China Brief, October 7, 2009). Chinese-Hungarian relations reached an even higher level with PM Orban's visit at the end of 2010. In Shanghai, Orban negotiated a Chinese buyout of Hungarian biochemical giant, BorsodChem, which China's Wanhua Industrial Group purchased for $1.6 billion in February 2011. Then, in May 2011, Chinese State Councilor Dai Bingguo visited Budapest and met with the Hungarian president and prime minister to discuss joint business deals in transportation, aviation and energy, as well as political and cultural cooperation (Xinhua, May 14).
Premier Wen's most recent commitments in Hungary are consistent with a pattern of behavior that suggests that China is targeting these emerging markets strategically [2]. In 2010, two-way trade between China and the region surpassed 40 billion, representing an annual average growth rate of 32 percent. China's imports from the central and east European countries have grown even faster, registering an average annual rate of 38.7 percent (Xinhua News Agency, June 26). Indeed, Piraeus—the largest shipping port in Greece, which is owned and run by the Chinese company China Ocean Shipping Co.—is specifically being used by China to reach Central European and Black Sea markets (NPR, June 8). CEE countries represent dynamic, largely developed, less saturated economies, which are still directly connected to the EU common market. Premier Wen admitted in a speech before the China-Central and Eastern European Countries Economic and Trade Forum that China is looking at the region as a useful entry point into the rich economies of Western Europe. He noted that through joint partnerships Chinese corporations can "significantly cut their business costs and get integrated into the industrial system within the EU" (Xinhua News Agency, June 26), which Prime Minister Orban also openly promoted to Chinese State Councilor Dai in May (Xinhua, May 14). Yet, Hungary appears to be edging out its neighbors as China's hub in Central Europe.
Unlike Hungary, many Central European countries have mixed feelings of closer economic ties with China. On the one hand, they actively want to attract Chinese FDI [3], and are anxious about losing out on trade and business opportunities with China (Gazeta Prawna, June 21; TVN24, June 10). However, there are also fears of the reliability of Chinese firms, as illustrated by the failure of the Chinese Overseas Engineering Company to finance and complete its section of a highway project in Poland, which threatens to sour ties between Warsaw and Beijing (Financial Times, June 7). Furthermore, allegations of exploitative labor conditions in Chinese-owned workplaces in Europe also dull Europeans' desire for this Chinese investment (NPR, June 8).
Yet, Beijing's foray into Central European markets cannot be disconnected from a longstanding political goal: to end the EU Arms Embargo. For example, following a pell mell push by Beijing to engage the Spaniards, in early 2010, Spanish officials—favorable to the idea of dropping the ban—tried to re-open the debate on the EU-China arms embargo, and Bulgaria and Romania have ostensibly warmed up to the idea, as well. China's engagement of Hungary may be seen as an attempt to buy political support from critical Central European countries whose economies depend on increasingly scarce sources of FDI.
Hungary is a member of the Visegrad Group, a loose political grouping of the Czech Republic, Poland, Slovakia and Hungary, which has the same voting weight inside the EU as France and Germany. It is important to note, however, that its members—especially the Czech Republic, Poland, and to a degree Slovakia—are generally considered very sensitive to human rights issues, including China's record. China may thus be trying to use Hungary as an example to its neighbors that if they toe China's line, they will also reap the rewards of China's generosity. Thus, the longer Europe's economy stumbles in its recovery, the more enticing Chinese overtures will be to the region.
Notes:
1. "Wegry zabiegaja o przychylnosc Pekinu i chinskich inwestorów." BEST-OSW. 4 Nov 2010. Accessed 14 Jul 2011 <https://www.osw.waw.pl/pl/publikacje/best/2010-11-04/wegry-zabiegaja-o-przychylnosc-pekinu-i-chinskich-inwestorow>.
2. See Doran, Peter B. "China's Foray into Central Europe: Geopolitical Tourist or New Contender?" Central Europe Digest. 15 Sep 2010. Accessed 14 Jul 2011 <https://www.cepa.org/ced/view.aspx?record_id=262>.
3. An illustrative example of Central Europe's attempts to attract Chinese investment was a recent presentation made by the Ambassadors of Poland, Slovakia, Hungary and the Czech Republic in Beijing. See "Pekin: konferencja prasowa w 20 rocznice powstania Grupy Wyszehradzkiej." CRI Online. 27 May 2011. Accessed 14 Jul 2011 <https://polish.cri.cn/561/2011/05/27/162s105270.htm>.