Is Mobilization Really Over in Russia?
Publication: Eurasia Daily Monitor Volume: 19 Issue: 164
By: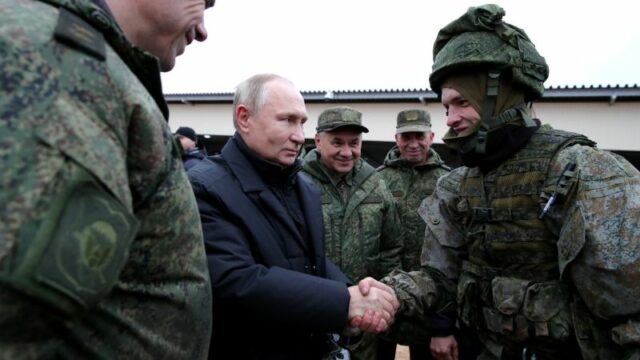 On October 28, Russia announced the successful end of its "partial mobilization" campaign. Russian Defense Minister Sergei Shoigu declared that 300,000 soldiers had been mobilized, with 13,000 volunteers among them. Moreover, he added that further mobilization will not be needed, and the armed forces will be able to rely solely on contracted soldiers and volunteers from now on (Kremlin.ru, October 28). In truth, the Russian authorities are trying to avoid the official end of the mobilization by means of a government decree (TASS, October 31, November 1), only confirming its end through another portion of "verbal interventions" (Gazeta.ru, October 31).
Generally speaking, the mobilization in Russia has been plagued by bureaucratic tricks and can hardly be considered successful, as the illegal recruiting of convicts continues, which would no longer be necessary in the event of a true completion of the mobilization's goals (72.ru, November 3; Ngs.ru, November 2, 3). In fact, efforts have quickened to pass an urgent law that eases the mobilization process for people with criminal records (Sozd.duma.gov.ru, November 2). Furthermore, in the case of true success, there would be no need to seriously discuss reviving the widely unpopular policy of a two-year term for military service within the conscription system, replacing the current one-year term that was implemented in 2008 (RIA Novosti, November 3; RIA Novosti, November 3; RIA Novosti, November 3).
Nevertheless, as of November 3, the probable true intermediate results of the mobilization are estimated as comparable to the typical spring or fall conscription cycles, with around 120,000 soldiers actually being mobilized. This estimate is supported by several official numbers given by Russian officials in recent weeks.
To begin with, Shoigu announced that more than 200,000 citizens had been mobilized and joined the armed forces as of October 4 (TASS, October 4). The next update, given by Russian President Vladimir Putin, declared that 222,000 soldiers had been mobilized as of October 14 (Kremlin.ru, October 14). Then, according to the head of a Russian State Duma committee, as of October 21, that number jumped to 260,000 citizens (TASS, October 21). Finally, by the end of October, it was announced that the magic number of 300,000 had been reached. Therefore, according to the official weekly data for the mobilization, around 40,000 soldiers were mobilized in the past two weeks. And that means about 70,000 soldiers were mobilized each week from September 21 to October 14.
However, if we extrapolate the dynamic of the past two weeks to the five and a half weeks of the mobilization, it only adds up to 220,000 mobilized soldiers. Considering the normal conscription campaigns on average see about 127,500–135,000 recruits in three and half months for the spring conscription and three months in the fall, 70,000 mobilized citizens or even 40,000 in just one week seems to be an insurmountable organizational and logistical challenge for the Russian Armed Forces and those regional authorities responsible for carrying out the mobilization. In comparison, the target for the current fall conscription campaign, which started on November 1 instead of October 1, is 120,000 recruits by December 31 (Publication.pravo.gov.ru, September 30).
Moreover, as of October 14, about 16,000 newly mobilized soldiers had participated in active combat operations in Ukraine after as little as five but no more than 15 days of training; the total number of soldiers on the battlefield in Ukraine was reported to be around 33,000 (Kremlin.ru, October 14). On October 28, Shoigu declared that 82,000 mobilized soldiers had been sent to Ukraine, with 41,000 participating in combat operations within their units (Kremlin.ru, October 28). Three day later, he announced that 87,000 mobilized soldiers had already been sent to the front (Forbes.ru, November 1).
In terms of training infrastructure for the mobilized citizens, official statistics count six training centers, 80 firing ranges and only 3,000 instructors (TASS, October 4; Forbes.ru, November 1). This reveals that the currently available material and organizational elements are not sufficient enough to deal with 300,000 newly mobilized recruits.
Additionally, it should be stressed that the total number of the Russian ground forces on the eve of the massive invasion of Ukraine in February 2022 was no more than 280,000. Together with the airborne troops and marines, about 360,000 troops were available to wage ground warfare within the Russian Armed Forces. However, at the time, the Russian army enjoyed only 168 combat-ready battalion tactical groups with 800–1,000 soldiers in each of them (TASS, August 10, 2021). Therefore, it is hard to imagine that the Russian military establishment was able to process 300,000 mobilized soldiers in just under six weeks.
Part of the answer to this puzzle is that a large part of these mobilized recruits have come from those already completing their military service even before the mobilization began. The contracts of soldiers, sergeants, other noncommissioned officers, as well as officers, which were originally planned to end this fall, have been forcibly prolonged indefinitely. Thus, they are counted as "mobilized." Most likely, at least a part of 127,500 conscripted soldiers from the 2021 fall conscription campaign is also being included among the "newly mobilized," and retired or retiring soldiers are only taking short vacations before returning to military service (Rg.ru, September 28; 59.ru, October 13,). All this helps explain why the true number of newly mobilized Russian citizens is estimated at around 120,000.
This estimation is further confirmed by the number of mobilized soldiers in the Moscow region—5,700 recruits—which is comparable to a typical conscription campaign (TASS, October 17). Seemingly, this estimate was also confirmed by the mayor of Moscow, Sergei Sobyanin, who claimed that the authorities of the Russian regions had made accommodation for 60,000 mobilized citizens (Kremlin.ru, October 25). Definitely, this number should be added to the existing tens of thousands of accommodations already in place, including military training centers and other facilities. However, this estimation may be revised as new data appears.
Ultimately, the mobilization in Russia, even if it has been "completed" in word, will continue in practice considering the fact that newly mobilized soldiers are facing heavy losses in Ukraine. Furthermore, the fall conscription goal will hardly be realized as many potential recruits between the ages of 18 and 27 are actively trying to avoid being recruited. Thus, despite what the Kremlin might claim, mobilization is sure to continue for the foreseeable future.