IS MOLDOVA'S PRESIDENT DROPPING THE EUROPEAN BANNER?
Publication: Eurasia Daily Monitor Volume: 4 Issue: 127
By: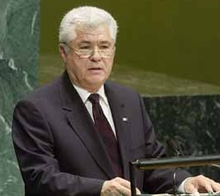 President Vladimir Voronin gathered the chiefs of diplomatic missions accredited in Moldova on June 28 for a briefing on his recent and upcoming negotiations with Russian President Vladimir Putin (Moldpres, June 28).
Stung by criticism of his non-transparent meetings with Putin and back-channel negotiations with the Kremlin, Voronin resorted to the unprecedented move of inviting the entire diplomatic corps to his residence in the countryside and expressing disappointment over the doubts that had been voiced regarding his intentions. However, the gathering's unusually large composition precluded candid discussion or any real openness, turning the meeting into a pro-forma event.
Putin and Voronin are scheduled to meet again tomorrow, June 30, in Rostov-on-Don for what Voronin eagerly hopes to be the crowning result of those negotiations — namely, an agreement on the withdrawal of Russian troops from Moldova and the political status of Transnistria within Moldova. However, Voronin's briefing suggests that this is unlikely to happen any time soon (barring a coup de theatre at the Rostov meeting).
Instead, a frustrated Voronin is continually raising the price he would pay for Putin's consent to a deal that Moldova could tolerate. Judging from his June 28 briefing, that price may now involve a takeover, perhaps wholesale, of Moldova's economy by Russian interests.
According to the officially published account (Moldpres, June 28), Voronin said that recent and ongoing discussions with Putin and other Russian officials focus on economics, including: reopening the Russian market for Moldovan wines (that is, lifting the embargo on Moldova's main export product), attracting Russian investment in Moldova's wine industry, and developing Russia-Moldova partnerships in energy, information technology, transport infrastructure, and processing industries. Hoping to launch such projects, Moldova expects Russian Economic Development and Trade Minister German Gref to visit Chisinau soon with proposals for Russian investments.
Apparently, the Kremlin is ensnaring Chisinau ever more deeply into a political and economic bidding process that Chisinau can only lose. At stake is Russian acceptance of the Moldovan "Package" of proposals on Russian troop withdrawal and Transnistria's political status. The Package formed the basis of back-channel negotiations from September 2006 to March 2007. At that stage, Moldovan concessions involved only what Russia already possessed — namely, Transnistria's large industrial assets and Chisinau's commitment to permanent neutrality rather than joining NATO (see EDM, February 1).
Increasingly nervous and frustrated at Russian stonewalling, Chisinau upped the ante in March and April by offering quotas of posts in Chisinau's governing institutions to Tiraspol's representatives and offering to rescind Moldova's July 2005 law (which precludes "federalization" and other high-risk solutions) as a price for Russian acceptance of the Moldovan Package (see EDM, April 13). Thus, Chisinau offered a political price at the expense of its institutional functionality in hopes of getting rid of Russian troops and reunifying the country territorially. As Moscow continued stonewalling, Chisinau raised its bidding again, offering up the economy for what it may be worth to Russian interests, no longer just in left-bank Transnistria but in the right-bank heartland as well.
Putin is repeatedly embarrassing Voronin with hints at lifting the wine embargo. Voronin and government authorities rose each time to the bait, announcing the imminent reopening of the Russian market several times between August 2006 and June 2007. However, this has yet to happen and is clearly linked by the Kremlin with the negotiations on troops and Transnistria. In the latest instance, Moscow announced on June 25 that Moldovan wine imports may resume on a limited basis in a month's time, but the announcement is heavily hedged with "technical" conditions again (Interfax, Ekho Moskvy, June 25).
Voronin's suddenly expressed willingness to turn the economy over to Russia hardly fits in with his official orientation toward the European Union. The June 18-19 meetings in Brussels and Luxembourg of the EU-Moldova Cooperation Council, involving the top EU officials and Voronin, were very carefully and indeed sensitively prepared on the EU side and seemed to go well (Moldovan Foreign Policy Association News Digest, June 25).
Nevertheless, Voronin feels disappointed and irritated with EU policy. Some Moldovan ministerial officials had told Voronin erroneously that Moldova can expect visa liberalization (rather than merely facilitation) and an association agreement with the EU soon, even though Moldova's performance and EU internal politics preclude such steps any time soon. Meanwhile, the $1.2 billion in funding that was pledged half a year ago has yet to start being disbursed. Moldova itself has failed to attract any significant Western investments or to gain European market niches for its wines, musing instead about returning to the Russian market.
All this explains Voronin's apparent bet on Russia for economic recovery, at the risk of mortgaging the economy and locking even the wine industry's better segments (which Russian investors would take first) into long-term dependence on the Russian market. Voronin seemed to presage this shift when telling the CIS Inter-Parliamentary Assembly on June 10 that EU integration and CIS integration are equally good for Moldova and do not involve any choice.
The Moldovan president's zigzags are now alienating his few political partners. The main partner, Christian Democrat leader Iurie Rosca, is warning, "Moldova risks losing the trust of its Western partners," since Voronin has shifted to negotiations "between Russia and Moldova alone. This can separate Moldova's authorities from the U.S. and the EU " (Infotag, June 27). The whole rationale of the Voronin-Christian Democrat partnership since 2005 was the pursuit of a Western orientation for Moldova.
On the Transnistria conflict, Voronin told the mission chiefs at the June 28 briefing that Chisinau favors the resumption of negotiations in the 5+2 format (Russia, Ukraine, OSCE, EU, United States, Chisinau, Tiraspol) on Transnistria's status. Voronin did not mention Russian troops in the officially published account of the briefing. Otherwise, he insists on the complete and prompt withdrawal of those troops.
To induce Putin to deliver on this issue, Voronin is raising the bidding step-by-step on other issues, unrelated to Transnistria or the troops, and risking long-term damage to overall Moldovan interests. He can, by now, see for himself that the obscure back channel with Russia has brought no gains and only mounting losses, on all levels.