Is Russia Helping Taiwan Build Submarines?
Publication: China Brief Volume: 11 Issue: 4
By: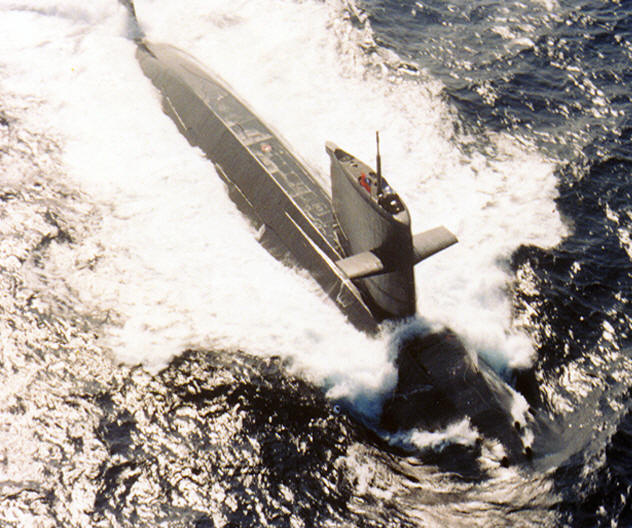 On January 27, a Taiwanese weekly, Next Magazine, reported that the Republic of China (Taiwan) Navy had plans to introduce Russian Kilo-class submarine technology. According to the report, a task force was organized by Taiwan's National Security Council (NSC) and the Taiwan Navy, which contacted Russian government authorities back in October 2010 and reached a consensus on technical cooperation to construct pressure hulls for submarines. Russia reportedly will send a technical team to Taiwan for evaluation before signing a memorandum of cooperation (Next Magazine [Taiwan], January 27). The Taiwan Navy denied the report and stated that, "The [Taiwan] navy has no plans to acquire submarines from sources other than the United States," and that, "there has been no change of such policy and position" (Taipei Times, December 9, 2010; Taiwan's MND, January 26).
The Taiwan Navy appears to be approaching a crossroads in its 40-year quest for a fleet of modern diesel electric submarines. As the Obama administration evaluates the former George W. Bush administration's approval of eight diesel-electric submarines for Taiwan in April 2001, senior ROC political and military leaders are weighing three options: First, continue to lobby the Obama administration to notify Congress of its intent to implement the program as authorized by the former Bush administration; second, give up the 40 year quest for conventional submarines that former defense minister and president, Chiang Ching-kuo, began in 1969; or direct the ROC's domestic industry to take the lead, with United States and other foreign assistanc, in designing, developing and manufacturing diesel electric submarines (The Taiwan Link, October 30, 2008). Since President Barack Obama has not yet agreed to sell submarines to Taiwan, such reports suggest that the Ma administration may be leaning toward option 3.
Background
Against the backdrop of China's growing naval power, one of the most effective assets for deterrence available to the Taiwan Navy is arguably the submarine. Many defense planners in Taiwan believe that additional submarines are essential for preventing an occupation of Taiwan proper, since the People's Liberation Army Navy (PLAN) does not currently have sufficient amphibious landing capability. Yet, since former U.S. President George W. Bush authorized the release of eight diesel-electric submarines to Taiwan in April 2001, this military sale has not yet materialized.
During the Democratic Progressive Party (DPP) administration under Chen Shui-bian from 2000 to 2008, the Kuomingtang (KMT), which had a majority in Taiwan's Legislative Yuan, blocked the procurement of submarines on grounds that the acquisition was too expensive. After President Ma Ying-jeou took office on May 20, 2008, however, the NSC, formerly headed by Secretary General Su Chi, revealed that since August 2008 a series of closed-door meetings were held on submarine procurement. No conclusions from those meetings have been released to the public in the past two years.
In February 2010, after Su Chi resigned from his post as secretary general of the NSC, he indicated that, "[He] had learned on private occasions that both civilian and military U.S. officials hold reservations on the sale of submarines to Taiwan, including former director of national intelligence and former commander of the Pacific Command, Admiral Dennis Blair. According to Su, there appear to be two major reasons against the sale. First, at least four deep-water harbors would be required, and the fact that the expansion projects of Kaohsiung and Tsoying sea ports are still not completed indicate that Taiwan does not have enough harbors for additional submarines. Second, Taiwan does not have the ability to maintain submarines. The United States believes that Taiwan has no logistic capability even once submarines are acquired (China Times [Taiwan], February 12, 2010). While the validity of such arguments is debatable, the current administration in Taipei may be shifting its position on submarines.
Russian Cooperation?
In another article published on December 8, 2010, Next Magazine reported that the Taiwan Navy organized a delegation visit with Taiwan Shipbuilding Corporation (CSBC) to Russia from October 10-18, 2010, to seek Moscow's cooperation in developing submarines (Next Magazine, December 9, 2010). Taiwan's Navy Command Headquarters held a press conference to respond to that report and stated, "the procurement of diesel-electric submarine procurement in process through the source of U.S. arms sale. There has been no change of such policy and position, nor has the Navy sent any personnel to Russia" (Taiwan's MND, December 8, 2010). Assistant Manager Yin Tzu-hsiang of CSBS explained that he led colleagues from the company's Design Department and Business Department to Russia for business purposes. The visit was to explore business opportunities, find new customers, buy cheaper raw materials and cooperate with Russians in building icebreakers and fishing vessels. Yin specifically pointed out that there were no Navy personnel whom accompanied his team (Taiwan's Navy, December 9, 2010).
It is interesting to note that in the same month, KMT Legislator Shuai Hua-ming responded to a media interview about Mr. William Stanton, director of the Taipei Office, American Institute in Taiwan, stating that there have been hidden changes in U.S. arms sales to Taiwan, and that Taiwan's national defense needs deliberate thinking and self-reflection, and that it can not always rely on the United States (China Times, October 29, 2010). This statement from a senior lawmaker from the ruling party suggests that Taiwan needs to shore up its own indigenous capabilities and may need to look elsewhere for assistance for its defense needs.
Furthermore, when President Ma met the Chairman of American Institute in Taiwan, Mr. Raymond Burghardt, on January 25, Ma stated that, "With the growing cross-strait military imbalance, it is expected the United States could agree to sell F-16C/D jet fighters and diesel-electric submarines as soon as possible. It is emphasized that cross-Strait military imbalance is not considered a positive factor of the development of cross-strait relations and regional stability. Taiwan does not intend to expand its military capability but only hope to replace outdated equipment. The new asset will be used for defensive purposes" (Office of the President, Republic of China [Taiwan], January 25). This is President Ma Ying-jeou's first public pronouncement to the United States that Taiwan needs submarines.
Coincidentally, during his recent visit to the United States, Taiwan's Legislative Yuan Speaker Wang Jin-Pyng told the House of Representatives Speaker John Boehner on January 26 that Taiwan need not only F-16C/D fighters but also 8 to 12 new diesel-electric submarines. According to Wang: In light of the growing military imbalance, cross-Strait political negotiations would not be on equal footing, which would be detrimental to both Taiwan and the United States (Liberty Times, January 28).
Conclusion
Whether the reports from Next Magazine are true remains to be seen. It should be noted, however, that the Taiwan Navy denied these reports, which is also consistent with the Ma administration's policy in recent years. Nevertheless, Ma's calls upon the Obama administration to release the submarines seem to indicate that the administration has shifted its defense policy in favor of submarines.
If the Taiwan Navy had indeed secretly sent personnel to Russia with President Ma's approval, then the underlying meaning and implications are manifold. First, it would mark a reversal in the current administration's position that submarines are offensive weapons. Second, the report that Taiwan and Russia will cooperate in reverse engineering technology to solve the hull problem of two 70 year-old GuppyⅡ-class submarines was false. The true intention appears to be to acquire new submarine hull from Russia or the ability to build submarines in Taiwan. Third, under the circumstances that the United State cannot obtain a submarine hull blue print from a third country or is not willing to allow Taiwan's acquisition of submarines, with or without Russia's assistance—Taiwan is demonstrating its determination of self-resilience defense policy to the United States. Fourth, both Next Magazine's reports and President Ma's emphasis on replacing outdated submarines could help in reducing the possibility of retaliation from the PRC through taking an indirect route. Finally, if a submarine production line could be established in Taiwan, in addition to upgrading Taiwan's technological capability and increasing employment opportunity in southern Taiwan, it could help Ma win support from the people. Whether the Taiwan Navy is willing to stand behind this "development" remains to be further observed.