Is Uzbekistan on the Verge of Rejoining the CSTO?
Publication: Eurasia Daily Monitor Volume: 18 Issue: 148
By: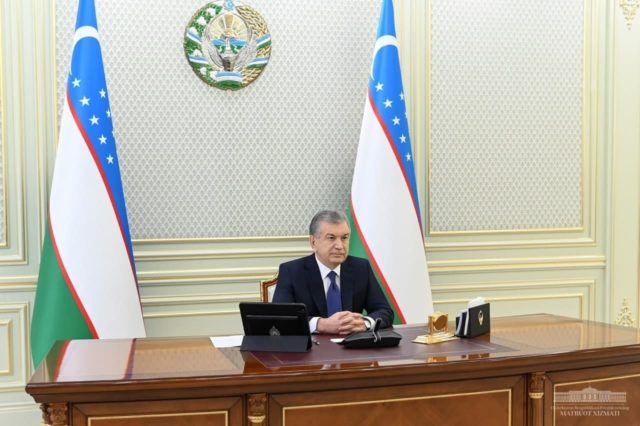 On September 20, Tashkent hosted a conference on the topic "Russia and Uzbekistan facing the challenges of development and security at a new historical stage of interaction." This gathering, jointly organized by Russia's Valdai International Discussion Club and the Institute for Strategic and Interregional Studies Under the President of the Republic of Uzbekistan, was attended by high-level diplomats from both countries. During the conference, Russian Deputy Foreign Minister Andrei Rudenko implicitly suggested that the Kremlin would like Uzbekistan to rejoin the Collective Security Treaty Organization (CSTO), the Moscow-led regional security alliance whose other members are Armenia, Belarus, Kazakhstan, Kyrgyzstan and Tajikistan (Youtube, September 23).
According to Rudenko, Uzbekistani-Russian relations have been significantly enhanced in recent years and Uzbekistan remains Russia's "strategic and allied country, which are important descriptions of the bilateral ties, despite the fact that the latter suspended its membership in the Collective Security Treaty Organization way back in 2012." The deputy foreign minister added that "nevertheless, Russia still considers Uzbekistan a reliable and loyal partner" (YouTube, September 23).
Rudenko was the latest Russian official who waded into the recent wave of speculation across the Runet (Russian Internet) about whether the bilateral agenda includes Uzbekistan rejoining the CSTO. Representatives of the Russian government consistently deny such rumors, adding that Moscow allegedly never pressures any country to accede to the CSTO (Kun.uz, September 16).
Nonetheless, back in August, the Russian Ministry of Defense issued a press release about the evacuation of over 500 citizens of Commonwealth of Independent States (CIS) member countries and Ukraine from Afghanistan. In this statement, it conspicuously mentioned Uzbekistan as a member of the CSTO, together with Belarus, Kyrgyzstan and Tajikistan. Apparently, this error on the Russian defense ministry's website occurred immediately after Uzbekistani President Shavkat Mirziyoyev attended the CSTO's August 23 summit, held via videoconference, as "an invited guest." During the proceedings, Mirziyoyev agreed to enhance his country's cooperation with the CSTO countries over regional security issues in light of the latest developments in Afghanistan (Kun.uz, August 26).
Moreover, even prior to that CSTO summit, as the Taliban continued to capture one provincial capital after another in neighboring Afghanistan, Uzbekistan participated in tripartite (Russia, Tajikistan and Uzbekistan) military drills at the Harb-Maydon training ground, in southern Tajikistan (Gazeta.uz, August 12). Additionally, Uzbekistan hosted Russian military units for bilateral South 21 military exercises near its southern city of Termez, bordering with Afghanistan (Sputnik News, August 2).
Most likely, Tashkent views the Uzbekistani president's "guest" attendance at the CSTO summit as well as the country's participation in various military exercises with the other CSTO members as purely serving various practical purposes: exchanging information, testing combat readiness in light of cross-border threats, strengthening military-military cooperation with regional neighbors, and the like (President.uz, August 23). However, Russian commentators interpreted these developments as indications that Uzbekistan was edging toward rejoining the Moscow-led military alliance and urgently seeking protection from Russia in the aftermath of the Taliban's seizure of power in Afghanistan (Uz.sputniknews.ru, July 13).
Importantly, when referring to Uzbekistan's withdrawal from the CSTO in 2012, Russian commentators and officials always use the word "suspended" ("priostanovil"), implying that leaving the alliance is temporary and would be reversed in the future. But when describing the same situation, Uzbekistani officials notably prefer to use the word "exited" or "left" ("vyshel"). In a similar fashion, when asked if Uzbekistan would be joining the CSTO again, Russian high-level representatives routinely say that "Tashkent is not yet planning to rejoin the CSTO," while their Uzbekistani counterparts are more categorical in their answers, declaring that the "issue of joining the CSTO is not being considered" or "Uzbekistan has no plans to join the CSTO" (Uzreport.news, July 12; Kun.uz, September 16).
In a broader context, the current situation in Afghanistan has presented the Kremlin with a unique opportunity to strengthen its military patronage over the Central Asian countries. Russia has been trying to heighten alarm among Central Asian political elites by touting the possible growth in terrorist threats emanating from Afghanistan after the Taliban's takeover (see EDM, July 28). This behavior aims not only to reaffirm the Kremlin's role as a regional security provider but also as a supplier of modern arms to Central Asian countries. All the Russian weaponry showcased during joint military drills is available for purchase (Kun.uz, August 6).
In its latest attempts to convince Central Asian countries to place new orders for Russian weapons (particularly Uzbekistan and Turkmenistan, both of which border Afghanistan and are usually able to pay for their military purchases), Russian propagandists are spreading information that, when fleeing Afghanistan, the United States left large stockpiles of modern weaponry behind for the Taliban to capture. The commentators go so far as to claim that the Taliban is now better equipped than even the Ukrainian Armed Forces, arguably the second-strongest military force, after Russia's, within the CIS.
Moreover, Russian Prime Minister Mikhail Mishustin promised generous discounts if Central Asian allies want to purchase Russian arms. In other words, even states like Tajikistan and Kyrgyzstan, which have long depended on weapons donations from Moscow in return for hosting Russian military bases and other facilities on their territories, should not expect any substantial largesse, despite the threat of the regional security situation degenerating over the coming months or years (Gazeta.ru, August 23).
Uzbekistan's President Shavkat Mirziyoyev has long been planning to visit Moscow and will most likely do so after the October 24, 2021, presidential election. According to Russian Deputy Foreign Minister Andrei Rudenko, during Mirziyoyev's expected visit, the two countries will sign a substantial package of bilateral agreements, which will also include defense cooperation and arms purchases (YouTube, September 23).
In the aftermath of the Western withdrawal from Afghanistan, Uzbekistan refused entreaties to host a US military facility on its territory, which, Tashkent noted, is precluded by its Foreign Policy Doctrine. Russian officials immediately applauded that decision and expressed hope that the Uzbekistani government would remain true to its laws. However, Russian officials and commentators often forget that the same law prohibits Uzbekistan from joining any military-political alliances and blocs—which includes the CSTO (TASS, May 24).
So far, no compelling indications exist that President Mirziyoyev is planning to take Uzbekistan into the Collective Security Treaty Organization. If anything, the recent increase in joint Uzbekistani-Russian military drills and interactions suggest that Tashkent believes Moscow can serve as a useful and preeminent security and military partner even without Uzbekistan reentering the CSTO.