Islamic Militants Ratchet Up Attacks in Dagestan
Publication: North Caucasus Weekly Volume: 9 Issue: 44
By: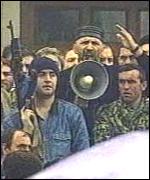 Dagestan has seen an uptick in violence between security forces and suspected Islamic militants during the past week. A police officer was killed in the village of Leninkent near the capital Makhachkala on November 19. Interfax quoted an unnamed spokesperson for Dagestan's Interior Ministry as saying that the dead body of Police Major Shamkhal Abdulmutalov was found on the outskirts of Leninkent that morning and that Abdulmutalov had apparently been killed on his way to work. Agence France-Presse quoted a local police officer as saying that 13 shell casings were found near Abdulmutalov's body with two bullet holes.
Itar-Tass reported on November 18 that an explosive device had detonated on a roadside in Makhachkala's Kirovsky district that morning as a VAZ-2110 car was passing by. A regional police source told the news agency that "two men with injuries were brought to the hospital" after the incident. Itar-Tass reported that, according to preliminary information, the two wounded men were employees of Dagestan's Spiritual Board of Muslims and that it was possible that criminals had planned to assassinate one of them. Interfax identified the two victims as Sultan Sultanmagomedov, an anchor of a Muslim TV show and an advisor to the mufti of the Dagestani Spiritual Board of Muslims, and Gazimagomed Kurazkhmaev, his driver and bodyguard.
Kavkazky Uzel reported on November 18 that both men had multiple shrapnel wounds but that their lives were not in danger. The website noted that Sutanmagmedov, who it identified as the deputy mufti of Dagestan's Spiritual Board of Muslims, was known in the republic as "one of the most irreconcilable opponents of religious radicalism, known in the republic as Wahhabism."
Dagestan's armed Islamic insurgency, the Sharia Jamaat, has denounced and threatened members of the republic's Spiritual Board of Muslims (Chechnya Weekly, January 26, 2006; April 19, 2007).
Federal Security Service (FSB) commandos killed four militants during a special operation in Makhachkala on November 17, Itar-Tass reported. The militants were holed up in an apartment on the second floor of a five-story building in the Dagestani capital and, according to Interior Ministry official Shamil Guseinov, a gun battle broke out after they refused to surrender.
The Moscow Times reported on November 19 that among the four Islamist militants killed in Makhachkala, was a suspect twice cleared by juries on charges of organizing the 1999 apartment bombing that killed 58 people. According to the English-language newspaper, the suspect, 46-year-old Magomed Salikhov, was accused of organizing a bombing in the Dagestani town of Buinaksk in September 1999, the first in a series of apartment building bombings that hit Russian cities that month, killing more than 300 people and leading the Kremlin to start the second war in Chechnya. Although Salikhov himself was twice cleared by jurors, his associates were tried by a judge and sentenced to terms upward to life in prison.
Interfax quoted a spokesman for the local branch of the FSB as saying that the four men had been linked to dozens of killings of local law enforcement officials and moderate Muslim clergymen, as well as local television journalist Telman Alishaev earlier this year (North Caucasus Weekly, September 5).
On November 14, unidentified people fired at a traffic police detail in Dagestan's Karabudakhkentsky region, killing one policeman, Itar-Tass reported. A source in the press service of Dagestan's Interior Ministry told the news agency that police officers came to a filling station and asked the driver of an unlicensed VAZ-2110 car to show documents. "A man with a submachine-gun got out of the car and shot one of the policemen point-blank, after which he and his accomplice escaped from the scene of the incident," the source said.