Kadyrov Leads a Special Operation
Publication: North Caucasus Weekly Volume: 9 Issue: 44
By: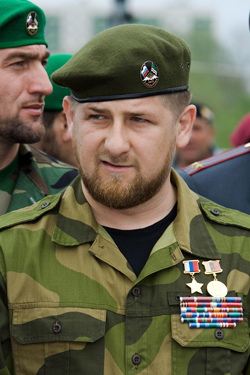 Chechen President Ramzan Kadyrov personally organized and led a special operation aimed at members of "illegal armed formations" in Chechnya's Kurchaloi and Nozhai-Yurt districts on November 14-15, Interfax reported, citing the Chechen presidential press service. The chief of that service, Lemma Gudaev, was quoted as saying that the operation lasted all night but that no signs for rebel forces were found— something which Kadyrov considered a "good sign."
"Kadyrov emphasized that not a single trace of the bandit formations was discovered here, and that speaks to the fact that there are practically none remaining in the republic," Gudaev said. "Yes, there are small groups that do not represent a serious threat to society; nonetheless, it is necessary to conduct a tough fight against them, to oppose their unlawful actions and uncoordinated raids on representatives of the law-enforcement bodies. One of the reasons nothing of them has been found thus far is their very small number, but I am sure that sooner or later they will answer to the law."
Gudaev also quoted Kadyrov as saying that members of "illegal armed formations" have been giving up the fight lately—something which, he said, shows that rebel leaders have started to lose the trust of their forces, who see the mood of the Chechen people as, according to Kadyrov, simply wanting to "live peacefully and to create." Kadyrov said that thanks to "large-scale explanatory work" carried out by the republic's religious authorities and local administrative bodies, ten rebels recently put down their weapons and returned to peaceful life.
Meanwhile, Interfax reported on November 18 that a militant was killed and another injured in a shootout with federal forces near the village of Goichu in Chechnya's Urus-Martan district. The battle broke out after the federal troops spotted a group of about ten militants just south of Goichu.
A policeman was injured in a grenade blast as police officers and Interior Ministry troops were conducting a search operation on November 17, Itar-Tass reported. The news service did not specify exactly where the incident took place.
Kavkazky Uzel reported that a member of the Chechen police force's patrol and sentry service No. 1, Isa Dukuev, received serious shrapnel wounds while taking part in a security operation in Chechnya's Vedeno district on November 16. That same day, the Regnum news agency quoted a Chechen Interior Ministry source as saying that a rebel had been detained in Chechnya's Shatoi district and that a resident of the village of Goity in Chechnya's Urus-Martan district had been detained for providing the rebels with supplies and informing them of the whereabouts of federal troops and police. Regnum also quoted a federal Interior Ministry source as saying that on November 17 a militant who had fought in the late Shamil Basaev's Chechen rebel group back in 1996 was arrested in Grozny's Oktyabrsky district.