Islamic State After Syria: A Dangerous New Stronghold in the Sinai
Publication: Terrorism Monitor Volume: 16 Issue: 10
By: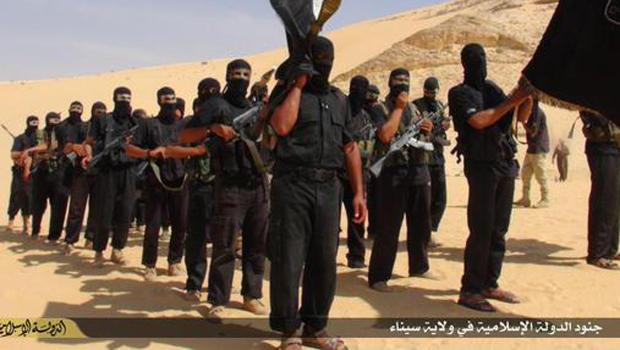 Having once held domain over some eight million people and controlled territory reaching nearly to Baghdad, Islamic State (IS) has undergone a monumental decline. Where the group was once in control of massive swathes of northeastern Syria and western Iraq, its so-called caliphate has since been dismantled. Militants appear to have deserted the group by the hundreds, and its territorial and battlefield losses have been mirrored online.
After the fall of its treasured Iraqi possession, Mosul, the group's de facto capital, Raqqa became the international coalition's next target. IS was predicted to take its last stand at Raqqa, fighting until its ultimate demise. However, rather than fighting to the last man, many IS fighters fled under an agreement to minimize civilian casualties, leaving only a minor force of about 300 to 400 fighters behind (Haaretz, October 15, 2017). Thousands of foreign and local fighters were allowed to leave Raqqa before the collapse of the city's defenses.
Some experts argued that these fighters would make their final stand along the Syrian-Iraqi border. Closed in by an offensive on the Iraqi side of the border, in Anbar province, IS fighters had no place to go. It was widely considered that the final battle would be for a stretch of land along the Euphrates, but the expected showdown never materialized. Demoralized local IS fighters chose to run, rather than face certain death. The group's foreign fighters, unable to blend into the local population, could now seek to repeat an earlier strategy—faced with battles that left it nearly defeated in 2009, IS opted for a survival strategy based on insurgency-style warfare that would ensure the group survived in one form or another. [1]
As the ring around IS has slowly but steadily closed, the group has adapted, establishing a new safe haven in the Sinai Peninsula, capable of serving as its stronghold in the Middle East. Meanwhile, hundreds of its fighters have crossed into Turkey. An extensive number of IS jihadists are now potentially strategically situated for future attacks against civilian and military targets in Turkey and across the wider region, including parts Europe. Turkey also serves as a valuable transit point for fighters seeking to reach other IS-controlled territories.
Emerging Threat in the Sinai
The basis for an IS insurgency in the Sinai already existed in the form of Ansar Bait al-Maqdis (ABM or "Supporters of Jerusalem"), which pledged allegiance to IS in 2013 (al-Jazeera, November 10, 2014). The group benefited from the governance chaos that followed the ousting of Egypt's former leader Hosni Mubarak. During that time, experienced jihadists were released from prison and the group sought to take advantage of the chaotic situation, extending its influence and operations in Egypt's Sinai Peninsula (Mada, February 16, 2014).
The Egyptian army, stretched thin as a result of its new role as an internal security actor, failed to quell the insurgency with its hard-handed approach (Ahram, July 18, 2013; MEE, March 13). Rather than pursuing a counter-insurgency approach, Egypt has opted to conduct traditional military-style engagements. However, this approach has not had positive results (al-Jazeera, March 7). Indeed, the Egyptian army has been responsible for a large number of incidents in which civilians have been killed, alienating large portions of the local population and serving as propaganda and incentives for IS recruitment (MEE, April 27). Already discontented with the lack of adequate governance, a framework for increasing IS support among the local population is already in place. Missteps on the part of the Egyptian government and its military, moreover, have served as a new means of luring foreign fighters to the Sinai.
In 2013, AMB became the Islamic State–Sinai Province (IS-SP), pledging allegiance to IS in a bid to secure more funding, weaponry and training. Ever since, it has evolved into one of the most successful IS franchises. IS-SP now controls some 900 square kilometers of territory in the restive Sinai. It assassinated the country's top prosecutor, besieged an entire town—only withdrawing once the Egyptian forces deployed heavy air assets—conducted the largest attack in Egypt's history when it killed 305 worshippers at a Sufi mosque and blew-up a Russian passenger jet operated by Kogalymavia, killing all 224 passengers and crew members on board.
Changing Dynamics
IS has morphed from a classical terrorist movement into a thriving insurgency-guerilla organization, retaining pieces of its old caliphate and securing entirely new territory (Mada, July 9, 2013; Aswat Masriya, July 2, 2015). As of mid-2017, a significant part of its forces constituted foreign fighters (Jerusalem Post, March 11, 2018). The group is estimated to currently have somewhere between 200 and 2,000 fighters, albeit 1000-1,500 is a more realistic figure (Cipher Brief, November 28, 2017). The group possesses heavy weaponry, including anti-tank missiles, anti-aircraft capabilities, tanks and artillery. Most importantly, and rather unusually, IS continues to engage in state-building operations and governance, resulting in the continuation in some form of its so-called caliphate. As part of its enduring success story, IS has created numerous institutions, even operating a religious police force (Jerusalem Post, May 2, 2017). With its Syrian affiliate losing terrain and under pressure, the Sinai is becoming the latest frontline in the global war against jihadist extremism and a new hub for foreign fighters. As its only semi-secure territory, IS leadership may prefer to seek refuge in Egypt's Sinai region than resort to going underground or fighting along the Syria-Iraq border.
The Sinai offers IS a position of strategic significance, with more territorial opportunities. The group is also relatively sheltered, contending at present only with the Egyptian state, rather than external intervention or coalition airstrikes.
IS' violent operations conducted from the Sinai illustrate the strength of the group and the relative ineffectiveness of the Egyptian regime's counter-terrorism efforts. In the Sinai, the group's military opponents are weaker, it controls a greater amount of territory and it faces little in the way of jihadist competition. Rather than remaining in Syria, where IS faces formidable adversaries and retains little-to-no territory, the Sinai presents a dangerous new chapter for the group.
NOTES
[1] Barrett, R 'Beyond the Caliphate: Foreign Fighters and the Threat of Returnees', The Soufan Centre (October 2018). Available here.