Islamic State Fighters' First Claimed Attack in Tanzania: Strategic Calculations and Political Context
Publication: Terrorism Monitor Volume: 18 Issue: 22
By: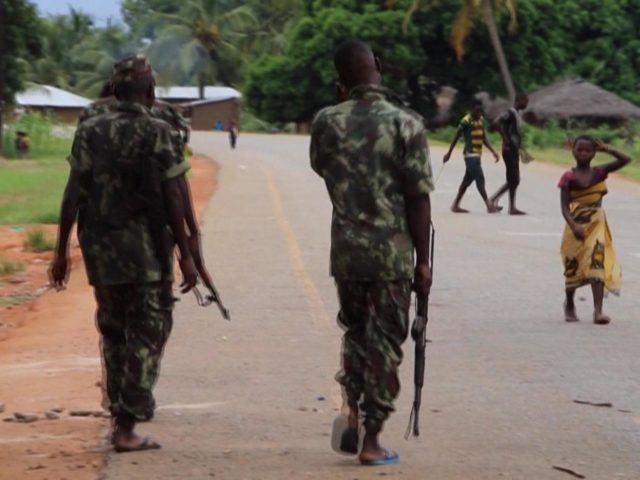 On October 15, Islamic State (IS) fighters in Mozambique staged their first claimed attack into southern Tanzania, killing at least 20 people in Kitaya, Mtwara Province. The fighters also burned down houses, destroyed an armored vehicle, and stole money and military equipment. Mtwara borders Palma district in the Mozambican Province of Cabo Delgado, which is the base of the group known as Ahlu al-Sunna Wal Jamaa or al-Shabaab ("The Youth") locally but officially as Islamic State in Central Africa Province (ISCAP) (The Citizen, October 23; Club of Mozambique, October 20).
Some ISCAP members were initially followers of Kenyan Islamist ideologue, the late Aboud Rogo, and resettled in northern Mozambique after Rogo was killed extrajudicially in a drive-by shooting in Mombasa in 2012. ISCAP also has religious, commercial, and training ties with jihadist networks in Kenya, Tanzania, and elsewhere in East Africa (Club of Mozambique, June 14, 2018). The group, however, only started carrying out attacks in northern Mozambique in 2017 and has since killed an estimated 700 civilians. Like other Islamist militants in Africa, ISCAP demands that governments rule by sharia (Islamic Law) (The Africa Report, July 29).
Since IS' 'territorial caliphate' in Syria and Iraq began collapsing, its leadership has been keen to expand in Africa. In August 2018, IS' former "caliph," Abubakar al-Baghdadi, indicated plans to create a Central Africa province (wilaya) (Twitter.com/SimNasr, August 22, 2018). Less than one year later, in April 2019, IS claimed an attack in Beni, Democratic People's Republic of Congo (DRC), killing two soldiers and one civilian, which heralded the launch of ISCAP as a formal IS province (The East African, April 19, 2019). By that time, attacks were also intensifying in northern Mozambique, whose fighters, along with the DRC insurgents, soon became subsumed under ISCAP.
Islamic State's Ambitions in Tanzania
ISCAP's attack in southern Tanzania underlines IS' ambition to expand its territory in Africa. While ISCAP has gained some success around Beni in DRC and Cabo Delgado in Mozambique, it has been slower to gain traction in Tanzania and Kenya, where, in contrast, al-Qaeda had success historically. In 2017, Tanzanian officials blamed an unidentified terrorist network for the killing of eight policemen in Kabiti district. Although the attackers had disappeared with the policemen's guns, officials said the attackers were linked to another attack in Dar es Salaam, in which the gunmen stormed Sitakishari police station and stole 17 guns. Four policemen were killed in that attack. The police later said they had killed four suspects in connection with the murders of the policemen in Kabiti (The East African, April 22, 2017; African News, April 14,2017).
Therefore, with its first official attack claim in Tanzania, IS and ISCAP have scored a victory. Moreover, Tanzania's police inspector general estimated at least 300 militants took part in the attack before they retreated to Mozambique. This attests to large numbers of fighters involved in the operation (The Citizen, October 23).
The jihadists gained access to Kitaya village after entering into Tanzania by sea and moving up Ruvuma River, which forms the border between Mozambique and Tanzania (Club of Mozambique,October 20). Photographs of the attack that IS released on its social media platforms and that were released outside official IS media channels further showed an attacker decapitating a man and throwing his head on the road as well as weapons and ammunition that the fighters pilfered (Club of Mozambique, October 20). In a video, the attackers were also heard speaking in Swahili, which is widely spoken in East Africa. They were also heard speaking Makua, which is a Bantu dialect in southern Tanzania and Mozambique, and Mwani, which is a Swahili dialect spoken in Cabo Delgado. This language diversity indicates northern Mozambique is a meeting point for East African jihadists from the Swahili Coast and perhaps elsewhere in East Africa (Club of Mozambique, October 20).
Nearly a month after the October attack, Tanzanian police announced the arrest of an unspecified number of Tanzanians suspected to be travelling to join ISCAP in Mozambique. The alleged recruits were from Kigoma in the west, Mwanza in the north, and other parts of Tanzania. After these arrests, the police said they had learned that many Tanzanians were involved in the attack in Mtwara and local villagers had helped ISCAP identify targets, including houses to set ablaze (Club of Mozambique, November 20).
Tanzanian Leadership's Responses
ISCAP's Mtwara attack occurred on the eve of Tanzania's national elections, but information gathered from the videos indicates that the militants' motivations were unrelated to the polls. According to utterances heard during the attack, the motive was to kill "what they [the militants] considered infidels," and spread ISCAP's teachings in Tanzania (Club of Mozambique, October 20). Incumbent president, John Pombe Magufuli, whose party is Chama Cha Mapindunzi (CCM), won the elections by receiving 84 percent of the vote. However, his main challenger, Tundu Lissu of the Party for Democracy and Development (CHADEMA), said the elections were riddled with irregularities, such as ballot-stuffing (Capital FM, October 29).
Ahead of Magufuli's inauguration, key opposition figures were arrested and later released with no charges. A senior police officer in Dar es Salaam later said they would be charged with acts of terrorism and endangering national security (The Africa Report, November 5). These allegations were, however, not linked to the threat posed by ISCAP or any known violent threat.
In the past, Tanzania has frequently expressed its willingness to support global counter-terrorism efforts (Daily News, March 12). Tanzania is also aware of the threats posed by ISCAP. In May, the government sent troops to the border with Mozambique to bolster security after ISCAP escalated attacks on security forces and civilians in nearby Cabo Delgado (The Citizen, May 7). In August, Tanzania also carried out an operation on the border with Mozambique to flush out jihadists who were believed to be hiding in the forests there (Club of Mozambique, August 11).
Conclusion
The claimed attack in Tanzania by ISCAP represents a well-planned move that fits into IS and ISCAP's ambitious designs for the future. Congo and Mozambique are now part of IS' 'caliphate.' Security agencies in Kenya, Uganda, and especially Tanzania must continue to be on alert given the speed at which ISCAP is gaining ground.