Islamic State in West Africa Province's Factional Disputes and the Battle With Boko Haram
Publication: Terrorism Monitor Volume: 18 Issue: 6
By: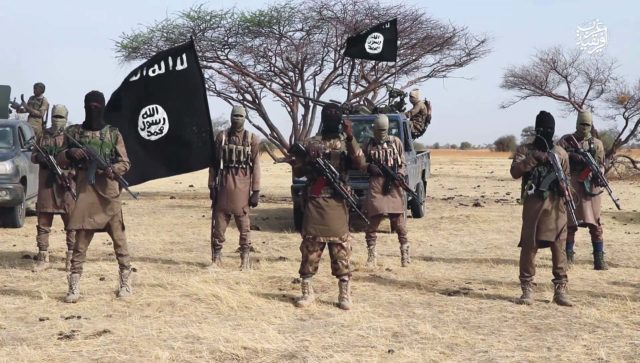 Islamic State in West Africa Province (ISWAP), like other jihadist groups, is prone to internal leadership purges. After pledging loyalty to Abubakar al-Baghdadi and joining Islamic State (IS) in March 2015, ISWAP's hardline leader, Abubakar Shekau, was ejected from the group in August 2016. IS then announced the more moderate Abu Musab al-Barnawi as ISWAP's leader (Al-Naba #41, August 2, 2016). In March 2019, however, another relative moderate known as Ba Idrisa became ISWAP leader and al-Barnawi was demoted to shura (consultative council) member (Vanguard, March 16, 2019). This all occurred after al-Barnawi's main backer, Mamman Nur was purged in late 2018. Nur was a deputy of al-Barnawi's father, Boko Haram co-founder Muhammed Yusuf (Sahara Reporters, September 14, 2018).
ISWAP never explained why Abu Musab al-Barnawi was demoted, nor did IS comment on his demotion. However, the demotion coincided with IS' organizational restructuring in Africa. ISWAP, for example, incorporated Islamic State in Greater Sahara (ISGS) in March 2019 and IS announced its new Central Africa Province in April 2019. The former comprised Sahel-based jihadists and the latter comprises jihadists in northern Mozambique and eastern Congo (Al-Jazeera, April 19, 2019). Abu Musab Al-Barnawi's record of neutrality regarding the IS-al-Qaeda rivalry may have been one of his liabilities and a cause for his demotion (al-Haqaiq, August 5, 2018).
Most recently, in February-March, Ba Idrisa was purged amid widespread internal conflict among ISWAP leaders. It is unclear whether Ba Idrisa or al-Barnawi are still alive after the infighting, while other pro-IS hardline ISWAP leaders, including Mustapha Kirmimma, may also have been killed or injured. Two ISWAP leaders, previously unknown to outsiders, have reportedly been elevated to ISWAP's leadership ranks (Premium Times, March 3).
Despite this turmoil, ISWAP has maintained unfettered communication lines to IS. Since the infighting began in February, ISWAP has, for example, released photos of elder ISWAP fighters with white beards executing five Christians wearing orange, prison-style jumpsuits. [1] This came several weeks after an ISWAP child soldier similarly executed a Christian wearing a similar outfit. In addition, ISWAP released through IS' Amaq media agency its executions of Nigerian soldiers captured in Baga in March. [2] The Lake Chad shoreline town of Baga has been a key battleground since February, when Nigeria began attempts to fully recapture it from ISWAP. IS also highlighted  Baga in its al-Naba magazine in March by interviewing an ISWAP commander about the series of battles there. [3]
The Shekau Faction's Challenge to ISWAP
Although ISWAP's internal feuds have inevitably inhibited some operations, the group has continued attacks in Nigeria, including in southern Borno, northern Yobe, and around Lake Chad, but also in Chetimari and elsewhere in southeastern Niger (Aniamey.com, March 9). Nevertheless, one question that arises is where Abubakar Shekau stands in view of ISWAP's leadership purges.
Although Shekau was removed from ISWAP leadership in August 2016, he never renounced loyalty to IS and still views his faction, which is called Jamaat Ahlussunnah lid-Dawa wal-Jihad, as somehow connected to IS. Prior to ISWAP's February-March 2020 leadership purges, Shekau's faction had also been encroaching on ISWAP's core areas of operations around Lake Chad. His faction, for example, claimed attacks in towns where ISWAP also operates, such as Bama, Banki, Ngom, Tungunshe, Maiduguri (Muna Garage), and "on Lake Chad" itself. [4]
The Shekau faction's Lake Chad-based sub-faction led by Bakura (only known by one name) had also claimed attacks in Niger, Chad, and Cameroon, as well as the aforementioned Maiduguri attack (See TM, January 28). [5] Bakura's sub-faction was also more likely than the Shekau faction to have been responsible for kidnapping Chadian medics in late 2019 just north of Lake Chad in Chad. The medics were later featured in a Shekau faction proof-of-life video in February. [6] Nevertheless, the Nigerian and Nigerien militaries claim they killed Bakura along the Nigeria-Niger border in March (Daily Post, March 13; Lemonde, March 20). If true, this means his widespread harassment of civilians, if not also rival ISWAP fighters, in that area may come to an end, but ISWAP or Bakura's deputies may fill the operational void he has left behind.
Besides the Nigeria-Niger border area, ISWAP has moved brigades toward Shekau's main bases in Sambisa Forest, Borno State, Nigeria, including for launching February and March attacks in Garkida, northern Adamawa, where ISWAP destroyed churches, and Damboa, southern Borno (Vanguard, March 4; Punch, March 6). The two rival groups—ISWAP and Shekau's faction—are overlapping now more than at any point since August 2016 and their proximity obviously presents opportunities for them to clash, which has been occurring. It also means presents the groups potential opportunities to collaborate (Twitter.com/l_boukar, March 11). The collaboration could be bolstered by some ISWAP hardliners formerly loyal to Shekau that still hold similar ideologies. ISWAP leadership also acknowledged the factionalization that Shekau has been causing in its most recent February video. [7] ISWAP is, at the least, concerned about the negative effects Shekau continues to have on ISWAP's unity at a time that its leadership is itself engaged in infighting.
Shekau Anti-Shura Leadership Style
Shekau's faction also has different leadership mechanisms than ISWAP, which makes his leadership over his faction safer than any leader's "job security" in the rival group. Shekau is the undisputed and unquestioned leader of his faction and has historically dissolved his shura and killed anyone who advised or criticized him (al-Andalus, September 15, 2018). While this was one reason why ISWAP abandoned him in August 2016, it has also meant Shekau remains secure in his factional leadership position.
In contrast, ISWAP after August 2016 introduced a form of "democracy" to its leadership through its shura, which resulted in Mamman Nur's purging, Abu Musab al-Barnawi's demotion, Ba Idrisa's ejection, and other leaders being killed. One advantage Shekau has over ISWAP's newest leaders, for all his faults, is name recognition. Moreover, since Shekau's ideology has remained unchanged and he has consistently been releasing videos since August 2016, Nigerian jihadists know where he stands on issues of takfir, slavery, negotiation with the Nigerian government, targeting Christians and Muslim 'apostates', as well as his physical appearance and jihadist credentials.
ISWAP's newest leaders, however, may be well-known only to high-level commanders in the group and not necessarily to the masses of foot soldiers. This does not indicate Shekau will return to ISWAP leadership. It could, however, lead to some foot soldiers siding with Shekau's faction and the "devil they know" rather than ISWAP's newest leaders when choosing which side to join or support.
Macro X-Factors Ahead
At this time when ISWAP and Shekau's faction are competing, clashing, and overlapping in each other's areas of operations and the lone al-Qaeda-loyal Nigerian faction, Ansaru, is accelerating its attacks and banditry in northwestern Nigeria, the global landscape is under stress (The Cable, February 9). Although France upgraded its operations in the Sahel to combat ISGS (which is technically ISWAP since March 2019) in January , Paris may not be able to focus on the Sahel as much as it did weeks ago while it now also combats the coronavirus pandemic domestically. Similarly, the United States was apparently dissuaded from reducing troops in the Sahel in February. The United States is also now facing the coronavirus pandemic in multiple cities and potentially an economic recession. As such, the Sahel is, if anything, likely to become more of a backburner issue in U.S. foreign policy discourses.
Meanwhile, the Afghan Taliban's favorable negotiation tactic with the United States focuses not only on prisoner releases, but also on an eventual withdrawal from Afghanistan. This has now become the model for the Mali-based al-Qaeda-loyal group, Jamaat Nusrat al-Islam wal Muslimin (JNIM) (Maliweb.net, March 10). JNIM, for example, is now making similar demands to the Malian government for negotiations to occur, by focusing on French withdrawal from Mali.
A bright side for Sahelian countries and Nigeria has been that the world's most significant catastrophe, coronavirus, is yet to severely affect them, despite indications in recent days of rising infections in multiple African countries, including Nigeria. However, the West's internal health and economic concerns, compounded by the U.S. inability to subdue the Taliban, presents opportunities and a morale boost for jihadists in the Sahel and Nigeria. Therefore, if Sahelian countries and Nigeria could have ever counted on France or the United States to decisively support them in their battles against JNIM, ISWAP (including ISGS) or Shekau's faction, now any such assurance has become less clear than ever.
Notes
[1] The disturbing image from March 8, 2020 is available at the author's book-related website: https://unmaskingbokoharam.com/2019/08/06/iswap-photostreams-2015-onwards/
[2] The disturbing videos from January 17, 2020 and March 10, 2020 are available at the author's book-related website: https://unmaskingbokoharam.com/2019/04/11/iswap-amaq-video-of-liquidation-of-supporters-of-nigeria-april-2-2019/
[3] The Al-Naba #225 article from March 13, 2020 that featured the interview on Page 6: https://unmaskingbokoharam.com/2019/05/14/alnaba179180190198201205/
[4] The attack claims are available at the author's book-related website: https://unmaskingbokoharam.com/2019/05/19/boko-haram-plagiarizing-iswap-claims-2018/
[5] The September 24, 2019 Bakura sub-faction video is available at: https://unmaskingbokoharam.com/2019/09/24/boko-haram-abubakar-shekau-message-of-glad-tidings-and-advice-to-my-brothers-in-allah-in-lake-chad-september-23-2019/
[6] The proof-of-life video is available at the author's book-related website: https://unmaskingbokoharam.com/2020/02/28/boko-haram-three-kidnapped-chadian-medics-video-february-27-2020/
[7] The February 14, 2020 video is available at the author's book-related website: https://unmaskingbokoharam.com/2020/02/15/iswap-slay-them-wherever-you-catch-them-video-part-2-february-14-2020/