Terrorist Threat as a Pre-Text: Russia Strengthens Ties with G5 Sahel
Publication: Terrorism Monitor Volume: 18 Issue: 6
By: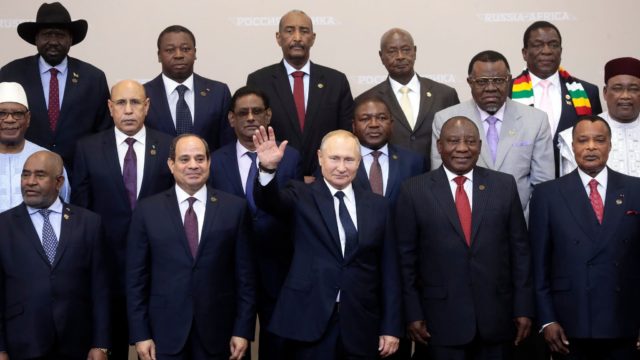 Introduction
Following the 1991 dissolution of the USSR—which maintained diplomatic relations with 46 African countries in the mid-1980s­—the Russian Federation lost a large part of the Soviet influence on the continent. Beginning in the mid-2000s, however, Russia`s regional policy started to change, and the outbreak of the Ukrainian crisis solidified Russia`s resolve to pursue opportunities in Sub-Saharan Africa (Russiancouncil.ru, February 20). A truly pivotal event that demonstrated Russia`s determination was the Russia-Africa Summit and Economic Forum, held in Sochi on October 23–24, 2019 (see EDM, October 28, 2019). Given Russia`s relative economic weakness, one of the very few competitive advantages at the Kremlin`s disposal is military-technical cooperation.
Terrorism in the G5 Sahel and Russia`s Position
Poverty, rampant corruption, and political instability have contributed to increasing radicalization of youth in Sub-Saharan Africa. Consequently, some areas of the region have become a safe haven for groups/movements of fundamentalist orientation (Vz.ru, October 25, 2017). Arguably, the most challenging situation is faced by the G5 Sahel (formed in 2014), which consists of Burkina Faso, Chad, Mali, Mauritania, and Niger—countries threatened by al-Qaeda in the Islamic Maghreb (AQIM), the Movement for Unity and Jihad in West Africa (MUJWA), al-Mourabitoun, Boko Haram, and others. The situation is profoundly complicated by differing approaches promulgated by larger players, including the EU, United States, Russia, and China, as well as meager results from international assistance in the fight against terrorism (Lemonde.fr, June 16, 2017).
Regional security became one of the key topics discussed before and during the Russia-Africa Summit. Specifically, the Permanent Secretary of the G5 Sahel, Maman Sambo Sidikou, expressed his hope that Russia would be involved at a certain point, since "the region is unable to deal with this [terrorism] on its own" (Vpk.name, October 25, 2019). Russia made the issue of security one of the focal points prior to the event. In his speech, President Putin emphasized that Russia is determined to broaden cooperation with African countries in the realm of security, including in the "[F]ight against terrorism, organized crime, drug trafficking, money laundering, illegal migration and piracy." On the other hand, Putin emphasized that African countries need Russia`s involvement since "some of its countries are unable to deal with militants and require support… Russia is developing military-technical cooperation to help African countries to protect their independence and sovereignty" (Ren.tv, October 20, 2019). To stress his point, Putin stated that "[W]e are proud that we in Russia have created an effective security system and, what is more important, effective up-to-date armed forces… we are spending three percent of [GDP] on war expenditure and there is a trend toward further reduction." He also noted that African countries are spending an "unbearable amount of money on security-related issues and fighting organized crime" implying that Russia could share with them its experience (Rg.ru, October 24, 2019).
This opinion is shared and actively promoted by leading Russian Africanists, such as former ambassador to Mali and Niger Yevgeny Korendiasov (now at the Institute of Africa at the Russian Academy of Science). Korendiasov said that despite the significant economic transformations experienced by the majority of African countries, they remain ill-prepared for global threats such as terrorism, drug trafficking, and other types of criminal activities, implying that they need experienced partners (Politexpert.net, March 21, 2018). Most importantly, the Russian side—while referring to problems faced by countries from G5 Sahel—never misses a chance to criticize the supposed ineffectiveness of international missions in general, and specifically the French armed forces, in their counterterrorist operations as well as "the arduous legacy of the colonial past." In his assessment of factors hindering African development, it is quite interesting that Putin identified such factors as "terrorism, extremist ideology, piracy and consequences of [the] so-called Arab Spring," suggesting that the blame should be put on the West (in Russian discourse, a force that provoked developments on the Middle East) and implied that only Russia (as a country that reportedly achieved huge success in the fight against international terrorism) is capable of providing necessary training to African nations (Ria.ru, October 24, 2019).
Military-Technical Cooperation: First Steps and Future Prospects
By the end of 2018, Russia signed at least 19 military-technical cooperation agreements with countries in sub-Saharan Africa (Rueconomics.ru, October 17, 2018). The year 2019 brought several new developments pertaining to the G5 Sahel. Specifically, Russia took its first steps in strengthening military-technical cooperation with one of the most endangered players in the region—Mali—a country that used to be a staunch ally of the USSR during the Cold War period. On July 26, ministers of defense of both countries signed an agreement (during the Army-2019 military forum) on strengthening cooperation in the realm of military affairs and security. The security situation in Mali is aggravated by the activities of radical Islamic fundamentalists on the one hand, and a severe rivalry between three main ethnic groups—Fulani, Tuaregs, and Dogons. In terms of the military-political environment, the situation in Mali is similar, to some extent, to the Central African Republic (CAR), where Russians, both official military instructors and members of the Wagner Group PMC, have been operating for some time with reported success (Geo-politica.info, July 15, 2019). Some Russian experts have argued that in the near future a military agreement between Mali and Russia (following the example of the CAR) might be signed (Rueconomics.ru, July 2, 2019).
From a tactical point of view, potential Russian success in Mali could be instrumental in its endeavors in other G5 Sahel countries, specifically in Chad, which has been experiencing a wave of terrorist attacks (Ria.ru, January 28). One of Russia`s key diplomats for the Middle East and Africa, Mikhail Bogdanov, had previously met with representatives of Chad to discuss some (undeclared) details related to potential military-technical cooperation between Russia and Chad—one of the active players in the Libyan civil war and a country endowed with oil reserves (Ria.ru, April 29, 2019). From a strategic point of view, Russia`s involvement in the Sahel zone could signify a new stage in cooperation with China in Africa. Prominent United Congolese Party figure, Christian Malanga, described this cooperation as "China – the money, Russia – muscles" (Gazeta.ru, May 23, 2019).