Islamic State Khorasan Province's Peshawar Seminary Attack and War Against Afghan Taliban Hanafis
Publication: Terrorism Monitor Volume: 18 Issue: 21
By: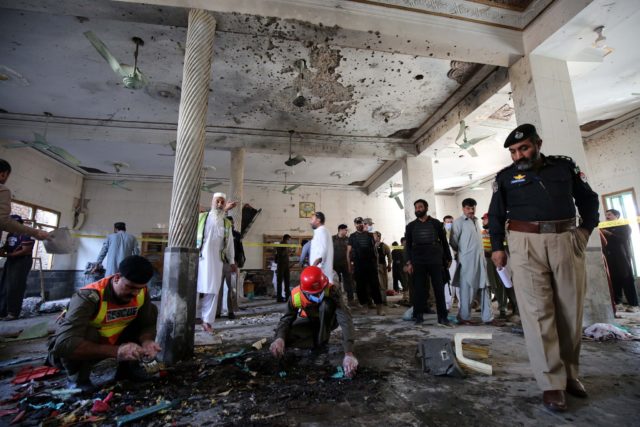 On October 27, a major attack targeting a pro-Afghan Taliban religious seminary took place in Peshawar, the capital of Pakistan's Khyber Pakhtunkhwa province, which borders Afghanistan. Although it remains unclaimed, there is strong evidence Islamic State-Khorasan (IS-K) was behind this attack (Dawn, October 29). In the attack, a seminary belonging to the Deobandi sect of Hanafi jurisprudence, which represents the Afghan Taliban's school of Islamic law, was targeted by a bomb that killed ten students and injured more than 100 others.
This attack's main target was the seminary's head, Shaikh Rahim Ullah Haqqani, who is affiliated with the Afghan Taliban (IBC Urdu, October 27). Shaikh Rahim Ullah Haqqani leads a militant brigade affiliated with Afghan Taliban in the Pachir Aw Agam district of Nangarhar, Afghanistan, which is adjacent to the Tora Bora mountains (Twitter/abdsayedd, October 28). That area has been a frontline for brutal infighting between the Afghan Taliban and IS-K.
This article examines IS-K's role in the Peshawar seminary attack from the angle of Salafist-Hanafi sectarian rivalry in Afghanistan and Pakistan.
IS-K's Salafi Roots
IS-K formed in late 2014 when many Tehreek-i-Taliban Pakistan (TTP) commanders split to join Islamic State (Terrorism Monitor, April 3, 2015). After a short time, IS-K became dominated by Salafist militants formerly in the Afghan Taliban ranks. Hundreds of previously non-militant Salafists from Afghanistan and Pakistan also joined IS-K, including from Peshawar, which has remained the cross-border epicenter for Afghan Salafists (BBC Urdu, September 2, 2014). The perceived firm adherence of IS-K to Salafism was a main factor motivating formerly non-militant Salafists to join the organization's ranks. [1]
Salafism originally began to flourish in the Afghanistan-Pakistan border region during the 1980s Afghan-Soviet war in which Peshawar served as the base camp for hundreds of Middle Eastern Arab militants. [2] Islamist NGOs from wealthy Arab states funded Salafist religious seminaries in Peshawar that also spread Salafism to Afghanistan. Salafism later emerged as a challenge to Hanafism, which had been dominant locally for centuries, and Salafists achieved particular strength in Peshawar's neighboring Nangarhar and Kunar provinces of Afghanistan. This was due to the influence of a founding member of Hezbi Islami (Islamic Party), Shaikh Jamil ur Rehman, in Kunar, who preached there and received Saudi funding for his madrassas before Afghanistan's Communist coup in 1978. [3] [4]
The Afghan Taliban's scholars are strict Deobandis and suppressed the Salafist trend when they came to power in Afghanistan in the 1990s. [5] As a result, Afghan Salafists remained confined mostly to Peshawar and the surrounding Pashtun Belt of Pakistan. However, the post-9/11 U.S. invasion of Afghanistan provided Salafists with an opportunity to thrive because the religious duty of defensive war against 'infidel' American invaders forced the Afghan Taliban to ally with Salafists. However, the Afghan Taliban did not allow Salafists to establish a parallel insurgent structure in Afghanistan. Salafists, therefore, remained either foot soldiers or part of small groups under the Afghan Taliban's command. [6]
IS-K's Challenge to Afghan Taliban Hegemony
The announcement of Islamic State's province in Afghanistan and Pakistan, IS-K, in 2015 provided Salafists a new opportunity to challenge Afghan Taliban hegemony and establish a 'pure' Salafist jihadist group in Afghanistan. A number of Salafist scholars from Peshawar with dozens of their followers soon shifted to Nangarhar to join IS-K ranks. [7] One such Salafist scholar who joined IS-K with his students was the mononymic Shaikh Jalaluddin, who was known for his heated religious debates with Hanafi scholars around Peshawar. [8] [9] Shaikh Rahim Ullah Haqqani was one of the Hanafi scholars who became an extreme opponent of Salafists in Peshawar, including of Shaikh Jalaluddin, and regularly engaged in verbal confrontations with Salafists and used derogatory language about their theological beliefs. [10]
As Peshawar's Salafists rose in IS-K's leadership ranks, such as Shaikh Jalaluddin, Shaikh Qasim, and Shaikh Abu Yazid Abdul Qahir Khurasani, a series of targeted assassinations occurred across Peshawar against Afghan Taliban leaders and supporters, including Hanafi scholars who were involved in sectarian rifts with Salafists (justpaste.it, July 1, 2014; Dawn, April 27, 2017). Thus, Shaikh Rahim Ullah Haqqani, who was both an anti-Salafist Hanafi scholar and an Afghan Taliban-affiliated commander, became an early IS-K assassination target in Peshawar in 2016, but he survived (Dawn, October 29). Mufti Nadeem Mahmoodi, who was another voice against Salafism and IS-K, was also seriously injured in a similar attack in Peshawar in which two of his companions were killed (Tribune, Apr 21, 2017). Mulawi Mir Ahmad Gul Hashmi and Mulawi Daud, who were both Taliban shadow governors for Nangarhar and Kabul, were also among Afghan Taliban leaders killed by IS-K in Peshawar between 2015 and 2017 (Daily Times, April 29, 2017).
During the peak of the Afghan Taliban's war with IS-K in Afghanistan in 2018 and 2019, Shaikh Rahim Ullah Haqqani regularly visited Taliban frontlines in Nangarhar and incited fighters with speeches, calling for the brutal killing of IS-K fighters (Twitter/abdsayedd, October 28). He regularly claimed IS-K members were the worst apostates and even excommunicated all Salafists. [11] Therefore, Shaikh Rahim Ullah Haqqani and his companions are now credibly accusing IS-K of conducting the October Peshawar seminary attack as revenge against Shaikh Rahim Ullah Haqqani.
IS-K's Shift to Soft Targets
IS-K's targeted assassinations in Peshawar mostly ended when the group lost virtually all its strongholds in Nangarhar and Kunar to the Afghan Taliban. However, IS-K has recently gained momentum in Afghanistan and shifted to carrying out individual terrorist attacks instead of holding large amounts of territory (BBC Urdu, Aug 21). For example, IS-K has claimed several attacks in Nangarhar and Kabul where civilians have been its primary targets, with an exception being the massive attack on the Nangarhar prison, which led to the release of hundreds of its members (Twitter/abdsayedd, August 4). These attack patterns show IS-K has focused on attacking soft targets in order to spread a fear of terrorism among civilians. Therefore, the targeting of Shaikh Rahim Ullah Haqqani's Peshawar religious seminary in October resembles other IS-K attacks, including its killings at Hazara youth hostels on October 24 and Kabul University on November 2 (Tolo News, October 25; Tolo News, November 2).
The spillover of the IS-K-Afghan Taliban conflict since the Islamic State affiliate's formation to hubs of the latter's sympathizers and scholarly supporters around Peshawar originally marked a new era of sectarian terrorism in Pakistan. For three decades, Pakistan experienced brutal murders of Shia and Sunni (mostly Deobandi) scholars and adherents. [12] For example, prominent Sunni Deobandi scholars, including Maulana Haq Nawaz Jhangvi, Maulana Zia ur Rehman Farooqi, Shaikh Habibullah Mukhtar, Maulana Azam Tariq, Mufti Nizamuddin Shamzai, Mufti Muhammad Adil Khan—who was assassinated by gunmen most recently in October 2020—and dozens of others have been killed since 1990 (Dawn, October 11; The News, February 28, 2014). However, Pakistani Shia militant groups, such as Sipahi Muhammad, which have historically targeted Sunni Deobandis, have never claimed any attacks on Peshawar seminaries and have mainly remained active only in Karachi and Punjab.
Likewise, after 9/11, anti-government Pakistani jihadist groups have also targeted religious scholars, Islamist politicians, shrines, and mosques. However, TTP, which is an umbrella organization of such groups, has refrained from attacks on religious seminaries since official guidelines were delivered to its fighters to avoid such targets in 2018 (Umar Media, September 2018). Therefore, TTP's spokesman quickly released a statement condemning the October Peshawar attack on Shaikh Rahim Ullah Haqqani's seminary (The News, November 1).
Only IS-K has claimed credit for attacks on religious seminaries. IS-K, for example, claimed the January bombing of a similar religious seminary and mosque of a leading Afghan Taliban figure, Shaikh Abdul Hakeem, in Quetta, which is the central hub of the Afghan Taliban (The News, January 19; Twitter/Samiyousafzai, January 10). Shaikh Abdul Hakeem is also a close aide of the Afghan Taliban leader, Mullah Haibatullah Akhunzada, and is now heading the Afghan Taliban's peace negotiations with the Afghan government (The News, September 7).
The question, however, remains why IS-K has avoided claiming the October Peshawar attack, even though Shaikh Rahim Ullah Haqqani is a sworn enemy of the group. One reason could be that IS-K seeks to avoid severe repercussions against the broader Salafist community, including IS-K sympathizers who have feared Afghan Taliban attacks against them since the collapse of their strongholds in Afghanistan. After the Afghan Taliban defeated IS-K in Kunar and Nangarhar, Pashtun Salafist figures convened in Peshawar under the leadership of Shaikh Abdul Aziz Nooristani and Haji Hayatullah, who is the nephew of Shaikh Jamil ur Rehman, and pledged an oath of loyalty to the Afghan Taliban and condemned IS-K. They requested protection from the Afghan Taliban for the Salafist community and sought to avoid being further dragged into the IS-K-Afghan Taliban rivalry (Twitter/Natsecjeff, March 10). If IS-K claimed credit for the Peshawar seminary attack, it would, therefore, alienate the Salafists whose support the group still needs, even though those Salafists ostensibly are now loyal to the Afghan Taliban.
Another possibility could be that IS-K hardliners are enraged by the damage caused to the group by Shaikh Rahim Ullah Haqqani's preaching, which forced them to take the step of eliminating him without the approval of IS-K's leadership. This is especially plausible since IS-K's command structure has been dismantled in the last few months by Afghan and U.S. counter-terrorism operations. Moreover, IS-K has suffered further defeats at the hands of the Afghan Taliban (Twitter/bsarwary, June 14).
Conclusion
Salafist-jihadists in IS-K, whose religious practices have spread from Peshawar to Afghanistan in recent decades, remain a threat to the Afghan Taliban. The outcome of their internecine conflict may depend on whether the Afghan Taliban will accommodate Salafists in its ranks or continue to keep parts of Afghanistan under its control as a primarily Hanafi state, which it was during the pre-9/11 era. However, since the Afghan Taliban shura lacks a single Salafist figure, and the Afghan Taliban insists on having Hanafi jurisprudence alone as the law of the land in Afghanistan in the future, there are few expectations that the Afghan Taliban will accommodate Salafists (Tolo News, October 30).
Some external factors aside from religious differences may further fuel this Hanafi-Salafist sectarian conflict. For example, the alleged support of certain foreign states, particularly Iran and Saudi Arabia, in the past for Shia and Sunni groups, respectively, has prevented the extinguishing of sectarian conflict in Pakistan  (Dawn, January 12). Saudi Arabia also allegedly supported Salafist militants in Kunar province, Afghanistan in establishing a 'pure' Salafist emirate at the end of the Afghan-Soviet war in the 1980s, but Hanafi jihadist groups quickly demolished their emirate after severe infighting. [13] Depending on how the Iran-Saudi Arabia rivalry plays out in Afghanistan and its borderlands with Pakistan in the coming years, some newer version of that scene could play out again.
Notes:
[1] Author's interview with a Peshawar-based senior journalist, who has been closely monitoring IS-K in Peshawar since the beginning of its formation, conducted remotely, November 14, 2020.
[2] See Thomas Hegghammer, The Caravan: Abdallah Azzam and the Rise of Global Jihad, (Hurst Publishers: London, 2020).
[3] See, for example, Chris Sands and Fazelminallah Qazizai, Night Letters, (Hurst Publishers: London, 2019).
[4] See Abdul Rahim Muslimdost and Badru Zaman Badr, Da Guantanamo Mati Zolani (The Broken Shackles of Guantanamo) [In Pashto], (Al-Khilafa Publishers: Peshawar, 2006).
[5] Ibid.
[6] Author's interview with a Kabul-based senior Afghan journalist and analyst covering insurgency in the Afghanistan since 9/11, remotely conducted, November 14, 2020.
[7] Author's interview with a Peshawar-based senior journalist, who has been closely monitoring IS-K in Peshawar since its formation, conducted remotely, November 14, 2020.
[8] See, for example, Shaikh Jalaluddin's hot debate with Shaikh Nadeem Mahmoodi, https://www.youtube.com/watch?v=HK1z_dmVugE. The latter was targeted in the IS-K wave of assassinations in Peshawar once Shaikh Jalaluddin became an IS-K leader.
[9] See, for example, Shaikh Jalaluddin's invitation for joining Islamic State, https://jihadology.net/2015/09/12/new-video-message-from-the-islamic-state-the-promised-caliphate-wilayat-khurasan/.
[10] See, for example, https://www.youtube.com/watch?v=Mlinsz2eJ18, where Shaikh Rahim Ullah Haqqani declared Islamic State followers and Salafists as khawarij, or having left the fold of Islam.
[11] Ibid.
[12] See, Vali Nasr, "International Politics, Domestic Imperatives, and Identity Mobilization: Sectarianism in Pakistan, 1979-1998," Comparative Politics, 32(02), Jan 2000, pp. 171-190.
[13] See, for example, Chris Sands and Fazelminallah Qazizai, Night Letters, (Hurst Publishers: London, 2019).