'Wilayat Khurasan': Islamic State Consolidates Position in AfPak Region
Publication: Terrorism Monitor Volume: 13 Issue: 7
By: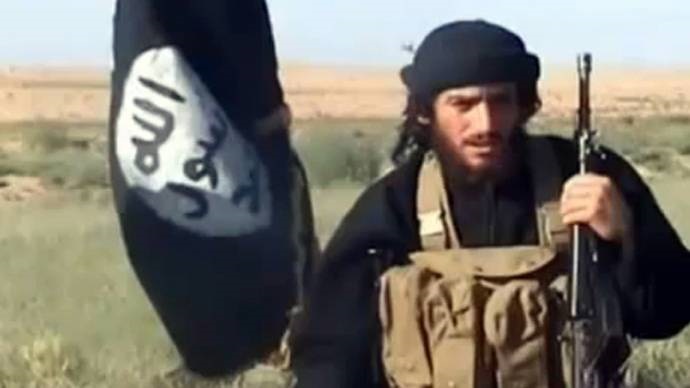 Amid a series of government denials from Pakistan and Afghanistan regarding the presence of the Islamic State militant group in these countries and its ongoing outreach activities there, its expansion was corroborated by none other than the Islamic State's spokesperson, Abu Muhammad al-Adnani, on January 26, 2015 (The Nation [Lahore] September 5, 2014; Dawn [Karachi], November 11, 2014; Pajhwok, February 5). Al-Adnani, who is believed to be in Iraq or Syria, formally announced the establishment of Wilayat Khurasan (literally Khurasan Province, hereafter IS Khurasan), a reference to a historical region broadly centering on Afghanistan and Pakistan. This claim was made, in an audio statement entitled "Say, 'Die In Your Rage,'" which was released by al-Furqan media foundation, one of the Islamic State's media arms. [1] He also endorsed a former Taliban commander, Hafiz Saeed Khan, as its governor (wali) in the same speech. Khan had previously pledged allegiance to Abu Bakr al-Baghdadi, the self-proclaimed caliph of the Islamic State, along with a network of other disgruntled Taliban commanders and foot soldiers.
Previously, on January 10, in an indication of their growing extremism, Khan and his followers had released a video pledging allegiance to IS which also featured the beheading of a captive Pakistani soldier (Dunya News TV [Lahore] January 12). This was considered to be the Islamic State's first violent action against the Pakistani state. Since then, two senior commanders of IS Khurasan have been killed in NATO-led actions in Afghanistan. The first to be eliminated, on February 9 in the Kajaki district of Afghanistan's Helmand Province, was Abdul Rauf Khadim, the "deputy governor" of Khorasan (Express Tribune [Karachi], February 10). Khadim had previously rejected the Afghan Taliban movement under Mullah Omar for being too moderate and had preached Salafism in Afghanistan. A few weeks later, his successor, Hafiz Wahidi, was killed by Afghan national security forces in Helmand, along with nine other fellow Islamic State militants (Khaama Press, March 16).
In response to these setbacks, IS Khurasan's shura (leadership council), for now dominated by Pakistani Taliban members, quickly issued threats to avenge Khadim, eulogizing the slain leader. The 12-minute long homage video, released by "Khurasan Media" on March 17, featured a statement from Hafiz Saeed Khan entitled "Departure of Shaykh Khadim and Revenge is Coming." [2] Sooner afterwards, on March 20, a deadly VBIED (vehicle borne improvised explosive device) attack on a Shi'a mosque in Karachi killed at least two people and left many injured. The attack was reportedly claimed by IS Khurasan?. [3]
Afghanistan: Islamic Emirate vs. Caliphate
These developments suggest that the Islamic State has found a conducive social and political environment in which to gain a foothold in the AfPak region, where several Taliban and al-Qaeda-linked Islamist groups, both violent and non-violent, already have similar sectarian and caliphate-centric worldviews. Underlining this, before his death in February's drone strike, Khadim was reportedly actively engaged in recruiting Afghan fighters for the Islamic State, mostly in the country's Helmand region (IBTimes, January 14). This recruitment drive and open campaigning for IS apparently led to direct confrontations with the followers of local Taliban warlord Abdul Rahim Akhund, a supporter of Mullah Omar's self-declared "Islamic Emirate of Afghanistan." At one point, as a result of these tensions, Khadim was even briefly apprehended for his pro-Islamic State activities along with his 45 followers by supporters of Mullah Omar (Afghan Zariza, February 1).
In addition, Islamic State flags have been seen hoisted in Afghanistan's Ghazni and Nimroz provinces, following which large numbers of Taliban fighters reportedly switched allegiance from Mullah Omar to al-Baghdadi (Khaama Press, February 1). Dabiq, the official Islamic State publication, further listed a number of alleged strongholds of support, including Nuristan, Kunar, Kandahar, Khost, Paktia, Paktika, Ghazni, Wardak, Kunduz, Logar and Nangarhar. [4] Furthermore, in January, information about an Islamic State training center in Afghanistan's Farah province raised speculation about increasing Islamic State activities there (Pajhwok, January 14). Furthermore, other armed confrontations between the Islamic State and the Taliban underscores the increasing clout of IS Khurasan, especially in Charakh in Logar province where IS Khurasan militants killed Abdul Ghani, a senior Taliban commander loyal to Mullah Omar, and wounded his three associates in February (Pajhwok, February 2).
That Islamic State influence is quickly gaining ground in Afghanistan, the current seat of famed Taliban Emirate led by Mullah Omar, is not necessarily surprising. For instance, al-Baghdadi's public questioning of the spiritual and political credibility of the Taliban's supreme leader, and description of him as "fool" and "illiterate warlord," has certainly found some resonance in Afghanistan and Pakistan, where the Taliban and al-Qaeda have not been able to decisively consolidate their position after decades of struggle (Khaama Press, January 29).
Footprints in Pakistan
Before its existence was formally announced, IS Khurasan's presence was felt across Pakistan in the form of occasional unfurling of the black flag, graffiti on the walls supporting the Caliphate and the appearance of Islamic State stickers, mostly in Karachi, Lahore and the Punjab city of Taxila in late 2014 (Dawn [Karachi], November 13, 2014; Dawn [Karachi], November 30, 2014). At around the same time, the provincial government of Balochistan uncovered massive Islamic State recruitment drives in Hangu district in Khyber Pakhtunkhwa and in the Kurram tribal agency in the Federally Administered Tribal Areas (FATA). It also reportedly discovered secret official communications between long-established Pakistani militant Salafist groups like Lashkar-e-Jhangvi (LeJ), Ahl-e-Sunnat wal Jamat (ASWJ) and the Islamic State, which showed the groups planning attacks on military installations and government buildings in Khyber Pakhtunkhwa and on the region's Shi'a minority (Dawn [Karachi], November 8, 2014). In addition, this January, the Pakistani security services arrested Yousaf al-Salafi, a Syrian of Pakistani origin, and his local associate Hafiz Tayyab in Lahore for allegedly recruiting youths and sending them abroad for jihad. Al-Salafi was reportedly involved in an Islamic State recruitment campaign and was charging the group about $600 for every person he recruited (Express Tribune [Karachi], January 28).
In addition, leaflets and propaganda materials in support of the Islamic State have been distributed in several parts of Khyber Pakhtunkhwa and South Waziristan. There have also been verbal endorsements from pro-Taliban clerics like Maulana Abdul Aziz, chief of Islamabad's Red Mosque (Lal Masjid), which was the epicenter of anti-government violence in July 2007. However, the most brazen support came from women students and teachers of the Jamia-e-Hafsa madrassa, which is part of the Red Mosque and led by the principal of the seminary, Umme Hassan, who is Abdul Aziz's wife (Kashmir Observer, December 8, 2014; Express Tribune [Karachi], December 14, 2014). The students of Jamia-e-Hafsa offered an oath of fealty to al-Baghdadi in late November of last year, and invited al-Baghdadi to "avenge" the 2007 Pakistan army raid and loss of life at the then-besieged Red Mosque. However, Umme Hassan maintained that they still considered Mullah Omar of the Afghan Taliban as their supreme leader. It should be noted that the Lal Masjid has been at the forefront in supporting al-Qaeda and Taliban causes in the region for over a decade.
These developments suggest that similar oaths of allegiance from sectarian militant groups like Ansar ul-Khilafa wal Jihad (formerly, Tehrik-e-Khilafat Jihad) and Jundullah in support of the Islamic State and al-Baghdadi have made it relatively easy for the Islamic State to find traction and a foothold in Pakistan. These militant groups also remain active. For instance, in January, Ansar ul-Khilafa wal Jihad claimed responsibility for killing security personnel in Karachi, Multan and Hyderabad (ARY News, January 22). Jundullah meanwhile claimed responsibility for targeting Shi'a mosques across the country, including the deadly Shikarpur imambargah blast on January 30 (Dawn [Karachi], January 31). This indicates that it would likely be relatively easy for the Islamic State members working with these groups to begin conducting attacks of their own in Pakistan. Unsurprisingly, as with Afghanistan, Dabiq, has claimed that the Islamic State has influence in a number of places in Pakistan, including in Peshawar, Swat, Marwat, Kuki Khel, Tor Dara, Dir, Hangu, Bajaur, Orakzai, Kurram and Waziristan, although some of these claims should probably be seen as propaganda. [5]
Outlook
The Islamic State's formation of "Wilayat Khurasan" and its endorsement by the organization's central leadership reveals at least two changing aspects of militant Islamism in the Afghanistan-Pakistan region. Firstly, it shows militants rejecting al-Qaeda and Taliban, and secondly, for the first time in decades, it involves militants clearly rejecting Mullah Omar himself, the spiritual leader of most of the Deobandi-inspired militant groups in the region, and even openly challenging of him over his (alleged) lack of authority and lack of visible achievements in comparison to al Baghdadi and the Islamic State in the Middle East region. On the other hand, the emergence of IS Khurasan, combined with Pakistan's ongoing anti-militant Operation Zarb-e-Azb, have encouraged fragmented Taliban units to unite once again under the Pakistani Taliban's umbrella group, the Tehrik-e-Taliban Pakistan (TTP). This was evidenced in mid-March when the Tehrik-e-Taliban Pakistan Jamaat ul-Ahrar (TTP-JA), a powerful splinter group of TTP, and independent militant group Tehrik-e-Lashkar-e-Islam (TLeI), led by Mangal Bagh, called for a united Taliban conglomerate to fight the Pakistani state, including the army and the powerful Inter-Services Intelligence. [6] Even though such a scenario seems distant at present, these anti-state objectives, which are partly shared by both the IS Khurasan and TTP groups, suggest a potential merging point between these two powerful jihadist movements in due course.
Animesh Roul is the Executive Director of Research at the New Delhi-based Society for the Study of Peace and Conflict (SSPC).
Notes
1. The full text (English Translation) of the Adnani Statement, released by al-Hayat Media Center, another Islamic State-linked jihadist media outlet, can be found here, https://pietervanostaeyen.wordpress.com/2015/01/26/audio-statement-by-is-spokesman-abu-muhammad-al-adnani-as-shami-say-die-in-your-rage/.
2. The video "The Departure of Shaykh Khadim, and Revenge is Coming," which is in Pashto, can be found here: https://archive.org/details/KhadimPashto_201503.
3. Author's communication with an Islamabad-based journalist. Also see IS Khurasan's statement on the March 20 Mosque attack (in Urdu), https://www.mnbr.info/vb/showthread.php?t=85734?.
4. "Dabiq: From Hypocrisy to Apostasy," No. 7, p.34.
5. Ibid.
6. See the group's press release, "TTP-JA: Unity of Mujahideen of Pakistan," https://worldanalysis.net/14/wp-content/uploads/2015/03/ttpja.png.