Islamic State's Deir al-Zour Offensive Puts the Syrian Regime Under Pressure
Publication: Terrorism Monitor Volume: 15 Issue: 5
By: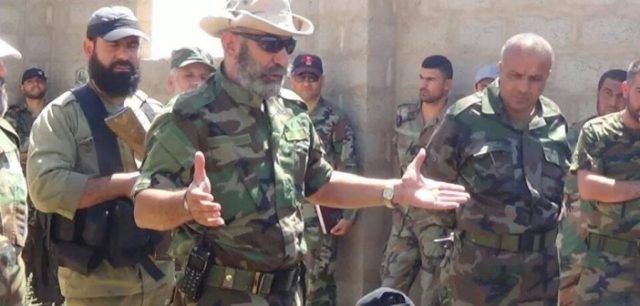 In mid-January, Islamic State (IS) fighters seemed to be retreating in the face of advancing U.S.-backed Iraqi forces in the city of Mosul in Iraq. They were also under pressure from attacks by Turkish-led forces in Aleppo, Kurdish guerrillas in Raqqa and the forces of President Bashar al-Assad's regime in central Syria.
Despite this, on January 13, the group unexpectedly launched an offensive on the Syrian government forces in the city of Deir al-Zour, the capital of IS-controlled Deir al-Zour province, in Eastern Syria. IS fighters attacked Syrian troop positions in a number of Deir al-Zour neighborhoods in a bid to seize control of the airport, a strategically important target, and expand the area of the city under their control (al-Hayat, January 15).
Although the offensive, which saw dozens killed on both sides, failed to achieve these goals, by January 17 IS had succeed in splitting the area controlled by the Syrian regime into two separate enclaves (al-Jazeera Arabic, January 19). It also further tightened the group's two-year-long siege on regime-controlled areas in the city and demonstrated that IS could still launch effective offensives, even when under pressure on other fronts.
Since then, the situation has developed into something of a stalemate, but with no clear strategy from the West, the future of the province is being left in the hands of either the Syrian regime or IS.
Deir al-Zour in the Syrian Conflict
IS has controlled Deir al-Zour province, an area of some 33,000 square kilometers, since 2014, with the exception of the provincial capital. The city is the biggest and most important in eastern Syria and potentially an important stronghold for IS, alongside the group's self-declared capital of Raqqa in northern Syria and Mosul — the largest city under IS control — in northern Iraq.
It is equally important for the regime. Alongside the capital Damascus and Aleppo in the north, Deir al-Zour is the third pillar of the regime's military deployment framework. Maintaining control of Deir al-Zour's city center with local government in place — albeit providing inadequate services and highly dependent on international aid — gives the regime a much-needed presence in eastern Syria. [1]
As a consequence, the Assad regime has fought hard to maintain control over Deir al-Zour as part of a strategy that focuses on defending provincial capitals and urban centers. Despite this, over the past two and a half years, IS has managed to slowly expand the areas of the city its fighters control. At present, it is estimated that IS controls more 60 percent of Deir al-Zour (Souriatnapress, January 23).
Steadfast Defense 
Brigadier General Issam Zahr al-Deen, one of the regime's most prominent field commanders, has been leading the regime's force in Deir al-Zour since 2014. The force is formed of brigade 137 of the Syrian army, supported by units from the elite Republican Guards, the air force intelligence and pro-regime militias.
Zahr al-Deen, who is a member of the Druze community, fought previously on several fronts against IS and rebel groups in Damascus, Aleppo, Homs and Hasaka, before taking over in Deir al-Zour. In an indication of how crucial the regime views defending Deir al-Zour, he was assigned there after the regime lost two of its most trusted and high-ranking field commanders, Colonel Ali Khizam and General Jamaa Jamaa in battles to hold the city in 2012 and 2013 respectively (deiezzor24.net, May 21, 2016).
In its January's offensive, IS similarly dedicated some of its most seasoned fighters, and during the first days of the fighting, the Syrian regime forces appear to have been taken by surprise. In a departure from its usual strategy, IS did not deploy a wave of suicide attacks during the first stages of the battle. Instead, it favored deploying small groups of fighters who moved swiftly, attacking various points in different parts of the city, often fighting behind enemy lines (enabbaladi.net, January 29).
After seizing control of the al-Makabir district, enabling IS to completely cut off the airport from the rest of the city, the group's Aamaq news agency posted a video online showing its fighters celebrating the win and vowing further victories (YouTube, January 17).
On the regime side, Zahr al-Deen gave a defiant statement in a phone call broadcast on one of the pro-regime TV channels on January 17. He was reportedly speaking from inside the airport, where he pledged to continue to fight (addiyar.com, January 17).
Nonetheless, it was Russian air support, rather than regime troops, that was decisive in stopping the IS advance. After the regime's forces pulled back to separate their positions from the IS advance, it became possible for the Russians to locate IS targets. A series of air strikes played a key role in slowing and eventually stopping the IS offensive. The regime forces, however, have been unable to re-capture the areas seized by IS.
Local Loyalties
The situation in the province is complicated. Even if they defeat IS, neither the government's Alawite Shia-led forces, nor the U.S.-backed Kurdish-dominated Syria Democratic Forces (SDF) — which recently claimed to have made gains in fighting IS in parts of Deir al-Zour province — are likely to be particularly welcome in this predominately Sunni Arab part of the country (al-Jazeera, February 22).
The regime has made some efforts to address this, enticing the opposition figure Sheikh Nawaf al-Basheer to return to Damascus after years in the exile. Al-Basheer is the tribal leader of al-Baggara, the biggest tribe in eastern Syria. He abandoned his long-standing opposition to the Assad regime, declaring he had done so because an opposition victory would lead only to the triumph of radical jihadists (al-Mayadeen TV, January 6). Although his tribe and his region have undergone significant changes after falling under IS control, he remains an important local player who could rally support in eastern Syria following an IS defeat.
In addition, nine of Syria's main oil and gas fields are located in Deir al-Zour province and all are under IS control. This has been a vital source of revenue for the group, which trades oil with a number of dealers and smugglers. Its largest client is, however, the Syrian regime itself, which requires oil in order to provide services to, and thus maintain control over, major urban centers (Syria Network for Human Rights, September 17, 2014).  Supplies from its allies Iran and Russia appear to be inadequate for the regime's needs, and the infrastructure to supply oil from IS-controlled areas is already in place.
This somewhat bizarre state of affairs is likely to continue even if IS gained control of Deir al-Zour, as it serves both sides' needs, but control over the oil fields will be decisive in any settlement of the Syrian conflict.
No Clear Strategy
IS was unable to overrun the Deir al-Zour airport in its January offensive but succeeded in splitting the slowly diminishing areas controlled by the regime. The regime troops are now in a weaker position and are dependent on aerial supplies and Russian airstrikes. A future IS attempt to seize the airport or other regime-controlled areas is likely to result in expanding IS control.
By moving in Deir al-Zour while the attention and pressure was concentrated on Mosul, IS was attempting to replicate its successful recapture of Palmyra in central Syria last year (al-Jazeera, December 10, 2016). IS regained control of Palmyra while the regime was breaking the final pockets of resistance in rebel-held eastern Aleppo.
The attempt to capture the Deir al-Zour airport also appears to be part of a wider IS strategy of targeting airports across Syria to cripple the regime's air force. In January, IS fighters launched attacks, or were involved in clashes, near the al-Dhamir and al-Seen airports near Damascus, and the Tiyas (also known as T4) airport in Homs (orient-new.net, January 31).
For the United States, things are unclear in this part of Syria. Unlike in other parts of Syria and Iraq, however, the United States does not have a local partner in the area and there have been few operations over the years to target IS figures here. The most recent occurred a few days before IS' Deir al-Zour offensive, when a U.S. force, brought in by helicopters, carried out a ground raid aiming to capture IS militants (Rudaw Arabic, January 9).
Without a clear Western strategy for Deir al-Zour, the future of the city, the province and all of eastern Syria will be shaped either by the regime — resentment of which will only fuel Islamic radical jihadist movements — or by IS.
Further, with IS controlling an extended line of towns and cities in eastern and central Syria, the group will not be easily defeated, even if it loses both Mosul and Raqqa.
NOTES:
[1] For further information on the humanitarian situation in Deir al-Zour, see UN office for Coordination of Humanitarian affairs media release (January 20). Read it here.