It is Indecision Time for Putin, as Russia Muddles Through
Publication: Eurasia Daily Monitor Volume: 13 Issue: 16
By: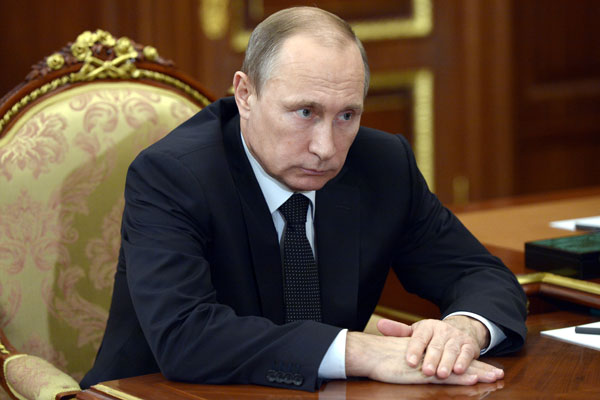 The annual Davos gathering of the World Economic Forum used to be an occasion where Russia's always uncertain future was a key topic for debates and investment decisions, but this year it was pointedly ignored. Russia is indeed irrelevant for the main theme of this Forum—the "fourth industrial revolution", in which information and industrial technologies are blending together—because it has graduated from laggard to loser in this revolution (Moscow Echo, January 22). Russia is also out of place in the "breaking news" sessions focused on China's economic slowdown and Iran's coming out of its long isolation (Rbc.ru, January 23). It has nothing to say on the European migration crisis and cannot pretend to be a useful contributor to the attempts at breaking the deadlock in the Syrian negotiations, because the meetings last week between US Secretary of State John Kerry and Russian Foreign Minister Sergei Lavrov yielded few results (Kommersant, January 21). Russian and Ukrainian delegations continued bargaining about mutual overdue debts, but most Europeans remained indifferent knowing that no interruption of the still-important gas flow could possibly occur because of this bickering (Nezavisimaya Gazeta, January 21).
Russian authorities are obviously shocked by the force and depth of the five-quarter-long economic recession, so much so that Elvira Nabiullina, the head of the Central Bank of Russia and one of the key figures in the low-profile Russian delegation, had to cancel her trip to Davos because of the spectacular fall of the ruble (Newsru.com, January 21). In the absence of any meaningful official evaluation, it was the former finance minister, Alexei Kudrin, who attracted the most attention with a plain point regarding the inevitable continuation of downfall throughout 2016 (Vedomosti, January 22). Nothing close resembles a plan for managing this devastating contraction, and President Vladimir Putin continues trying to talk it out of existence by explaining to the business owners that the fall of the national currency opens "new opportunities" for them (Rbc.ru, January 20). His main guideline is reducing Russia's exposure to external pressure, so he has set for Russian scientists the task of developing all crucial modern technologies domestically as a matter of national security (Nezavisimaya Gazeta, January 22).
This political urge to make Russia economically self-sufficient is profoundly at odds with the reality of a globalized world, and denies the country opportunities to overcome the crisis by engaging in new international cooperative ventures (New Times, January 16). The propensity to self-isolation is reinforced by the growing realization in the West that every deal with Putin's regime is not only morally reprehensible, but also nonsensical in practical terms, because it operates on the basis of ensuring survival in the extremely short term with no strategic perspective whatsoever. The dismay and disgust toward the Kremlin reached a new high last week with the conclusion of the official inquiry in London into the murder of Alexander Litvinenko in November 2006, which established that the crime was "probably" approved by Putin (Novaya Gazeta, January 21). Moscow has resolutely dismissed this conclusion as "politicized" but there are good reasons to believe that Putin takes this verdict as a personal insult that cannot be left unanswered (Deutsche Welle, January 22).
His answer is certain to be "asymmetric" and target not the British justice system or business interests, but easier targets within reach. In this regard, it is striking that Ramzan Kadyrov, Chechnya's maverick and brutal master, has chosen this moment for unleashing a campaign for persecuting and punishing "traitors" who dare to criticize either the policies that Russia is pursuing or Vladimir Putin personally (Novaya Gazeta, January 20). Kadyrov is certainly an ambitious and astute politician, and his hidden agendas include such mundane matters as demands for more financial transfers, and such particular aims as the withdrawal of federal troops from Chechnya, which would grant him even greater independence to the chagrin of many siloviki (Meduza.io, January 22). He is playing very skillfully on the fears of a new wave of terrorism in the North Caucasus, portraying himself as the only effective power that is deterring this threat, and implying that his removal would trigger a new Caucasian war (Slon.ru, January 18).
Kadyrov's message—amplified in no uncertain terms at a huge rally in Grozny last Friday—certainly goes far beyond his turf and connects with deeper concerns in Russian public opinion and bureaucracy (Ezhednevny Zhurnal, January 23). He claims that in times of economic difficulties political dissent cannot be tolerated; therefore, the murder of Boris Nemtsov a year ago should be followed up by the extermination of other "enemies of the people," including Mikhail Khodorkovsky, who lays out the prospect of the coming revolution and the danger emanating from Kadyrov (Moscow Echo, January 19). Such voices cannot be stifled by the vicious state propaganda and indeed constitute a greater challenge to the regime than the extra-high yet misleading approval ratings indicate (Levada.ru, January 22). Kadyrov cries loud and clear that the time of Putinism "light" is gone and that only a firm hand can hold the country together, but Putin hopes that this exhibition of brutality will suffice to scare the wavering elites and reduce the need to secure his power through repressions, which he is not quite able to deliver (Gazeta.ru, January 22).
The key to Putin's time-stretching game is distraction, so that the deadlock in Ukraine is forgotten because of the intervention in Syria, and the shadows of political murders—old and new—are overtaken by the specter of terrorism looming over the North Caucasus. It is rather hard to believe, however, that Kadyrov's escapades, disgusting as they are, would distract the public from their fast-shrinking incomes, and the oligarchs from the investigations of their ill-gained fortunes by Western courts. The "patriotic" mobilization launched so successfully by the annexation of Crimea is dissipating, and Putin cannot find a way to reignite it by orchestrating a new victory. He is at a loss and stands at a major crossroads, where every bumpy track ahead is essentially not his, and the way back is inaccessible. In the last couple of years, he has made several risky choices, and now can neither live with the consequences nor make the logical further steps. He counts on the "muddle-through" option, but his muddling goes directly down.