Italy Ambivalent About Gazprom's South Stream Project
Publication: Eurasia Daily Monitor Volume: 9 Issue: 142
By: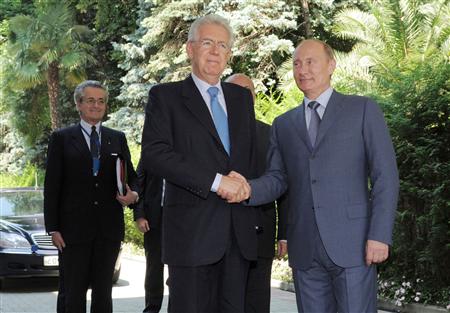 On July 23 in Sochi, Russian President Vladimir Putin obtained a verbal endorsement of Gazprom's South Stream project from Italy's new prime minister, Mario Monti, on his first visit to Russia in that capacity. Italy's state-controlled oil and gas company, ENI, is a shareholder in South Stream's section on the seabed of the Black Sea, with an as yet undefined role in the project's Italian section. Italy is one of the proposed final-destination countries, although this remains uncertain (see below).
At the concluding press conference, Monti described South Stream as "a new impetus, an essential step for development [of economies] in the European Union, including Italy," as well as for ENI itself. Promising to continue his predecessors' Romano Prodi and Silvio Berlusconi's close relationship with Russia, Monti remarked, "I know very well how great Putin's leadership is," and that he "agreed with Putin on every single word" (Russian presidential website www.kremlin.ru, July 24; Corriere della Sera, July 24).
That would be pure Berlusconi. But Monti's hyperbole need not be taken at face value. He played a weak hand in Sochi as head of a government on the brink of insolvency. He expressed relief when told that Russia does not intend to switch a portion of its euro-denominated currency holdings to other currencies. Monti is one of Europe's most influential banker-politicians, but even from some of these personages, sycophancy has become a conventional manner to advance business interests with the Kremlin (and edge out European competitors there) in a crisis-hit Europe. In common with some other European leaders under stress, Monti portrayed Russian projects in Europe such as South Stream as major anti-crisis measures. However, he stopped short of endorsing a deadline for the investment decision on South Stream. The Kremlin insists on November 2012.
On the same day in Sochi, with Monti and Russian Prime Minister Dmitry Medvedev attending, ENI signed agreements with Rosneft on three offshore oil and gas exploration projects. ENI holds 33 percent of each project's shares, but it shall bear the full costs of exploration, estimated preliminarily at $2 billion. Under the agreements, ENI would start recouping its investment after the start of commercial production at those fields, but would forfeit the sums invested if production does not materialize. Two of those fields are located in the Barents Sea and one, Val Shtatsky (also known as West Chernomorsky) in the Black Sea. Last year, Chevron withdrew from this same Black Sea project after disagreeing with Rosneft over the project's commercial potential. Under another agreement, ENI and Rosneft shall "exchange technologies" (euphemism for one-way technology transfers), and cross-invest in joint ventures (implying Rosneft's entry into ENI projects in third countries) (Interfax, July 23; Nezavisimaya Gazeta, July 24).
Overall, risks and benefits look clearly tilted in Rosneft's favor in these agreements. Even on such terms, however, ENI obtains the prized "access" to Russian hydrocarbon resources, with the possibility of "booking" those oil and gas reserves, which could then support the company's share price on Western financial markets.
Meanwhile, ENI maintains its reservations about the overall South Stream project, particularly its proposed southern branch from Bulgaria to Italy. Putin had enlisted ENI in 2008 to build South Stream's Black Sea section, in a parity joint venture with Gazprom. The Italian company's advanced technology for laying pipelines on the seabed had already proven itself when ENI constructed Gazprom's Blue Stream pipeline, from Russia to Turkey on the seabed of the Black Sea. ENI's role in that project was confined to the offshore construction, without onshore involvement. In South Stream, ENI expressed reservations about the proposed branch from Bulgaria to Italy already in 2010. Apparently, ENI doubted its commerciality, in view of the Italian market's full saturation with natural gas from multiple suppliers (a situation set to continue as Libyan supplies are restored).
ENI has hesitated to participate in South Stream's branch from Bulgaria to Italy. Thus, in 2010, ENI proposed "merging" South Stream with the EU-backed Nabucco project, along the route from Bulgaria to Vienna. In 2011, Gazprom made public a revised version of the South Stream project, amputating its branch to Italy while retaining South Stream's own Bulgaria-Vienna branch (designed from the outset to pre-empt Nabucco along that same route).
Since then, Russia has reduced ENI's stake in South Stream's Black Sea section, from 50 percent in 2008 to 20 percent at present. Gazprom retains its 50 percent stake, with Wintershall of Germany and Electricite de France now holding 15 percent each. The seabed section's cost is estimated at $9 billion (2010 tentative estimate, not revised since then officially or publicly). Moscow proposes that shareholders themselves contribute 30 percent of the project's costs, and take out credits on financial markets for 70 percent of the costs.
On July 15, ENI's CEO Paolo Scaroni publicly asked "to see the [commercial] details of the project, before making an investment decision." Scaroni implied that he was speaking also for the other European shareholders, or at least reflecting their concerns (although they have not spoken out publicly). Scaroni suggested delaying an investment decision to 2013, contrary to Putin's insistence that the final investment decision be made by November 2012 (EurActiv, July 17).
Moscow seeks to create the impression that a final investment decision is imminent. Gazprom has just awarded a contract to Stroygazmontazh, the company controlled by Putin's friend Arkady Rotenberg, to build a compressor station on Russia's Black Sea coast at the planned starting point of the South Stream pipeline (Vedomosti, July 23). This move seeks not only to convey the impression that the project is advancing, but also to confirm the Kremlin's own stake in it by awarding the contract to a Putin crony.