Italy Builds Closer Ties to Uzbekistan
Publication: Eurasia Daily Monitor Volume: 20 Issue: 71
By: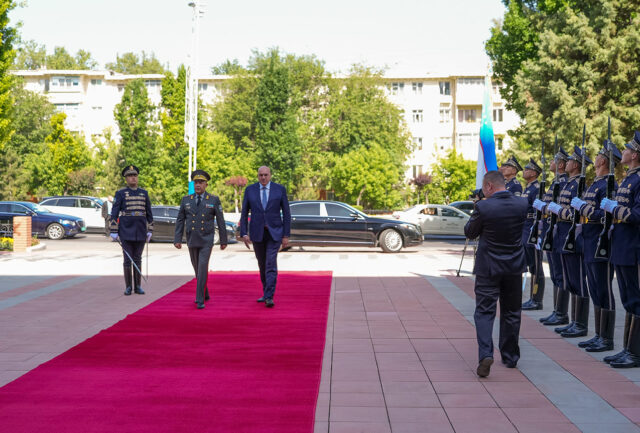 On April 26, 2023, Italian Minister of Defense Guido Crosetto visited Uzbekistan. He first met with the Minister of Defense, General Bakhodir Kurbanov, and the President's Special Representative for Foreign Policy Affairs, Abdulaziz Kamilov, before concluding his series of meetings with President Shavkat Mirziyoyev (Difesa.it, April 26). Minister Crosetto's visit served as a preparatory step for the upcoming visit of Uzbekistan's President Mirziyoyev to Italy in June. During his visit, President Mirziyoyev will hold talks with Italian President Sergio Mattarella, Prime Minister Giorgia Meloni and Foreign Minister Antonio Tajani (Agenzia Nova, April 26). This event is expected to mark the beginning of a new, long-term partnership between Italy and Tashkent. From an economic perspective, this partnership has already improved over the past few years, as the volume of reciprocal trade and investment has doubled, and there have been talks to deepen cooperation in the fields of logistics, energy, agriculture and other industries (Tashkent Times, April 26).
This visit is important not only for its value to businesses in the two countries and overall meaning in the context of bilateral relations, but also serves as an indication of both countries' desire to deepen their ties in the field of defense.
Indeed, it is evident from the high-ranking officials Crosetto met and the fact that it was the Italian Minister of Defense who travelled to Tashkent to initiate this dialogue that the focus on cooperation concerning security and defense issues was particularly significant.
Uzbekistan and Italy share the same concerns on a number of international security issues, from the fight against extremism and religious radicalism to international terrorism and other transnational threats. However, for Italy, deepening security ties with Uzbekistan can also present opportunities in the areas of geopolitics and economics.
For Italy, engaging with a Central Asian country that has substantial regional influence could represent a turning point in strengthening its presence in an area where Rome has never been particularly active—with the exception of a phase of intense collaboration with Kazakhstan, which was limited to energy issues (see EDM, September 9, 2011; EDM, August 7, 2012). Uzbekistan is a crucial actor in Central Asian dynamics, for geopolitical, demographic and military reasons. Under the leadership of the previous president, Islam Karimov, Tashkent pursued a markedly significant strategic autonomy, a multi-vector foreign policy centered around neutrality. Under Karimov, Uzbekistan avoided being associated with a specific bloc and was therefore able to navigate different relationships and commitments—a geopolitical imperative that has remained relevant under Mirziyoyev, albeit with some changes in its interpretation (The Diplomat, August 21, 2019). Tashkent has historically been able to maintain this strategic autonomy in a deeply penetrated regional system, in which regional and external powers have significant influence. Some, like Russia, often want this influence to translate into dependence. Tashkent's relations with Moscow are rather peculiar, even by regional standards.
From an economic standpoint, their relations are extremely strong: Uzbekistan remains dependent on Russia for various reasons. Remittances from Uzbek workers in Russia are nothing short of essential for Tashkent. Furthermore, Uzbekistan remains reliant on Russia for gas and energy. From a strategic and military standpoint, however, the situation is quite different. Although relations with the Kremlin have improved under Mirziyoyev, Uzbekistan still remains a non-member of the Russian-led Collective Security Treaty Organization (CSTO)—despite holding membership in the CSTO from 1994-1999 and 2006-2012. Nor has Tashkent joined the Eurasian Economic Union, the soft attempt by Russia to recreate a sort of "Soviet sphere" in the post-Soviet space by promoting the economic integration of countries once dependent on Moscow. Furthermore, on more than one occasion, Uzbekistan has expressed support for recognizing Ukraine's sovereignty and territorial integrity (ISPI Online, September 8, 2022).
Russia's war of aggression in Ukraine has had a particularly significant impact across the entire post-Soviet space, especially in Central Asia (see EDM, November 9, 2022). Regional countries have grown worried about Russian imperialism. Beyond this, Russia's poor military performance in Ukraine suggests that Moscow is no longer a particularly reliable strategic actor. As such, while ties cannot be dismantled overnight, many Central Asian countries are rethinking their priorities and options. However, it is difficult to imagine direct Italian military engagement in Central Asia, either directly or under the European Union banner, as the EU is also unlikely to take on greater military and security responsibilities in an area where its role is rather marginal. More likely, Italy can become a reliable partner in the realm of industrial cooperation and defense.
One potential problem for Italy, from this point of view, might be represented by the sharp rise of Chinese influence and presence in Uzbekistan (see EDM, April 18). Over the past few years, Chinese companies have been significantly interested in Italy's military technology. Rome, especially under Mario Draghi's government, has reinforced its so-called "Golden Powers" to protect national assets (MERICS, July 1, 2022). As such, defense cooperation with Uzbekistan might be complicated by the concerns that China might benefit indirectly from this cooperation, by gaining access to specific military or dual-use technology. In conclusion, despite these potential concerns, Italy has shown a significant desire in deepening ties with Tashkent. For Rome, this development could also serve to show other Central Asian countries—which face more or less the same problems as Uzbekistan, as they struggle to be less dependent on Russia for security cooperation and military procurement—that Italy might represent a solution, at least partially, in the search for other international partners.