Ivanishvili starts selling Russian assets for liquidity
By: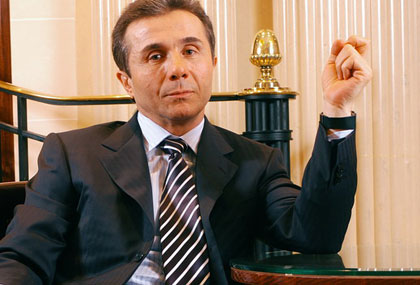 Georgian billionaire and aspirant to power, Bidzina Ivanishvili, has started selling some of his assets in Russia for liquidity. Some of the proceeds will probably be ploughed into Ivanishvili's political operations in Georgia and third countries. Ivanishvili amassed his $6.4-billion worth in Russia during the Yeltsin, Putin and Medvedev presidencies (forbes.com, March 7). Following his return to Georgia in 2004, Ivanishvili's Unikor holding continued to manage his assets and investments in Russia (see EDM, March 13).
Thus, Russian revenue streams to Ivanishvili have continued unabated during all these years. This process has more than doubled Ivanishvili's worth, from the Forbes-estimated $2.6 billion by 2004-2005 (Vedomosti, April 7, 2005) to this year's $6.4-billion rating (confirmed by Ivanishvili's office following the Forbes publication on March 7, 2012). Wealth accumulation on such a scale, and now the profitable sales for liquidity, would seem inconceivable without the consent of state authorities in Putin's Russia. Moreover he will be able to use the liquidated assets against the Georgian government, in line with Moscow's destabilization goals.
After launching his bid for power in Georgia in late 2011, Ivanishvili claimed that he had cut his ties with Russia since 2004. He pledged to demonstrate independence from Russia by selling off his assets and investments there. The first part of this claim looks inaccurate, given the continuity of Ivanishvili's Unikor holding and revenue flows in Russia during all these years. Ivanishvili's construction company even started work on a high-rise building in Sochi recently, again presupposing high-level approval for such location. At the moment, Ivanishvili is selling several chunks from Unikor as part of the pledge to dispose of his property in Russia while seeking power in Georgia.
On May 10, Ivanishvili's holding announced the sale of his Russian Credit Bank (Rossiiskiy Kredit) to a group of six private Russian investors, for $352 million. The six buyers include banking, insurance and IT tycoons. Ivanishvili owns 99.6 percent of Rossiiskyi Kredit via 22 other companies, half of them offshore. In August 2011, Russia's Central Bank granted Rossiyskiy Kredit a license to accept private deposits in Russian rubles and foreign currencies. Thus, Russia's deposit insurance system extended protective cover to Ivanishvili's bank against financial risks (RIA Novosti, May 10; www.roscredit.ru, accessed May 14, 15).
On May 11, the sale of Ivanishvili's pharmaceutical business in Russia, "Doctor Stoletov," including 422 retail pharmacy outlets, was announced. Rated as Russia's third-largest, the chain is being sold to the St. Petersburg-based Imperia Pharma, for an estimated $60-$70 million. The former St. Petersburg mayor and current Chair of Russia's Federation Council, Valentina Matvienko, and her son are reputed to have close relations with Imperia Pharma (RossBusinessConsulting, May 11; Democracy and Freedom Watch [Tbilisi], https://dfwatch.net, May 14; www.impharma.ru)
With minimal public notice, Ivanishvili's long-time business associate Vitaly Malkin has transferred Unikor's former stake of 28 percent in the East Siberian Oil and Gas Company (ESOG, in Krasnodar Territory) to the state-controlled Rosneft, for 9.3 billion rubles. ESOG holds the development license to the Yurubchen-Tokhomsk mineral deposits – estimated to contain 350 million tons of oil and 350 billion cubic meters of natural gas. Commercial production is scheduled to start in 2014. Ivanishvili's friend Malkin has been a member of Russia's Federation Council since President Vladimir Putin appointed him in 2004. With a Forbes-estimated net worth of $1 billion, Malkin retired officially from business but retained stakes in some of Ivanishvili's projects. Thus, Ivanishvili maintained at least this communication line with Russia's authorities (Forbes, May 3, 2008; Kommersant, March 2; Unicor.mc.ru, March 19).
Ivanishvili's remaining assets and investments in Russia include:
• a stake of approximately one percent in Gazprom. Believed to be one of the largest minority stakes held by an individual Gazprom shareholder, that stake alone should be worth some $1.5 billion, considering Gazprom's $148 billion market capitalization at the end of 2011 (see EDM, March 13);
• controlling ownership of the agro-industrial holding "Stoylenskaya Niva," Russia's third-largest grain-processor and bread producer, with a retail network of bakery outlets (https://www.stniva.ru/eng/);
• the Interfin financial services company;
• real estate development and construction projects, including the following: "Garden Quarters" (Sadovye Kvartaly) luxury apartments, ranked as Moscow's largest ongoing housing project, under construction since 2011, valued at $1 billion in investment costs (www.sadkvartal.ru); "The Summit," a luxury residential, office and shopping development; five-star hotel construction sites of InterContinental Moscow ($250 million in investment costs) and Luxe Hotel (Mandarin Oriental), both on Moscow's Tverskaya street; and the Dom-Pionier high-rise complex in Sochi (www.unicor-mc.ru/projects; www.sadkvartal.ru; www.dom_pioner.ru).
Ivanishvili declared his bid for power in Georgia in October 2011, but has yet to list his assets and investments in Russia for Georgian voters' information. The ongoing sales will increase the disposable liquidity in Ivanishvili's hands, ahead of Georgia's elections, which his organization is contesting in two arenas: in Georgia itself and in the West.