Ivanishvili Suggests Georgian Equidistance Between West and Russia
Publication: Eurasia Daily Monitor Volume: 8 Issue: 192
By: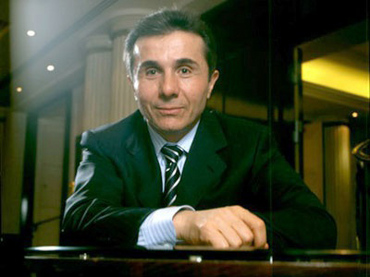 For all their length, Bidzina Ivanishvili's two "open letters" to the country (Civil Georgia, October 7, 12; EDM, October 14) barely touch on foreign policy generally, or relations with Russia in particular. The aspirant to supreme power in Georgia avoids tipping his hand in these documents.

Regarding Abkhazia and South Ossetia, Ivanishvili would try to "create prospects for restoration of Georgia's jurisdiction" there. He does not elaborate and does not mention Georgia's territorial integrity. He claims that the Georgian government behaved provocatively toward Russia already before 2008, and it initiated the hostilities in August that year. This line suggests that Ivanishvili will link his regime-change project with false hopes to change Moscow's position regarding those territories.

On foreign policy overall, Ivanishvili confines himself to one sentence: he would "start sorting out relations with Russia, deepen friendship with the United States and integration with the European Union." Again he does not elaborate, and does not mention NATO at all. This omission can be read as an implicit statement of his policy.

Ivanishvili disclaims maintaining contacts of any kind with Russia's authorities. Nevertheless, speculation continues about such contacts. Unresolved issues with his citizenship (see below) should bar Ivanishvili from an active political role in Georgia. The Kremlin cannot openly support him in that regard. For now, Moscow seems content to quote an occasional American voice backing Ivanishvili's "right" to run for president of Georgia (Rossiiskaya Gazeta, October 12).

In a follow-up interview with Reuters TV and news agency (his first-ever televised appearance), speaking from his $50 million Tbilisi palace, Ivanishvili anticipates positive consequences from Vladimir Putin's return as Russian president. Putin "will launch the struggle against corruption, seek a rapprochement with the West, and implement real democratic reforms." Ivanishvili admits that Russia carried out an "unprecedented aggression" in August 2008 against Georgia, but claims that President Mikheil Saakashvili's reckless foreign policy had provoked the conflict. Ivanishvili proposes re-positioning Georgia to a role that is "comfortable for the United States and Europe, and acceptable for Russia" (Reuters, October 17; Civil Georgia, October 18).

That implies Georgian equidistance between the West and Russia, including Moscow's veto to ensure that Georgian policies are "acceptable for Russia." By that definition, NATO aspirations and energy transit to Europe via Georgia, for example, would clearly not be acceptable for Russia.

Ivanishvili has held Russian citizenship for many years; was later granted Georgian citizenship by presidential decree in 2004; and subsequently acquired his third citizenship – that of France. He referenced these citizenships in his October 7 open letter. Under Georgia's constitution and the law on citizenship, however, acquisition of a foreign country's citizenship automatically invalidates the grant of Georgian citizenship. On October 11, the Civil Registry Office (under the Justice Ministry) announced that Ivanishvili's Georgian citizenship has therefore lapsed. And under Georgia's electoral code, foreign citizens or stateless persons may not run for elective office, form a political party, or finance political activities. Nevertheless, Ivanishvili claims that Georgian elections would be "illegitimate" if he is not allowed to run (Civil Georgia, October 11, 14, 18).

International commentators tend to regard Ivanishvili's quest for power as an intriguing, suspenseful story about another eccentric tycoon. At a deeper level of analysis, his power bid runs counter to the consolidation of state institutions and orderly governance in Georgia. If allowed to proceed unchecked, above the law, Ivanishvili seems intent on creating a power center of his own in Georgia, counterweight to the state.

This can set back Georgia's own institutional development, destabilize Georgia's politics, and severely distort its election processes. Ivanishvili's wealth can buy up political parties and leverage the elections into a buy-out of the state. As a politician, he is a relic of Russia's and Georgia's political environments of the 1990s. His formative experience in oligarchic Russia might lead him to believe that state capture is possible and unobjectionable. Ivanishvili even seems genuinely to imagine himself as a benevolent and generous state captor for a time-limited period that he would himself fix.

Several Tbilisi politicians with past pro-Western reputations, residual Western contacts, and ratings in the low single digits, are currently negotiating with Ivanishvili. They seem to share his regime-change agenda; and they might accept his funding as their last resort. But that would neither change, nor disguise, the thrust of Ivanishvili's political project, which would reorient Georgia from the Western direction toward a grey zone on Russia's periphery.