Jamaat ul Ansar al-Sharia: The New al-Qaeda Threat in Pakistan
Publication: Terrorism Monitor Volume: 15 Issue: 18
By: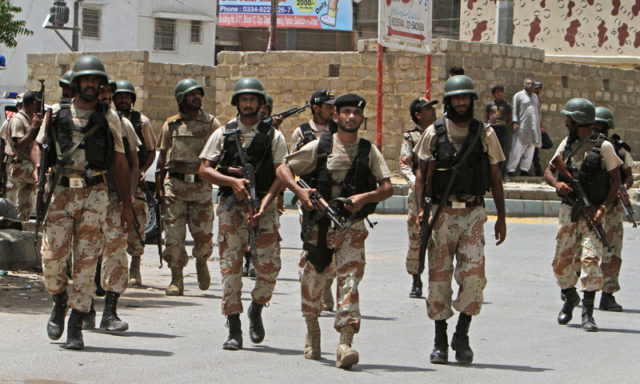 Recent months have seen the sudden emergence in Pakistan of an organization calling itself Jamaat ul Ansar al-Sharia Pakistan. The new entity has been reported to be behind a series of five terror attacks in Karachi and Baluchistan province (Geo News, July 22). Information about the group is only now beginning to surface.
Initially, Pakistani authorities speculated that the group had links to similarly named organizations in Libya and Tunisia, but there is so far no evidence to support that. However, it is clear from a statement by Abdullah Hashmi, Jamaat ul Ansar al-Sharia's spokesperson — he was arrested earlier this month — that the group is associated with al-Qaeda. Pakistani authorities also believe that the group is comprised of highly trained and battle-hardened Pakistani returnees from the conflict in Syria, where many fought for Islamic State (IS), the Nusrah Front or Ahrar al-Sham (Samaa News, July 4).
Al-Qaeda may hope to take advantage of the weakening position of IS in the region. IS' Wilayat Khorasan chapter, which is based in Afghanistan and Pakistan, has been hammered by consecutive military and law enforcement operations, leaving the field open for a possible resurgence by al-Qaeda.
A New al-Qaeda Initiative
Pakistan is an important stronghold for al-Qaeda. The group survived the U.S. invasion of Afghanistan by seeking refuge, aided by affiliated Pakistani Islamist terrorist groups, in tribal areas of Pakistan. Because of its close ties to Pakistani jihadist groups, the organization became a central terrorist organization for violent Pakistani Islamists of varying types, from local sectarian activists to Kashmiri militants.
Despite considerable damage done to its command structure and resource base during the U.S. drone campaign stepped up under President Barack Obama, which picked off high-value al-Qaeda targets in Pakistan's tribal areas, the organization has survived. In the last few years, the group has been troubled by the surfacing of IS-Khorasan, which has attempted, unsuccessfully, to swallow al-Qaeda's affiliated groups in Pakistan.
Not only has al-Qaeda survived that attempt, but it adapted its tactics, endeavoring to become more locally relevant. Just months after IS leader Abu Bakr al-Baghdadi had declared his so-called caliphate, al-Qaeda announced the establishment of al-Qaeda in the Indian Subcontinent (AQIS) in September 2014. AQIS is led by Asim Umar, a veteran jihadist of Indian descent, but the group is largely ineffective and has failed to bring al-Qaeda back to prominence (First Post, September 5, 2014).
With the establishment of Jamaat ul Ansar al-Sharia, al-Qaeda appears to be aiming to lure IS-Khorasan cells in Pakistan into its embrace, as well as taking back those who defected to IS between 2014 and 2017 (Express Tribune, June 24). With IS weakened, having lost more than 60 percent of its territories in Iraq and Syria, the al-Qaeda move to re-establish itself in Pakistan appears calculated and timely.
Jamaat ul Ansar al-Sharia Pakistan
In a leaflet announcing the establishment of Jamaat ul Ansar al-Sharia, the militants made it clear that they were taking on the "ideology and philosophy" of Osama bin Laden and praised al-Qaeda leader Ayman al-Zawahiri. [1]
Jamaat ul Ansar al-Sharia appears set to revive al-Qaeda in Pakistan after three years in limbo, a result of drone strikes and Pakistani military operations Zarb-e-Azab and Rad-ul Fasad, which targeted al-Qaeda affiliated Islamist groups in the tribal and settled areas of Pakistan.
According to a senior police officer at the counter-terrorism department of the Karachi police, Jamaat ul Ansar al-Sharia is comprised of disgruntled IS returnees from Iraq and Syria and members of IS-inspired cells in urban centers, particularly Karachi. [2] It appears not to be exclusively Karachi based, however, as it has conducted a terrorist strike in the far-flung Mastung district of Baluchistan province (Geo News, July 22).
The authorities believe that the group is led by Abdul Kareem Saroosh Siddiqui, a former student at the University of Karachi's applied physics department who dropped out before graduating. He is said to have been the mastermind of a recent assassination attempt on Khawaja Izhar ul Hasan, the opposition leader of the Sindh provincial assembly and a member of the overtly secular and anti-Islamist Muttahida Qaumi Movement (Dawn, September 4). During the failed attack, one suspected Jamaat ul Ansar al-Sharia militant was killed, while a wounded Siddiqui escaped. Jamaat ul Ansar al-Sharia spokesman Hasmhi was later arrested during the course of the ensuing investigation.
It is unclear what position AQIS would play in relation to Jamaat ul Ansar al-Sharia. Viewed strategically, however, it seems AQIS could serve as a regional satellite for terrorist operations in South Asia, while Jamaat ul Ansar al-Sharia could be used for al-Qaeda operations in Pakistan. Along similar lines, al-Qaeda has also recently established its India chapter, the Ansar Ghazwat ul Hind, appointing as its leader Zakir Rashid Bhat, a former militant of Kashmiri Islamist terrorist group Hizb ul Mujahedeen (Indian Express, July 28).
The surfacing of Jamaat ul Ansar al-Sharia and its subsequent wave of terrorist attacks appear to have caught the police and counter terrorism units off guard. Despite numerous raids in the suburbs of Karachi, most of which have been associated with Islamist terrorist networks, the counter-terrorism department of the Sind police appears to have little idea as to the identity of the individuals involved in establishing the new terrorist outfit. Focused on IS, Pakistani authorities have perhaps failed to anticipate a resurgent al-Qaeda, its ranks bolstered by returnees from the conflict in Syria.
Implications and Response
After years of drone strikes and military operations, al-Qaeda had been struggling to make a comeback in Pakistan and the recent activities of Jamaat ul Ansar al-Sharia heralds a possible resurgence for the group.
A boost in numbers gained from embracing the well-trained IS returnees arriving from Syria would likely allow al-Qaeda, which was in desperate need of a new cadre in Pakistan, to resume its activities.
It also benefits from constraints placed on its competition. IS has been unable to fully establish itself in Pakistan. The jihadist community of Pakistan has been cautious about the group — only a handful of Islamists pledged allegiance to al-Baghdadi following the proclamation of IS' so-called caliphate in June 2014 — in part because of the loss of three consecutive emirs of IS-Khorasan in drone strikes.
Moreover, while policymakers in Pakistan may have differing views when it comes to how to deal with the Afghan Taliban as opposed to the Tehreek-e-Taliban groups of the tribal areas, they appear to be on the same page as far as IS is concerned. Military operations are being conducted against the group in Afghanistan's Nangarhar province, as well as the tribal areas of Pakistan and Pakistan's Baluchistan province. Meanwhile, law enforcement organizations across Pakistan have launched a severe crackdown on IS-Khorasan in recent months, with cells busted in Karachi, Lahore, Sialkot and Islamabad. It seems likely such increased pressure on IS will be a further boon to al-Qaeda.
Al-Qaeda has always presented a threat to a varying degree, but the appearance of Ansar in the jihadist landscape of Pakistan shows its resilience to counter-terrorism operations and its resolve to stay put in Pakistan. Pakistan will need to devise a strategy to tackle this new group before the possibility of an al-Qaeda resurgence becomes a reality.
NOTES
[1] Pamphlet dropped by the terrorists at the spot in SITE area attack on June 22, in Karachi.
[2] Author interview with senior police officer of Karachi (August 20, 2017).