Japanese Prime Minister Abe Declares Mongolia's Increasing Importance for Tokyo's Foreign Policy
Publication: Eurasia Daily Monitor Volume: 10 Issue: 73
By: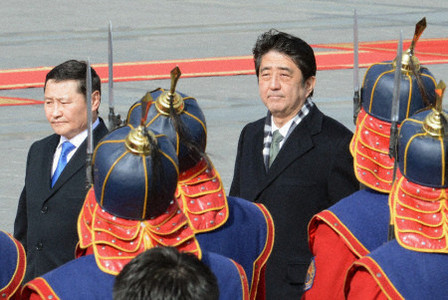 The recent March 30–31 trip to Mongolia of Japanese Prime Minister Shinzo Abe, who has yet to meet with Chinese leaders since assuming office in December 2012, was timed to solidify Japan's relationship with the most vibrant mining economy in Northeast Asia. This visit has also put Beijing on notice that Prime Minister Abe is actively reaching out to nations in the region already leery of China's rise. The Japanese leader's meetings with Mongolian President Tsakhia Elbegdorj, Prime Minister Norov Altankhuyag, Speaker of Parliament Zandaakhuu Ganbold and opposition chairman of the Mongolian People's Party Ulziisaikhan Enkhtuvshin were covered extensively in the Mongolian media, especially Abe's declaration that Mongolia's importance to Japanese foreign policy is increasing. Reports highlighted a new Japanese initiative with the Mongolian name of "Erch" (meaning power or energy) to intensively develop economic relations. "Erch" has two main purposes: 1) improvement of the investment and business environment for Japanese companies, and 2) bilateral cooperation designed for Mongolian sustainable development to be financed with Japanese loans for projects to improve living conditions, build infrastructure and elevate human resources training.
In a March 30 joint press conference, Prime Minister Altankhuyag, who had been interviewed the previous evening on Japanese "Fuji" television, declared that the Mongolian government considers it a foreign policy priority to develop a strategic partnership with Japan, and Ulaanbaatar's "official negotiations focused on activating this partnership in all social spheres, especially elevating economic ties to a new level" (The Mongol Messenger, April 5). When asked about the issue of securing Japanese participation in the long-delayed Tavan Tolgoi (TT) giant coal deposit, which Tokyo hopes will supply fuel to replace Japan's now off-line nuclear power stations, Altankhuyag responded that Mongolia will try to provide coal for Japan. Abe told reporters that Mongolia was valuable to Japan's energy security strategy: "We want to bolster ties with Mongolia with the objective of creating a good make-up of various energy sources" (Asahi Shimbum, March 31). He labeled Mongolia an energy giant: "As Mongolia is rich in natural resources, Japan's technological cooperation will lead to a win-win scenario for both countries" (The Japan Times, March 31).
On the Senkaku (a.k.a. Diaoyu) Islands dispute with China, Abe stated, "I asked for Mongolian support relating to the Chinese situation, and Mongolia expressed its understanding of the Japanese position" (www.japantoday.com, March 21). When questioned about the North Korean nuclear situation, which has unsettled the Asian region, Altankhuyag noted that Mongolia had offered to assist in easing tensions between the two Koreas. "As Mongolia has a normal relationship with North Korea, we are ready to help if the sides decide to meet in Ulaanbaatar" (The Mongol Messenger, April 5). Abe publicly thanked Mongolia for hosting in November 2012 the first senior-level discussions since 2008 on the issue of North Korean abductions of Japanese nationals during the 1970s–1980s, and asked the Mongolians for continued support (The Japan Times, March 31).
Implementation of the new "Erch" initiative was discussed on April 2–5 in Ulaanbaatar in a follow-up third round of negotiations over an Economic Partnership agreement. This Partnership would be Mongolia's first free trade agreement and the thirteenth for Japan. The Japanese assistance offered through "Erch" includes a 4.2 billion-yen ($42.7 million) loan to renovate Mongolia's largest power plant, No. 4, which has a 580-megawatt (MW) capacity, along with loans for the construction of a new international airport, a major highway overpass as well as a feasibility study to create a metro system for Ulaanbaatar by 2020. Japan also pledged new grants for a training and diagnostic hospital, the implementation of the bilateral offset credit mechanism for a low-carbon development partnership, and the improvement of engineering and technical higher educational institutions. During the discussions it was agreed that the import-export bank of Japan (JBIC) would facilitate loans to Mongolian companies to buy mining equipment and services, and Japanese private companies would provide loan financing to the Mongolians for the construction of an oil refinery in Darkhan, north of Ulaanbaatar, with a capacity of 2 million tons per year. In addition, Mongolia, which is interested in launching a communications satellite for earth reconnaissance, obtained Japan's consent to begin negotiations on a memorandum covering a joint program to use a Japanese-made satellite. Both sides announced that the sixth consultative meeting on investment and trade, which includes the public and private sectors, would be scheduled on May 3, followed by a May 3–4 "Japanese business fair in Mongolia," co-organized by the Mongolian Chamber of Trade and Industry and the Japanese aid agency JETRO (The Mongol Messenger, April 5).
While the Mongolian press focused mainly on the economic agreements that emerged from the Abe visit, Japanese coverage for several days featured much analysis about the meaning of the new initiatives with Mongolia from an international, geopolitical perspective and suggested Abe was seeking to check the growing influence of China in the region. The editorial page of The Japan Times (April 4) speculated that the trip was an attempt "to counter China's moves to increase its influence in Mongolia and other parts of Asia" through a trilateral framework of Japan, Mongolia and the United States for policy discussions.
Mongolia sees Japan as an important "Third Neighbor" for technology and investment to help it re-balance China's monopoly over its trade exports, while Japan covets Mongolia's abundant natural resources including coal, uranium, copper and gold. Japan was Mongolia's fourth-largest trade partner in 2012 and continues its two-decade tradition of being its largest aid donor. It has agreed to provide technical assistance to fight air pollution in the city of Ulaanbaatar, including by developing a transport plan to cope with heavy traffic congestion. In March, the Japanese presented Mongolia with $2 million in development assistance for new medical equipment and training facilities. This was the tenth time since 1990 that Mongolians have received such free Japanese aid to overcome problems in transitioning to a market economy (www.news.mn, March 7).
Reportedly, senior officials in the Japanese government encouraged Abe's visit to Mongolia because of the recent flare-up of the Senkaku Islands territorial dispute with China. Acting to bolster Japan's ties with Mongolia may "give a wake-up call to China," one of the officials speculated. The Japanese press then claimed that a source close to the Chinese foreign ministry opined that China was alarmed over Abe's decision to go to Mongolia. "[The visit] made it clear that Japan is pursuing a diplomatic policy to counter China" (Asahi Shimbum, March 31). The Mongolian viewpoint was best summarized by President Elbegdorj who proclaimed, "It has been said many times that with Mongolia's wealthy resources and Japan's hi-tech, we can develop complementary cooperation, and now is the time [for this] to be realized" (The Mongol Messenger, April 5).