High-Cost Redundancies: Gazprom's Pipeline Projects in Europe
Publication: Eurasia Daily Monitor Volume: 10 Issue: 74
By: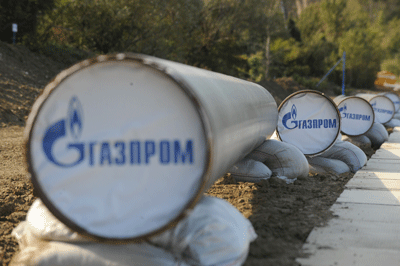 Gazprom's chief spokesman, Sergei Kupryanov, has announced plans to vastly increase Russia's pipeline capacities for gas export to Europe, far above Gazprom's existing supply commitments or possibilities. Along with this, the spokesman informed the well-respected East European Gas Analysis consultancy based in the United States that Gazprom envisages using only pipelines in which it has at least 50-percent ownership to carry out Gazprom's exports to Europe (East European Gas Analysis via www.naturalgaseurope.com, accessed April 16).
President Vladimir Putin and his government are driving these pipeline projects politically. With the recent completion of the Nord Stream One and Two pipelines to Germany, Gazprom already has at its disposal much more export pipeline capacity than it has contracted or available export volumes for Europe, now or in a medium-term perspective.
The existing and planned export pipelines (see below) are located beyond Russia's territory, primarily within European Union territory. By declaring that it would only use pipelines it owns or co-owns, Gazprom directly challenges the EU's energy market legislation, which bars gas suppliers from owning or otherwise controlling the delivery pipelines in EU territory.
Beyond Russia's own territory, Gazprom has the following pipeline capacities at its disposal for gas export to Europe presently:
• The Ukrainian transit pipeline system, state-owned, used solely for Russian gas, with a currently usable capacity of minimum 140 billion cubic meters (bcm) per year at the system's exits to the EU;
• Nord Stream One and Two pipelines on the Baltic seabed to Germany, controlled and 51-percent-owned by Gazprom, dedicated to Russian gas, with a combined capacity of 55 bcm per year;
• Yamal-Europe pipeline in Poland and onward to Germany, its ownership shared by Gazprom and Poland in non-transparent arrangements, dedicated to Russian gas, with a capacity of 33 bcm per year;
• Blue Stream pipeline on the seabed of the Black Sea from Russia to Turkey, parity-owned by Gazprom and Italian ENI, dedicated to Russian gas, with a capacity of 16 bcm per year;
• Pipelines from Russia directly to Finland, Estonia and Latvia, and indirectly (via Belarus) to Lithuania, with combined flows of 12 to 15 bcm per year.
Thus, technically usable export pipeline capacities already in place, at Gazprom's disposal in Europe, add up to almost 250 bcm per year. This overall available capacity already surpasses Gazprom's exports to Europe by large margins, both in toto and in some of the individual pipeline corridors, resulting in a calculated under-utilization even of the newly built Nord Stream One and Two.
On top of these already accumulated capacities, the Kremlin forcefully promotes more gas pipeline projects to Europe:
• South Stream, from Russia across the seabed of the Black Sea, branching off into as many as ten European countries, each section to be co-owned by Gazprom with the host country, all dedicated to Russian gas, with an advertised overall capacity of 63 bcm per year;
• Nord Stream Three and Four pipelines via Germany to the Low Countries and Britain, to be majority-owned by Gazprom and dedicated to Russian gas, with a combined design capacity of 55 bcm per year;
• "Yamal-Europe Two" pipeline for Russian gas via Poland to other Central European countries, proposed to be co-owned by Gazprom via a joint Gazprom-Polish company, for a capacity of 15 bcm per year.
If implemented, these export projects would together add some 133 bcm per year in new pipeline capacities, on top of the 250 bcm in existing capacities, pushing the total to some 380 bcm per year in export pipeline capacities at Gazprom's disposal in Europe.
Gazprom's exports to Europe, however, are nowhere near such pipeline capacities, and unlikely to even remotely approach such levels in a foreseeable perspective.
In the framework of existing supply contracts, Gazprom exported 151 bcm of gas to Europe (basically, the EU) in 2011; 140 bcm in 2012 (a drop of 7–8 percent); and it hopes to reach the 2011 level again, which is Gazprom's benchmark for 2013 and 2014 (Izvestiya, February 6; Interfax, April 3, 9).
Gazprom's export had peaked at some 180 bcm per year to Europe (the EU) prior to the crisis. Without significant price discounts and other concessions, Gazprom seems unlikely ever to regain the pre-crisis export level or market share in the post-crisis period, given the rapid growth of ship-borne liquefied gas supplies and spot markets in Europe. This trend gathered force during (and despite) the crisis in Europe and looks set to continue post-crisis.
Nevertheless, Gazprom's export pipeline construction (actual and planned) outgrows its export volumes to Europe (contracted and prospective) by large and growing margins. Already at present, Gazprom's annual export volumes equal only 60 percent of export pipeline capacities available to Gazprom in Europe (see above). The gap between capacity use and capacity availability will increase further, if Gazprom moves forward with its new pipeline construction projects.
Saddling Ukraine with the costs of pipeline under-utilization is one of the key elements in Moscow's policy. But Moscow is at the same time requiring Nord Stream's German, Dutch and French shareholder companies—as well as Gazprom's own minority shareholders—to share the costs of under-utilized, colossal but redundant pipelines for Russian gas.
These high-cost redundancies should enable Moscow to play with a wide range of export and transit switch options for its finite gas volumes. With this, Putin hopes to manipulate various consumer and transit countries in Europe more effectively than he has already done.