Javier Solana Visits Belarus
Publication: Eurasia Daily Monitor Volume: 6 Issue: 41
By: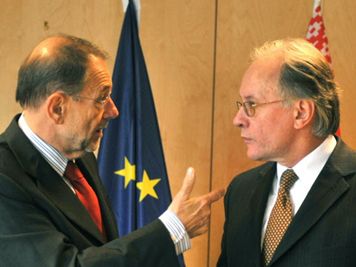 On February 19, in the latest stage of the increasing rapprochement between the EU and Belarus, EU High Representative for Common Foreign and Security Policy Javier Solana visited Minsk and met with Belarus President Alyaksandr Lukashenka. The meeting was perceived by several sources as a prelude to Belarus's acceptance into the Eastern Partnership Program (EPP), which could occur at the EU summit in Brussels on March 19 and 20. Minsk has also been visited by representatives of the Council of Europe, Prime Minister of Latvia Ivars Godmanis, and Polish Minister of the Economy Waldemar Pawlak (Belapan, February 23; European Radio for Belarus, February 20).
Solana also met earlier in the day with members of the Belarusian opposition, including former political prisoner Alyaksandr Kazulin and head of the Belarusian Association of Journalists, Hanna Litvina. Alyaksandr Milinkevich, the leader of the "For Freedom" movement, considered the visit "simply a great chance for our country" and said that without doubt "the dialogue must continue." Analyst Valery Karbalevich commented that whereas even a telephone discussion with Solana would previously have been considered a major event, it was now clear that the European Union had made a strategic decision to improve relations with Belarus. The fact that the visit took place at a time when new political prisoners were being detained in the country, he added, indicated that the problems of democracy and human rights were no longer important factors in EU thinking (Belorusy i Rynok, February 23-March 1).
Has the EU imposed any conditions on Belarus? Benita Ferrero-Waldner, EU Commissioner for External Relations and European Neighborhood Policy, told reporters in late February that relations would be "suspended" if Belarus decided to recognize the independence of the breakaway Georgian republics of Abkhazia and South Ossetia (RIA Novosti, February 24). The Belarusian parliament will vote on this issue on April 2.
The Russian news agency RIA Novosti announced erroneously on February 24 that Belarus had been accepted into the Eastern Partnership Program and stood, along with five other republics (Moldova, Ukraine, Georgia, Armenia, and Azerbaijan), to receive $448 million in financial assistance by the year 2013. This incorrect statement was repeated by Belarusian agencies, including the presidential organ SB Belarus' Segodnya, which did not retract the story, even when it was exposed as a fabrication (European Radio for Belarus, February 27).
Foreign Minister Syarhey Martynau, interviewed by the International Herald Tribune, criticized the Western media for perpetuating "three myths" about Belarus: that the liberalization program was simply a response to pressure from the West; that Belarus had to choose a path either toward Russia or the West; and that the country was a throwback to Soviet times. Liberalization in his view follows a period of "robust" economic growth, and Belarus has climbed 30 places in the World Bank's "Ease of Doing Business" table. Over one-third of the population uses the Internet, people have access to foreign television channels, and registration of political parties and public associations has been simplified. Belarus will continue to develop good relations with both the West and Russia; and a visit to Minsk, with its McDonalds and Max Mara fashion stores, should dispel the myth that there is any nostalgia for the Soviet past (International Herald Tribune, February 23).
Interestingly, Lukashenka has himself undermined such positive viewpoints, both of Milinkevich and Martynau, with his own remarks and actions over the past month. He told Solana that the talks should exclude those who are not well disposed to Belarus, both outside and inside the country (www.charter97.org, February 19). Evidently, he maintains that critics of his government are ipso facto critics of Belarus. Indeed, after almost 15 years of his leadership, it has become increasingly difficult to criticize the president.
As for economic liberalization, Prime Minister Syarhey Sidorski has admittedly long supported such a path, but he was only able to persuade the president of the wisdom of such a course of action at a time of economic desperation. Practically all enterprises have been denationalized, but the final decision always lies with the president. Lukashenka explained liberalization in the following way: "If you wish to buy an enterprise, entirely or in part, come to me." But first, he stated, you had to go to the factory, and the collective leadership would make a decision, Next, the issue must go to the local authorities, then to the government for the minister's approval, and finally to the desk of the president. The process is very bureaucratic, he admitted, and there were no plans to make it less so (Obshchenatsional'noe televidenie [National Television ONT], February 17).
Finally, links to the Soviet era have been perpetuated by the Lukashenka regime, as demonstrated recently by House of Representatives Deputy Henadz Davydzka, a Distinguished Artist of Belarus. Irritated by criticism of his country, he reminded the Europeans that Belarus had saved them from Fascism; if it had not done so, its population would be 100 million rather than 10 million. Belarus and Europe, in his view, place equal stress on democratic values, so why can Europe make demands on Belarus but not vice-versa? (BelGazeta, February 23).
The next two potential stages of the Belarus-EU rapprochement are acceptance of Belarus into the EPP and an invitation to Lukashenka to attend its Prague inauguration on May 7. Both are likely to happen, but there is little evidence to date that much has changed with the regime in Minsk. Simply put, the Europeans have opted to overlook issues of human rights and democracy in the interests of deeper engagement.