Joint Azerbaijani-Turkish Military Exercises a Warning to Both Tehran and Moscow
Publication: Eurasia Daily Monitor Volume: 19 Issue: 184
By: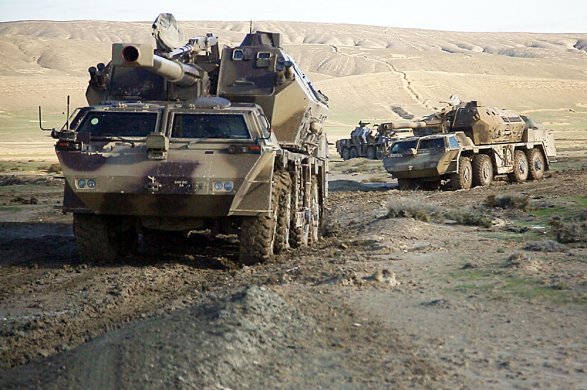 The joint military exercises involving Azerbaijani and Turkish forces just north of the Iranian border, which were announced on December 5, are clearly a warning to Tehran that any further Iranian challenges to Baku will be met by the combined forces of those two countries. At the same time, these exercises are also a warning to Moscow that it is no longer the only outside power with military forces in the South Caucasus and that any moves by the Kremlin in the region are likely to be countered by Turkish action. If the message to Tehran may forestall a military conflict between Azerbaijan and Iran, the message to Moscow may have equally fateful consequences not only on the future course of peace talks between Armenia and Azerbaijan but also on the way in which countries in Russia's "near abroad" will make calculations about their security and the resources they may use to enhance it.
Tehran's decision-makers are clearly the primary target. The joint Azerbaijani-Turkish exercises grew out of earlier exercises Baku had initiated in response to Iranian maneuvers on the other side of the border, the arrest of Iranian agents in Azerbaijan and Iran's actions regarding Nakhchivan and the Zangezur Corridor (Kavkaz-Uzel, October 21; see EDM, November 1; Iarex.ru, November 12). The new joint exercises represent a significant escalation in that they involve a high-level Turkish general becoming an advisor to the Azerbaijani defense minister, the use of advanced aircraft and a display of the two militaries' capabilities to use pontoon technology to bridge the Aras River, whose flow marks the border between Azerbaijan and Iran (Trend.az, November 25; Caliber.az, December 5; Mod.gov.az, accessed December 12). This has been underlined by the leaders of both countries who have clearly stated that they want to send a clear message to Iran (Aa.com.tr; Haqqin.az, December 6). Tehran is aware of this as reflected in its vigorous rejection of Baku's arguments about the joint exercise (Islamic Republic News Agency, December 4).
Azerbaijani commentators have expanded on this point but have taken it further, making clear that the joint exercises had another purpose: to warn Moscow against continuing to back Armenia vis-à-vis Azerbaijan and against assuming that it has any exclusive rights to a military presence in the South Caucasus. The Kremlin, through both its recent actions and its commentaries, has clearly picked up on the message as well and is now mulling how to respond. As surveyed by the Kavkaz-Uzel news agency, these experts clearly delineated that the joint maneuvers were a response to Iran's actions and a warning to Tehran to cease and desist. These commentators also add that these actions, by highlighting the close relationship between Azerbaijan and Turkey, have messages for others as well (Kavkaz-Uzel, December 11).
One prominent Baku analyst, Adalyat Verdiyev, for example, stresses how different the current joint maneuvers have been from earlier Azerbaijani exercises. In the past, Baku held maneuvers in limited areas and generally at some distance from the Iranian border. But this time, and with Turkish involvement, the maneuvers occurred along the entire border between Azerbaijan and Iran and involved more advanced weaponry. Moreover, according to Verdiyev, the latest actions have been led by a joint command consisting of Azerbaijani Defense Ministry officials and a senior Turkish general acting as their advisor. Another Baku analyst, Arastun Orujlu of the Baku-based East-West Research Center, was hopeful that the Turkish general would remain in place and facilitate the integration of Azerbaijan's military with the Turkish Armed Forces.
This is critical not only for Iran but also for Russia, according to Azade Isazade, a former advisor to the Azerbaijani Defense Ministry. Isazade argues that "Russia is weakening the South Caucasus, Iran wants to occupy the space thus freed up, and Turkey is reacting to it." Importantly, the presidents of the two Turkic countries have declared that their countries are moving toward "the establishment of a single army." Some Moscow analysts have sought to play down this dimension, arguing that Azerbaijan is using Turkey more than the other way around and that Moscow should not overrate the integration of Azerbaijan and Turkey (Regnum.ru, November 30). But most Russian analysts, and importantly the Russian government, perceive these developments as evidence that Russia is losing ground in Azerbaijan, must work around Baku and must now figure out ways to recover its positions.
Thus far, the most dramatic official move by Moscow in response to deepening Azerbaijani-Turkish ties has been the announcement of plans, with Iran, to develop sea-lane transport between the two countries via the Caspian, as neither can rely any longer on using the land routes passing through Azerbaijan (Realtribune.ru, November 30). After all of Moscow's continuing talk about developing a north-south trade route to circumvent the West's sanctions regime, this is a remarkable indication that those plans are not developing as the Kremlin had hoped.
But Russian commentators have made clear that Moscow is even more worried by the trends in Azerbaijan and the growing ties between Baku and Ankara. An unsigned editorial on the website of the REX news agency, an outlet that often reflects the views of the Russian security community, stipulates that Azerbaijan has become an "anti-Russian player" and little more than an agent for Ankara's "pan-Turkic" aspirations (Iarex.ru, December 13). Given this threat, the article urges that the Russian authorities join the Organization of Turkic States so as to be able to influence it "and other pan-Turkic organizations," expand Moscow's ties with Armenia and Iran to counter Azerbaijan and Turkey, as well as work to "create" pro-Russian forces within Azerbaijan—all steps that highlight its current weakness.
Meanwhile, Moscow must also confront something more immediate: a rising tide of Azerbaijani anger about the Russian military contingent in Karabakh, a contingent the Kremlin describes as peacekeepers, but one that Azerbaijanis increasingly view as pro-Armenian occupiers of Azerbaijani lands. This has sparked large Azerbaijani protests in recent weeks, including most recently on December 12 and 13 (Kavkaz-Uzel, December 13). These protests make it more difficult for Russia to influence talks about the future relationship between Azerbaijan and Armenia and may call into question the future of Russian forces now based in Karabakh. Given that Turkish forces are now present in Azerbaijan, this sets the stage for potentially serious conflicts and a wholesale reordering of the power relationships, first and foremost, in the South Caucasus and, more generally, across the entire post-Soviet space—which Moscow still believes it has an unrestricted droit de regard.