Journalist and Rights Activist Timur Kuashev Killed in Kabardino-Balkaria
Publication: Eurasia Daily Monitor Volume: 11 Issue: 145
By: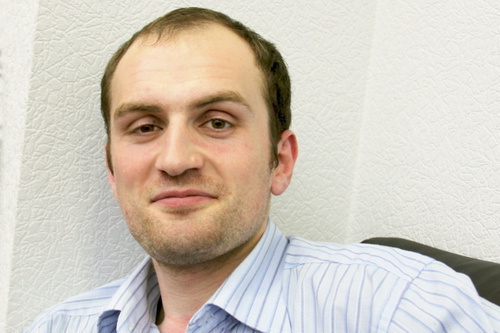 Several hundred young people attended the funeral of their friend and colleague Timur Kuashev, who was found dead under strange circumstances on the outskirts of Nalchik, the capital of Kabardino-Balkaria, on August 1. Kuashev was only 26 years old, but he was a well-known journalist throughout the North Caucasus, having written for many publications, including the all-Caucasus magazine DOSh, Kavkazsky Uzel and Kavkazskaya Politika. He was also a human rights activist who cooperated with the Moscow-based rights organization Memorial (kavpolit.com, August 1).
Kuashev disappeared on the evening of July 31. According to the editors of DOSh, "Timur was taken from his home in the evening. Because he was dressed in his home clothes, he did not take his phone with him, which he practically never left at home. At about 21:20 he called to the mobile phone of his mother, but could not get through since the mobile was turned off because his mother was giving a theater performance, which Timur had planned to attend" (doshdu.ru, August 1). Upon returning home after the performance, his mother found her son's passport and telephone, but not him. Concerned relatives started calling Timur's friends and talked to the neighbors, but did not find any leads. By the evening of August 1, Kuashev's body was found on the outskirts of Nalchik. According to information from unofficial sources, no signs of violent death were present on the journalist's body (kbrria.ru, August 2).
Strangely enough, the website of Kabardino-Balkaria's Ministry of Interior, which provides information about arrests of thieves and returned handsets, did not find space for information on the death of the young activist, who was known across the entire North Caucasus (07.mvd.ru, accessed August 7). Is that a sign investigators are biased against Timur Kuashev? He was detained on several occasions in connection to his proactive position on the Circassian issue. His last conflict with the authorities happened in mid-May, when Kuashev was detained at a mourning procession marking the 150th anniversary of the end of the Russian-Caucasian war. The journalist was subsequently released without charge. Kuashev appealed to the republican directorate of the Investigative Committee, demanding that the police officers who arrested him be punished (echo.msk.ru, August 1).
The inspector for human rights in the North Caucasian Federal District, Ruslan Kambiev, stated that he exchanged e-mails with Kuashev shortly before his kidnapping. Kuashev reportedly was in an elevated mood and had no concerns about his safety. Kambiev thinks that government agencies may be behind the killing of the journalist, since he had no other conflictual relationships. Kuashev was known for frankness in expressing his opinions; he often scathingly criticized the authorities (facebook.com, August 1).
According to Kavkazsky Uzel, Kuashev said in May that he was threatened by a police officer after being detained at the Nalchik procession dedicated to the 150th anniversary of the end of the Russian-Caucasian war. "One of the officers expressed his negative attitude toward my public activities and threatened [me]," Kuashev's legal complaint said. Kuashev told Kavkazsky Uzel that the police threatened him in connection with a blog entry from May 17 that was dedicated to the upcoming mourning procession. In his blog, Kuashev refuted police claims that he planned to come to the event carrying Islamic flags and organize a provocation. "There were also threats in connection to my latest publication in Live Journal," he said. "They said 'this will come back to you, carry on the same activities'—although they did not provide any details on what kind of consequences they were referring to" (Kavkaz Uzel, August 2).
The journalist was always highly critical of those who violated the law. On July 24, in one of his last online entries, Kuashev wrote about his role as a rights activist and called on his audience to be brave and not to succumb to police lawlessness (timur-kuashev.livejournal.com, July 24). "The police are a corporation that has its own corporate ethics and corporate interests," he wrote. "The state of this structure today is such that its corporate interest will always trample any personal interest of any member of this corporation, whatever the person's position in the hierarchy is. Moreover, the higher the member of the corporation is positioned, the lower the probability that his personal interest will come into conflict with the interests of the corporation. An individual is well integrated into the system. The symbiosis of police officers and investigators, prosecutors and judges. The food chain. The financial pyramid."
On another social network popular in Russia, Vkontakte, Kuashev published videos that exposed the Russian military's involvement in shooting at civilian homes in Ukraine, expressed his support for Palestine, and so on (vk.com, accessed August 7).
Everyone believes Kuashev's death was connected to his professional activities. Journalist Maksim Shevchenko is convinced that Kuashev was killed for his journalism and human rights activities (newsru.com, August 1). The editor of DOSh magazine, Abdulla Duduev, who closely cooperated with the journalist, is absolutely sure that Kuashev's death was "directly linked to his human rights activities. He was constantly under surveillance, he received various threats" (ntv.ru, August 2).
Timur Kuashev was yet another journalist who spoke out against the Russian government's policies in the North Caucasus and was likely killed for his activist position in writing the truth about the region and its developments. The killing was also a signal to those who decide to follow Kuashev's path. Indeed, everyone understands that the list of slain journalists is likely to grow indefinitely in this part of the North Caucasus.