Flash Skirmishes in Nagorno-Karabakh: Triggers and Prospects
Publication: Eurasia Daily Monitor Volume: 11 Issue: 145
By: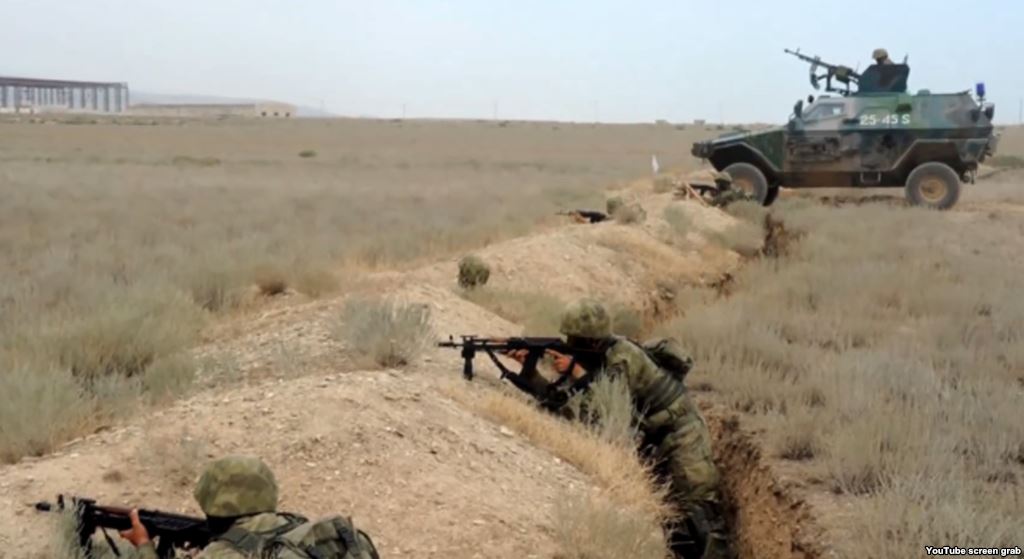 Between July 30 and August 4, flash skirmishes erupted along the Armenia-Azerbaijan contact line. While small-scale ceasefire violations have been relatively common, the recent events caused the highest casualty rates this frozen conflict has seen since 2008. According to official sources, 13 Azerbaijani soldiers were killed and five Armenians died (mod.gov.az, August 4). International actors have urged the parties to de-escalate tensions, and on August 2, news broke that the Azerbaijani and Armenian presidents would meet in Sochi, on August 8–9, under the auspice of Russian mediation, and without the participation of the Minsk Group co-chairs. Prior to the escalation, Paris and New York had been suggested as possible meeting places.
Predictably, each side blamed the other. Azerbaijan accused Armenia of having "repeatedly violated the cease-fire regime by attacking positions of the Armed Forces of the Republic of Azerbaijan" (mfa.gov.az, August 3); Yerevan made a similar statement about the Azerbaijani forces. From this perspective, the question of who fired first is less pertinent than which side might stand to benefit from the current situation. With this logic in mind, it would appear that Yerevan has more to gain.
Firstly, Armenia has been dissatisfied with Russia's position. In particular, at the May 29 meeting of the Supreme Eurasian Economic Council, Moscow and other members expressed views that Armenia should be admitted to the future Eurasian Union only within its United Nations–recognized borders, i.e. not including Karabakh (armradio.am, June 5). Around the same time, the United States' co-chair of the Minsk Group Ambassador James Warlick as well as the US ambassador to Azerbaijan Richard Morningstar gave statements emphasizing a route to conflict resolution via restoring Azerbaijani's territorial integrity, in line with the Madrid Principles (carnegieendowment.org, May 7; apa.az, May 16). These concurrent developments, coupled with the increasing number of visits to Azerbaijan by Russian officials (see EDM, June 25), suggest a diplomatic failure by Yerevan: Armenia sacrificed its European integration ambitions to join the Russian-led Eurasian Union, in large part based on the assumption that Moscow would support it on the Karabakh issue.
Developments in Russia's security policy are a source of increasing dissatisfaction to Armenia. In June, Russia's Deputy Prime Minister Dmitry Rogozin, tasked with overseeing the Russian defense industry, mentioned bilateral discussions on new arms sales by Russia to Azerbaijan (see EDM, June 25). Subsequently, Armenian President Serzh Sargsyan openly criticized Russia for the first time. "This is a very painful issue for us. Our nation is very concerned about the fact that our strategic partner is selling weapons to Azerbaijan," Sargsyan said on July 10 (iwpn.net, July 22). Then, at end of July, the Russian aircraft manufacturer Irkut, announced that Russia was planning to export Yak-130 combat aircraft to Azerbaijan (apa.az, July 29). It is worth noting that border skirmishes took place throughout July, and so the situation was already tense and already receiving a degree of international attention. In a July 23 statement, the OSCE Minsk Group co-chairs expressed "serious concern about the increase in tensions and violence, including the targeted killings of civilians, along the line of contact and the Armenian-Azerbaijani border" (armenpress.am, July 23). In that respect, the recent events were not entirely unpredictable.
The second reason to speculate that Armenia orchestrated the current escalation is its domestic instability, mainly due to economic reasons. Energy prices have been on the increase, affecting both the Armenian population and Karabakh Armenians. In July, Armenia's Public Services Regulatory Commission approved an almost 10-percent rise in electricity prices for households, which came into effect on August 1. In Karabakh, which is under occupation and governed by a separatist regime, major consumers will also be affected by the electricity tariff hike, though the remaining customers will benefit from government subsidies (panarmenian.net, July 23). Given that Armenian's domestic energy market has been fully controlled by the Russian energy giant Gazprom since December 2013, this change is fueling local dissatisfaction with both the central government and Russia.
Third, it is unlikely that Azerbaijan initiated the attack, as the first defense minister of Azerbaijan was on vacation and had to return to the country suddenly. For planned maneuvers, the head of the Army is always present. Moreover, such maneuvers do not involve ordinary conscripts, and most of the Azerbaijani casualties in the latest skirmish were conscripts rather than special forces. Furthermore, photos of weapons seized from Azerbaijani soldiers revealed that the equipment used was an Israeli-produced, handheld software-defined radio, specifically, the Tadiran PRC 6020 portable HF tactical radio (Tert.am, August 1; elbitsystems.com, accessed August 7). The radio in question is commonly used in the Azerbaijani army but not by its special forces. It thus seems probable that Armenia provoked Azerbaijan into a harsh response that was likely to increase losses on both sides—which Yerevan hoped to present to the international community as an attack by Azerbaijan. Most importantly, Azerbaijan's recent heavy losses have been politically damaging domestically, specifically for the reputations of the military command and the government. For Armenia, border clashes serve political interests by focusing public attention on the conflict rather than economic issues; and crucially, they reassure the public that the Armenian government can guarantee national security without Moscow's help.
These border skirmishes have increased international awareness about the fragility of the ceasefire. As mentioned above, prior to the recent developments, the parties were on track to schedule a presidential meeting in either Paris or New York. This is likely to be replaced by the Sochi meeting (Vestnik Kavkaza, July 25), the first official mention of which came from Armenian Prime Minister Hovik Abrahamyan (gazeta.ru, August 2). It has been officially approved by Russian Minister of Foreign Affairs Sergei Lavrov despite a statement by the Azerbaijani foreign ministry that they have no information about the proposed meeting (telegraf.com, August 7).
The Sochi meeting, if it takes place, will enable Russia to flex its diplomatic muscles and regional clout, crucial amidst the deteriorating relations with the West in the wake of the Ukraine crisis. Speculation abounds that Russia could deploy Russian peacekeepers to the Karabakh region (arovat.am, August 5), although Armenian Defense Minister Seyran Ohanyan's official statement excluded this possibility (tert.am, August 6). In the shorter term, if the Sochi meeting materializes, it will be, at best, a "crisis meeting," though the parties' positions are likely to emerge more clearly thereafter. Its relative success (or not) will also be key to Russia's position in the ever-shifting regional balance of power.