Kadyrov and Yevkurov Continue Their Verbal Battle
Publication: Eurasia Daily Monitor Volume: 9 Issue: 211
By: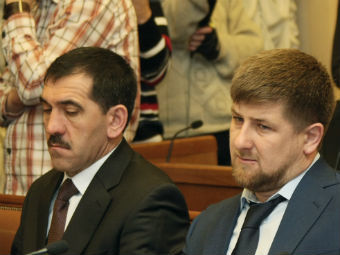 It will soon be a year since frictions emerged between the leaders of the neighboring and kindred republics, Chechnya and Ingushetia. Although the capitals of the two republics, Grozny and Magas, are no more than 100 kilometers apart, the two republican heads communicate through statements by their press services and diatribes in the media.
Without going into details of the conflict, suffice it to say that each of the leaders tries to present himself as a defender of his respective republic's interests before its people. If this is not politically crucial for Ramzan Kadyrov in Chechnya, it is for the Ingush leader. Yunus-Bek Yevkurov's public approval rating, according to polls conducted by the independent magazine DOSH, remain critically low. According DOSH's editor, "over 93 percent of the residents [of Ingushetia] expressed distrust for the activities of the head of Ingushetia, Yunus-Bek Yevkurov" (www.kavkaz-uzel.ru/articles/208648/). With such a record-breaking low rating, Yevkurov needs to find his political niche to stay afloat until the end of his term in September 2013. Against the backdrop of the new rules for electing heads of the regions, the current head of Ingushetia should not even dream of making it onto the candidates' lists. So Yevkurov tries to appear as the defender of the Ingush people from the onslaught of Kadyrov, who wants to spread his influence into the neighboring regions (https://a-bazorkin.ya.ru/replies.xml?item_no=4). In other words, Ingushetia's leader is trying to capitalize on safeguarding the interests of the Ingush people from the Chechen leader. Yevkurov is attempting to demonstrate his readiness to sacrifice himself in the struggle with Kadyrov. However, this is a weak move on Yevkurov's part. The Ingush, while putting no trust in Kadyrov and rejecting his claims on Ingushetia, are not prepared to stand by Yevkurov and support him.
The last squabble between the two leaders of the republics occurred shortly after Chechnya's mufti, Sultan Mirzaev, said that slain suspected militants would be banned from burial in regular Muslim cemeteries (https://vz.ru/news/2012/11/6/605814.html). Asked by journalists to comment on this statement, Yevkurov spoke against what he called a "war with corpses" and said all those killed should be buried according to Muslim customs (www.ri-online.ru/index.php/2009-11-07-18-20-51/4443-glava-ingushetii-snova-nashel-za-chto-lukusitr-sosedej-).
Those who did not expect Ramzan Kadyrov to respond to Yevkurov's statement probably do not know much about the region and his personality. In response, Kadyrov advised his neighbor to focus on his own problems in Ingushetia and abstain from nosing into the Chechen mufti's realm. The response was sharp and ruled out any further discussion (www.grozny-inform.ru/main.mhtml?Part=8&PubID=37774). The Chechen side accused Yevkurov of conspiring with the rebels—something apparently aimed at raising suspicions among the authorities in Moscow regarding Yevkurov's trustworthiness.
The reporters who asked Yevkurov for his views on the Chechen mufti's statement about burial practices knew perfectly well that Kadyrov would retaliate aggressively. So the reporters knowingly provoked another wave of conflict between the two neighboring leaders. Yevkurov then suggested his Chechen counterpart "cool down" (www.ingushetia.ru/m-news/archives/017516.shtml). Before Kadyrov could respond to Yevkurov's condescending statement, Yevkurov appeared on the privately run national TV channel Dozhd on the evening of November 14. During his appearance, a number of hotly debated issues were discussed, including the insurgency in the North Caucasus, the behavior of Caucasians in public in Moscow, hijabs in school and so on. However, the most contentious issue discussed was Yevkurov's relations with Kadyrov, and Ingushetia's leader continued to send messages to Kadyrov in a didactic tone, provoking yet another a backlash. Moreover, Yevkurov brought up the topic of the border between the two republics and proposed cutting the current border arrangement between Chechnya and Ingushetia in stone. Kadyrov, for his part, wants to reduce Ingushetia's territory in favor of Chechnya, citing historical evidence dating to back to the 1920s and 1930s, when the Soviets established the two republics (www.gazeta.ru/politics/2012/11/13_a_4850293.shtml).
In all these public exchanges, the issue of who in Moscow is supporting Yevkurov remains the unknown variable. Yevkurov and Kadyrov are not entirely equal figures in Russian politics: the latter clearly carries more weight than the former. Kadyrov has always been close to Vladimir Putin. It is likely that Yevkurov has his own patron in Moscow. It could be someone in the military who is trying to support their comrade in arms, but it also could be someone in the Kremlin who is trying to weaken Kadyrov. If we look at the situation from this angle, we can understand why Moscow has not interfered in this public row, which has been going on for the past year. In any case, both conflicting sides are losing out. The populations of both republics perceive this as a personal conflict that is drawing the Chechens and Ingush into a confrontation that promises nothing positive for either side other than a rise in nationalist sentiments—which is a new phenomenon among the Chechens and the Ingush, who have historically considered themselves one ethnic group.
In any case, this row will likely continue a while longer, until Moscow decides that the two actors have performed their roles and that the dispute should be brought to a close.