Kadyrov Says Kremlin Ordered Him to Hunt Rebels in Ingushetia
Publication: Eurasia Daily Monitor Volume: 6 Issue: 121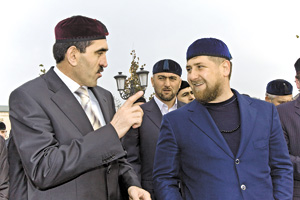 Russian news agencies reported today that Ingushetia's president, Yunus-Bek Yevkurov, who was severely wounded on June 22 when a suicide bomber detonated a car near his motorcade in Nazran, remains in critical condition in a Moscow hospital. Meanwhile, Chechen President Ramzan Kadyrov says he has been ordered by the Kremlin to conduct counter-terrorist operations inside Ingushetia.
Yevkurov suffered multiple injuries in the bombing, including a concussion, ruptured liver, torn lung, broken ribs and burns to his face, arms and legs. Yevkurov's press secretary, Kaloi Akhilgov, told Ekho Moskvy radio today that the Ingush president remains unconscious but that his life is not in danger and doctors believe his condition will soon improve. RBK Daily today quoted an aide to Yevkurov, Musa Pliev, as saying that Yevkurov regained consciousness yesterday, opening his eyes and reacting to speech (www.newsru.com, Moscow Times, Ekho Moskvy radio, RBK Daily, June 24).
There has been speculation that Patimat Mutalieva, a 22-year-old resident of Malgobek who reportedly lost two brothers and her husband in counter-terrorist operations conducted in Ingushetia over the last several years, was the suicide bomber (www.newsru.com, June 24). However, a spokesman for the Ingushetia branch of the Federal Security Service (FSB), Damir Rossin, was quoted today as saying that Mutalieva is alive and well and took college exams yesterday.
Still, Ingushetia's Prime Minister Rashid Gaisanov, who has temporarily taken over Yevkurov's duties as the republic's president, said yesterday that "extremist forces" were behind the attack on Yevkurov, which he called "an attempt to destabilize the situation in the republic" (www.infox.ru, June 24). Likewise, Kaloi Akhilgov said the theory that the attack on Yevkurov was carried by "the terrorist underground" is one of the most plausible "versions," given that the Ingush president was pursuing a dual-pronged strategy of offering the militants an amnesty while taking "tough measures" against those who refuse to put down their weapons (Ekho Moskvy, June 24).
Russian Prosecutor General Yury Chaika told reporters in Ingushetia's capital Magas on June 23 that another line of inquiry in the investigation into who tried to kill Yevkurov is focusing on "the criminal component," given that the Ingush president "had been actively combating corruption" (Interfax, June 23).
Commenting on the attempt on Yevkurov's life, Alexei Malashenko of the Carnegie Moscow Center said: "It looks like the opponents of the current authorities in Ingushetia – whether they are Wahhabis, Islamists or simply the opposition – are much stronger than previously thought. There clearly is coordination between them and the rest of the North Caucasian oppositionists. If you look at all this through the eyes of the Kremlin, then the most successful official in the region is [Chechen President] Ramzan Kadyrov, who is acting in a fantastically tough way in all directions and does not care what anyone says. But everything is becoming known by comparison: people are not being killed in Chechnya on a daily basis. Ramzan's authority in the Caucasus and in the eyes of the Kremlin is growing – they say this is how you should work. And that suggests letting the [other leaders in the North Caucasus] act the same way – that is, absolutely blind to the law" (Nezavisimaya Gazeta, June 23).
Kadyrov, meanwhile, told the Reuters news agency in Moscow yesterday that he had been ordered by President Dmitry Medvedev to conduct counter-insurgency operations across Chechnya's administrative border with Ingushetia. "He told me to intensify actions … including in Ingushetia," Reuters quoted Kadyrov as saying. "I will personally control the operations … and I am sure in the near future there will be good results" (Reuters, June 23).
In an interview with Kommersant, Stanislav Belkovsky of the National Strategy Institute said that Yevkurov had been "impeding" Kadyrov, given that the Chechen leader had been demonstrating to the Kremlin over the last several years "that he is the only one who can ensure security on the territory of Ingushetia and had hinted at the reconstitution of a unified Chechen-Ingush republic." According to Belkovsky, Yevkurov's appointment last year as Ingushetia's president "disturbed" Kadyrov's plans. "I am not at all saying that Kadyrov or his people were involved in the attempt [on Yevkurov's life]," Belkovsky said. "It is simply that it will now once again be said more actively that Kadyrov is the only person capable of ensuring order, and that the Chechens and Ingush are fraternal peoples and it is time for them to unite under Kadyrov's command" (Kommersant, June 23).
In a separate interview with the Novyi Region news agency, Belkovsky said the attempt on Yevkurov's life was the result of a fight between "power groupings for influence" in Ingushetia and showed that "the Kremlin is in no condition to act as a guarantor of the security of its governor-generals in the North Caucasus." The federal authorities will gain nothing by launching a new counter-terrorist operation in Ingushetia because "neither the special units of the FSB nor the defense ministry are capable of taking control of the North Caucasus," Belkovsky added. "Therefore it is highly likely that the Kremlin will yet again call on Ramzan and give him control over Ingushetia." Belkovsky also stressed in this interview that he was not accusing Kadyrov of involvement in the attack on Yevkurov. But he added he was "practically certain" the Chechen leader would "try to extract political dividends from this situation" (www.nr2.ru, June 22).