Kadyrov's Chechnya Remains Highly Dependent on Russian Subsidies
Publication: Eurasia Daily Monitor Volume: 8 Issue: 198
By: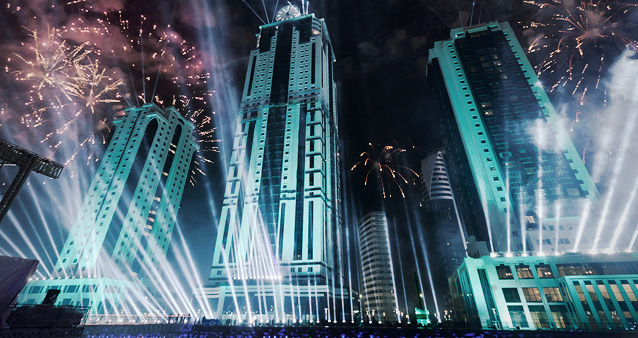 On October 22, an officially permitted anti-Caucasian protest action – "Stop Feeding the Caucasus!" – was held in Moscow. Extensively advertised in both the government and liberal press, the rally turned out to be a very modest event, with fewer than 500 people participating. Protests were supposed to take place across Russia, but the results were so unimpressive that the media did not even cover them. A protest in St. Petersburg received some coverage because about 100 people took part (https://piter.tv/event/V_Peterburge_proshel_miti_0/).
The protest might have been disregarded altogether except for the fact that it was led by one of Russia's most famous bloggers and anti-corruption activists, Aleksei Navalny (https://navalny.ru/blog/454/). However, even Navalny's widespread popularity in Russia did not help nationalist circles rally an impressive demonstration that would allow them to make this issue a key component of their political program and claim they are supported by a majority of the Russian population.
The festival held by Ramzan Kadyrov in Grozny on October 5 in honor of City Day caused another spike of anti-Caucasian sentiment on the Russian Internet. The festival took place during the inauguration of the Grozny-city residential complex that rivals the grandeur of major international metropolitan areas. Moreover, the festival was accompanied by a concert under the open sky in the central part of the city. Well-known Hollywood celebrities, including Jean-Claude Van Damme and Oscars-winning actress Hilary Swank, renowned performer Vanessa Mae, German acrobats and others took part in the festival (https://businessfm.bfm.ru/news/2011/10/12/). A grandiose laser show that could be observed several kilometers from Grozny was also part of the festivities.
All this luxury stirred up anger and resentment on the Russian Internet. People were irritated by the scale of the celebration, which even such rich Russian cities as Moscow and St. Petersburg could not afford.
Russian disgruntlement over federal financing of the North Caucasus is focused on three republics – Chechnya, Ingushetia and Dagestan. So when Russians talk about separating the North Caucasus from Russia they specifically mean these three territories, forgetting that there are four more republics in the region – North Ossetia, Kabardino-Balkaria, Karachaevo-Cherkessia and Adygea. Polls and forums on separating the North Caucasus from Russia have become popular on the Russian Internet (www.nr2.ru/voting/218.html). In Internet polls, a majority invariably supports splitting the North Caucasus off from Russia, with some polls finding 90 percent in favor.
Top Russian government officials have already been forced to react to the public mood, with President Dmitry Medvedev calling supporters of separation "unintelligent" people (www.bfm.ru/news/2011/10/20).Those who favor separation of the North Caucasus from Russia regard financing this region as harmful to Russia, because they think this money goes to the clans of the Kremlin's local puppets. Thus, it is charged that financial assistance from Moscow accounts for 90 percent of Chechnya's budget. The same situation holds in Ingushetia and Dagestan. The nationalists also point to the low level of tax collection in the region: in Dagestan only 3 percent of the taxes owed are collected, compared with 90 percent in central parts of Russia.
On Grozny's City Day, Ramzan Kadyrov stated that Chechnya would soon become a donor region, i.e. that it would stop receiving financial assistance from Russia and start "feeding Russia" (https://smi2.ru/Wellda/c844761/?comm_id=1771703). This was a very bold statement, considering the complete absence of large manufacturing enterprises in the republic. All enterprises still lay in ruins and the indecisive moves to revive them are utterly insufficient, even coupled with all the financial assistance received from Moscow. Similar statements that did not bode well were made earlier. In the summer of 2010 it was announced in Kislovodsk that by 2012 Chechnya would reduce the amount of aid it received by one-quarter while doubling its industrial output (https://ug.ria.ru/economy/20100706/81990213.html). However, this has not been the case and it is already clear that it will not be achieved given the total destruction of the republic's infrastructure as a result of two military campaigns.
The Chechen government insists that Moscow does not supply 90 percent of its budget's revenues, arguing that $1.3 billion worth of hydrocarbons are extracted in Chechnya per year the overall price of carbon energy extracted in the Chechen republic is $1.3 billion per year while Chechnya receives $1.9 billion from Moscow, leaving a balance of just $500 million. However, the Chechen government does not include oil extraction costs, such as transportation and refinement, in this calculation. In addition, Chechen oil deposits are located deep below the earth's surface. In fact, through 2025, the Chechen Republic expects to receive nearly $17 billion from the Russian budget, of which over $5 billion will be disbursed as compensation for people who lost their houses during the wars in Chechnya (www.chechnyatoday.com/content/view/15297/649/).
Ramzan Kadyrov still has a few grandiose construction projects in mind. Russia's state-owned Vnesheconombank disclosed plans to provide a $340 million credit to the Chechen government for nine years to build the Veduchi ski resort in Chechnya's Itum-Kale district. State guarantees for the investors in the project may reach $237 million (https://sport.comments.ua/other/2011/10/14/295131/chechne-sdelayut-gornolizhnuyu.html).
Kadyrov expressed a desire to have his own ski resort after the Russian authorities unveiled plans to build tourist sites across the North Caucasus, excluding Chechnya. Kadyrov eventually successfully lobbied Moscow to approve his ski resort project, and there are reasonably high chances that he will complete the project earlier and that it will be superior in quality to Moscow's projects in the other regions of the North Caucasus. But with all its supposed grandeur, the project is still going to be subject to security considerations. There are no grounds to believe the security situation will improve, especially given the all-embracing Islamization of the region. This process includes even North Ossetia, which is commonly referred to as an exclusively Christian republic, while about 25-30 percent of its population has historically been Muslim.
Russian Interior Minister Rashid Nurgaliev visits the North Caucasus almost on a monthly basis, which testifies to the mounting problems in the region. In September, he visited Makhachkala, Dagestan's capital, and Yessentuki in Stavropol region. On October 19, Nurgaliev was again in the North Caucasus, this time in Chechnya. He informed the public that in the period from January-September 2011, 39 policemen were killed in Chechnya and 122 injured, of which 39 were permanently disabled. Thus, on average, one or two policemen are killed and four or five are wounded in Chechnya alone (www.newsinfo.ru/news/2011-10-19/item/763721/). Against such a background, the North Caucasus resorts will, for the foreseeable future, attract only extreme adventure tourists.