KARIMOV ORDERS BLOODY END TO ANDIJAN UPRISING
Publication: Eurasia Daily Monitor Volume: 2 Issue: 95
By: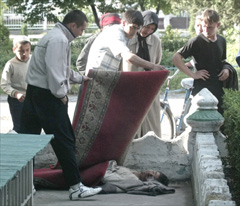 Troops dispatched by Tashkent have put down last week's popular uprising in Andijan, Uzbekistan. Undeterred by the thousands of demonstrators, troops opened fire on the crowd, shooting women and children as well as the rebels.
Rather than waiting until nightfall, when the crowds diminish, the authorities instead launched their assault when the crowd in the central square was at its peak. Authorities later claimed that they only stormed the district administration building after the rebels occupying it refused to lay down weapons and surrender (gazeta.ru, May 14). However, Bahtier Tuichiyev, pastor of Andijan's Protestant church, told Jamestown yesterday, "Even though the city is completely cut off from the rest of the world by the troops . . . it is still not peaceful in Andijan, and at night clashes flare up in different corners of the city."
According to Uzbekistan's President Islam Karimov, "Ten members of the law-enforcement agencies have died so far, the numbers of casualties among the criminals is certainly higher" (RIA-Novosti, May 15). According to human rights activist Lutfulo Shamsuddinov, at least 500 people died. There are so many dead bodies in the streets that locals have buried unidentified bodies in the city square (fergana.ru, May 15).
Surviving rebels have fled in the direction of Kyrgyzstan, about 45 kilometers away. On Sunday, May 15, the rebels attacked Uzbek military personnel, reportedly killing several soldiers (AP, May 15). However, law-enforcement agencies from Uzbekistan and Kyrgyzstan claim that they have no information about this turn of events (RIA-Novosti, May 15). On Saturday, the protest spread to Karasu, a border town about 15 kilometers from Osh, Kyrgyzstan. The Uzbek-Kyrgyz border divides Karasu into two parts.
Early reports from Karasu say that government offices, including those of the prosecutor, police, and customs, have been torched (fergana.ru, centrasia.ru, May 15). The former mufti of Kyrgyzstan, Sadikdjan Kamalouddin, contacted Jamestown from Karasu, saying, "Karasu is controlled by the rebels." But Kamalouddin believes that Uzbek officials will likely restore control over Karasu quickly.
Serious complications may arise if the focus of the conflict shifts to the Kyrgyz border. Almost one-third of the population of southern Kyrgyzstan are ethnic Uzbeks. Bishkek's more liberal policy has given a freer hand to local Islamic radicals, primarily members of Hizb-ut-Tahrir. Since the fall of president Askar Akayev, there are few functioning authorities in this part of Kyrgyzstan. Thus, southern Kyrgyzstan could become the center of armed resistance to the Karimov regime. The UN is reporting that 500 Uzbek refugees have arrived in Kyrgyzstan, but the stream of people is not decreasing (centrasia.ru, May 15).
On May 14, President Karimov declared that Hizb-ut-Tahrir was behind the disturbances in Andijan. But a representative of this movement in London, Imran Vahid, denied any involvement (RIA-Novosti, May 14). In reality, members of a small local group, Akramiya, sparked the uprising in Andijan (see EDM, May 13). Akramiya representatives bluntly told Jamestown they are not linked to Hizb-ut-Tahrir or the Islamic Movement of Uzbekistan.
However, the fact that members of Akramiya used weapons undercuts their previous renunciation of violence. The 23 jailed Akramiya members were influential local businessmen, who were highly regarded and actively involved in charity (forum18.org, February 14). Perhaps their extensive connections in Andijan allowed them to organize an uprising. Interestingly, they issued a statement declaring, "Despite proof of our innocence, law-enforcement agencies covertly put pressure on us and our relatives. That forced us to defend our lives and property by all possible means" (Centrasia.ru, May 14).
However, it is highly unlikely that the uprising would have occurred if the local economy were stronger. Living standards in Uzbekistan are among the lowest in the former Soviet region, lower than in neighboring Kyrgyzstan and Kazakhstan. Data about average salary levels in Uzbekistan are highly classified. Officially, the minimum salary rate is given as 5,540 Uzbek soms (about $5.50). However, one can state with confidence that the average salary in less than $20 per month.
Poor economic conditions led to disturbances in the Fergana Valley city of Kokand last November. About 6,000 traders from Kokand threw stones at one of the tax offices and set two police cars afire. Three tax inspectors and a policeman were beaten up (see EDM, November 9, 2004). Another spate of violence, although on a smaller scale, happened after a price hike in February 1992. Several thousand Tashkent students began looting stores and setting cars on fire.
Uzbekistan's authoritarian regime had managed to keep the situation under control by ruling with an iron fist. Human Rights Watch estimates there are about 7,000 political prisoners in Uzbekistan. After the events in Kokand, new signs started to emerge that Tashkent was losing its grip on the restive population. On December 1, 2004, about 300 people organized a spontaneous picket in Marhamat (another Fergana city some 30 kilometers south of Andijan). That protest was triggered when the district's electricity supply was cut. Protestors beat up several employees of the district administration and the energy department. The demonstrators blocked the Fergana-Osh highway and threw stones at cars trying to drive around the roadblock (centrasia.ru, December 3, 2004).
While the Uzbek economy is still deficient, the Andijan protest seems to have a different cause, and this new development is likely what worries Tashkent most.