Karzai's State Visit Highlights Beijing's Afghan Priorities
Publication: China Brief Volume: 10 Issue: 8
By: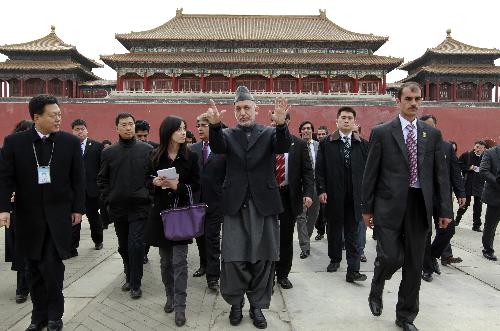 From March 23 to March 25, Afghan President Hamid Karzai conducted a state visit to China. The trip underscored the People's Republic of China's (PRC) support for the Karzai-led government, with the Afghan president telling his hosts that Sino-Afghanistan relations were better than at any time in history (Xinhua News Agency, March 25). This assessment is valid even as Chinese leaders strongly urged Karzai to adopt additional measures to stem regional narcotics trafficking and terrorism emanating from Afghanistan. Yet at the same time, the exchange made clear that the PRC's priorities are to maintain a major diplomatic and especially economic presence in Afghanistan—but not a military one.
Karzai met with the PRC's most important political elites, including President Hu Jintao, Prime Minister Wen Jiabao and Wu Bangguo, chairman of the Standing Committee of the National People's Congress. In addition, the Afghan president held talks with Chinese business leaders and delivered a speech at Peking University on the Afghan government's pursuit of democracy and development. Besides Karzai, the Afghan delegation included the cabinet ministers of foreign affairs, defense, and mines and investment as well as some 20 Afghan business executives (Xinhua News Agency, March 25; Radio Free Europe/Radio Liberty, March 25).
Although this was Karzai's fourth trip to the PRC as Afghan president, the occasion marked the first time Karzai had traveled to Beijing since his last year's fraud-tainted reelection last summer. During this process, some Western governments had complained about election irregularities and had more or less openly sought Karzai's replacement (Central Asia-Caucasus Institute Analyst, Feb 11, 2009; New York Times, December 16, 2009). In contrast, the PRC government declined to comment on the elections, treating the process as Afghanistan's internal affair. In the joint statement issued at the end of Karzai's visit, the PRC reaffirmed its adherence to "the principle of non-interference into other countries' internal affairs, its respect for Afghanistan's independence, sovereignty and territorial integrity, [and] its respect for the Afghan people's choice of a development road suited to their national conditions" (Xinhua News Agency, March 25).
Deepening Economic Ties
Rather than focus on Afghan domestic politics, PRC officials emphasized their desire to expand China's commercial and other non-military presence in Afghanistan. During his March 24 meeting with Karzai in the Great Hall of the People, President Hu identified five priority areas for building a "comprehensive cooperative partnership of good-neighborliness, mutual trust and friendship for generations":
1 strengthen overall bilateral ties by engaging in more regular meetings and exchanges
2 promote further bilateral economic collaboration
3 "deepen cooperation in the humanities" in areas "such as personnel training, education, culture and public health"
4 enhance security and police collaboration by combating "cross-border organized crimes and the three evil forces of terrorism, extremism and separatism"
5 "coordinate with each other in multilateral affairs," with Hu praising PRC-Afghan regional cooperation within the framework of the Shanghai Cooperation Organization (SCO) and the South Asian Association for Regional Cooperation (Chinese Foreign Ministry's Website, March 24).
In elaborating on the second objective, Hu made evident China's ongoing interest in pursuing profitable business deals in Afghanistan: "China is ready to discuss new cooperation programs with Afghanistan based on the already-implemented cooperation projects, increase mutual investment, maintain steady trade growth and promote bilateral cooperation in the [sic] areas such as agriculture, water conservancy, mining and infrastructure construction so as to enhance the quality and level of the cooperation." To this end, and in support of the third objective: "China is ready to train more professional and technical personnel for Afghanistan's peaceful reconstruction." In elaborating the fourth point, however, Hu cautioned that "China attached great importance to the security of its citizens and companies in Afghanistan, urging the country to take effective measures and improve security work to ensure a sound environment for bilateral cooperation" (Chinese Foreign Ministry's Website, March 24).
The two presidents then signed three agreements that expanded economic and technological cooperation, established bilateral training programs, and provided favorable tariffs for certain Afghan exports to China. In their main joint statement, the PRC and Afghan governments pledged to increase their mutual trade, investment and technology transfers in such areas as transportation, agriculture, irrigation, energy, mining and infrastructure construction. They also stated their Joint Economic and Trade Committee would begin meeting (Xinhua News Agency, March 25).
These measures aim to expand Sino-Afghan commerce. According to Chinese statistics, two-way trade between Afghanistan and the PRC amounted to $155 million in 2008 (The Associated Press, March 25). President Karzai estimated that the level of bilateral Sino-Afghan trade has now reached approximately $200 million annually (Office of the President, Islamic Republic of Afghanistan, March 24). The week before Karzai's arrival, sources in the PRC Foreign Ministry reaffirmed China's support for building schools, constructing hospitals, and supporting additional reconstruction projects (AsiaNews.it, March 25). Since 2002, when Afghanistan's new post-Taliban government was formed, the PRC has provided more than 900 million yuan (about $130 million) in reconstruction assistance to the country. In addition, the Chinese government has already pledged an additional $75 million over the next five years (Xinhua News Agency, March 25). Starting in July 2006, moreover, the PRC has allowed hundreds of Afghan products to enter China without tariffs (Xinhua News Agency, March 25). Despite this measure, two-way trade consists primarily of Afghans purchasing PRC consumer goods while exporting Afghan raw materials.
The focus of recent PRC economic activity in Afghanistan has been on extending China's investment in Afghanistan's natural resources. While in Beijing, Afghan Foreign Minister Zalmai Rassoul echoed Karzai's message by telling state-run China Daily that Afghanistan would welcome additional PRC investments in its natural gas and iron ore sectors, and would take steps to ensure better protection of Chinese nationals and firms in his country (China Daily, March 25). Afghan officials see foreign trade and investment as perhaps their best means for reducing their dependence on international assistance, which currently covers 90 percent of the Afghan government's budgetary expenditures and could well rise further as the size of the Afghan National Army and Afghan National Police continue to expand to counter the Taliban insurgency. The state-owned Metallurgical Corporation of China, which unexpectedly won the 2007 tender to develop one of the world's largest unexploited copper reserves at Aynak in the province of Logar, south of Kabul, is thought to have a good chance of also winning this year's tender for the rights to develop the iron ore deposits at Hajigak, located west of Kabul in the central Afghan province of Bamiyan (The Associated Press, March 25). The Afghan Ministry of Mines hopes the winning bid will exceed $5 billion (Reuters, March 22). PRC and Afghan officials are discussing constructing a railroad directly connecting their countries, which could increase the flow of goods even further (Office of the President, Islamic Republic of Afghanistan, March 24).
Energy security considerations also influence PRC policy toward Afghanistan. The country is believed to have substantial natural energy resources, and the Afghan government is seeking foreign investment to exploit these assets. For example, the Afghan Ministry of Mines is looking for international partners to develop 11 natural-gas sites in the northwestern Afghan provinces of Jowzjan and Maimana (Radio Free Europe/Radio Liberty, March 25). In addition, the PRC has been expanding its access to energy assets in the surrounding countries of Central Asia. The security of these resources, and the land-based transportation routes linking them to China, depends in part on the situation in Afghanistan. In December 2009, China opened a major energy pipeline that transports natural gas from Turkmenistan through Uzbekistan and Kazakhstan through areas sufficiently close to Afghanistan that the pipeline could be attacked by guerrillas operating from Afghan territory.
Defense, Diplomacy and Development
In his meeting with the visiting Afghan Defense Minister, Rahim Wardak, PRC Defense Minister Liang Guanglie offered Afghanistan limited military assistance. Liang made clear that the aid would be for additional defense supplies and military training rather than direct combat support such as that provided by most of the 44 countries in NATO's International Security Assistance Force (ISAF). The PLA "will continue assistance to the Afghan National Army to improve their capacity of safeguarding national sovereignty, territorial integrity and domestic stability" (AFP, March 25). For example, at the end of last year, the PRC trained 19 Afghan soldiers to defuse mines in Nanjing (China Daily, March 25).
Afghan officials and their foreign allies have sought to encourage the PRC leadership to use its strong ties with Islamabad to pressure Pakistani security services to reduce their assistance to the Afghan Taliban and persuade its leaders to enter into peace negotiations with the Karzai government (Reuters, March 22). Pakistan's intelligence services helped create the Taliban in the late 1990s and are still seen as the movement's close allies. When in Beijing, Karzai proposed creating a trilateral cooperation mechanism between Afghanistan-Pakistan-China. According to Afghan sources, Hu welcomed the proposal (Office of the President, Islamic Republic of Afghanistan, March 24). Nonetheless, while PRC representatives have pressed Pakistani officials to end their support for radical Islamist groups seeking to challenge Beijing's control of Xinjiang, no clear evidence exists that they have made much effort to decrease Pakistani support for Islamists fighting the governments of Afghanistan or India.
Chinese officials clearly prefer to engage Afghanistan economically, but they try to depict a harmonious relationship in which the PRC's pursuit of its commercial goals helps promote peace and prosperity in Afghanistan. During Karzai's visit, the PRC media quoted several Afghan experts as emphasizing how Chinese economic assistance and investment in Afghanistan would help promote their country's security as well as prosperity. For example, a professor at Al-Bironi University, Abdul Qahar Sarwari, reportedly said that, by investing in Afghan development projects, the PRC would reduce unemployment and poverty, which he termed the "mother of all evils including insurgency and insecurity." Arguing that unemployed young people join the Taliban and other guerrilla forces simply to provide food for their families, Sarwari reportedly said that, "Providing jobs and regular income to citizens would alleviate poverty and eventually slim the ongoing insurgency in the country" (Xinhua News Agency, March 23). The PRC media similarly quoted Qasim Akhgar, described as a human rights activist and editor-in-chief of an influential newspaper, as saying that Chinese investment would improve Afghanistan's security situation by raising living standards (Xinhua, March 23). In terms of third country nationals, China Daily cited NATO Secretary-General Anders Fogh Rasmussen as recognizing China's "key role in civilian development in Afghanistan" which, more than military operations, would ensure Afghanistan's "long-term peace and stability" (China Daily, March 25).
In representing the Chinese option, the PRC media cited Chinese sources who expressed reluctance to associate the PRC too closely with NATO and U.S. military stabilization efforts in Afghanistan. An anonymous "People's Liberation Army officer and researcher at a top military think tank" commented that NATO could hardly expect the PRC to provide direct support for its military operations when the alliance "did not seek China's opinion when it deployed its forces in Afghanistan in the first place." Although he welcomed the development of some ties with NATO, the unnamed officer warned, "China should be cautious not to be taken advantage of" (China Daily, March 25). Chinese diplomats have stressed the leading role of the UN rather than NATO in coordinating the Afghan reconstruction process (China Daily, March 20). Another PRC publication explained why Chinese experts opposed allowing the U.S. military to transport supplies through the Wakhan Corridor linking the PRC and Afghanistan. According to these analysts, the U.S. military might exploit the opportunity to contest Beijing's control of Xinjiang as well as encircle the PRC with pro-Washington regimes to contain China. The paper cited these analysts as also arguing that providing direct support for Western military operations could prompt the Taliban to see the PRC as an open enemy and support further terrorist attacks against China. In addition, they allegedly worry that joining the U.S. war effort could antagonize local Afghans and therefore endanger China's economic interests in Afghanistan following a U.S. military withdrawal (People's Daily Online, March 26). Some Chinese analysts are uneasy even about the PRC's growing economic role in Afghanistan, fearing that the United States is unwilling to share influence with other countries in Afghanistan. "Instead, what the US is willing to share with countries like China is the burden of economic reconstruction." (China Daily, March 24).
A few days after Karzai's return to Kabul, U.S. President Barack Obama conducted a surprise visit to the Afghan capital. In contrast to the economic focus of the Hu-Karzai exchange, Obama apparently concentrated on security issues in his discussions with Karzai, especially on how his government was implementing its political-military reform program and assuming greater leadership of the war, which U.S. strategists consider essential for defeating the Taliban insurgency. There is no evidence that China's role was even discussed during Obama's six-hour stopover, though Karzai's subsequent anti-American outbursts about U.S. political interference in Afghanistan suggest Karzai prefers the Chinese practice of not criticizing his domestic practices to the sharp rebukes he apparently received from Obama's senior advisers if not the American president himself.
Conclusion
China has important national interests at stake in Afghanistan, including containing its rampant narcoterrorism and protecting the PRC's important growing commercial presence in that country. Chinese officials are employing a variety of unilateral, bilateral and multilateral means to pursue their objectives, with the focus on dealing directly with the Karzai government. The PRC's priorities are to sustain a leading economic presence in Afghanistan but avoid assuming a major military role that could visibly align Beijing with the anti-Taliban coalition. Ideally, China's contribution to Afghanistan's economic recovery will over time strengthen the Afghan government, especially in terms of increasing its revenue, as well as reduce support for the insurgency by removing a source of popular discontent. By failing to provide more direct assistance to the coalition's military efforts, however, the Chinese government denies itself any important influence on NATO's military strategy and increases the risks of the Karzai government's defeat. In addition, while the PRC government might be able to work out a deal with a Taliban-dominated Afghanistan that would protect China's growing economic stake in the country, the Islamists might again transform Afghanistan into a terrorist-exporting state, forcing Beijing to confront a major threat to its core economic and strategic interests without the option of free riding on the Western military.