Kazakhstan Announces New Economic Policy to Avoid Another Crisis
Publication: Eurasia Daily Monitor Volume: 11 Issue: 209
By: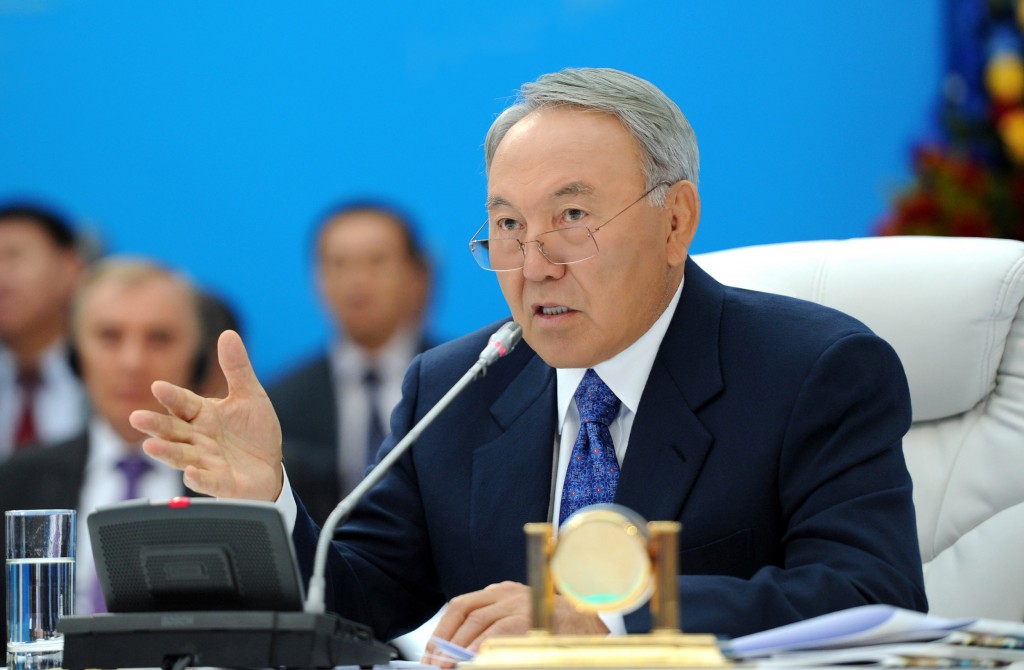 On November 11, Kazakhstani President Nursultan Nazarbayev made a pre-announced televised address to the nation. Since 1997, the president annually addresses the two chambers of parliament at the beginning of the calendar year, thus allowing him to outline his administration's forthcoming plans and programs and to take stock of the preceding year's achievements. This year, however, Nazarbayev delivered his annual address at least two months early. Furthermore, he spoke in front of top officials of the ruling Nur-Otan party, including his chief of staff, the prime minister, several cabinet ministers and a privileged group of members of parliament (akorda.kz, November 11).
As Nazarbayev himself acknowledged at the start of his speech, the worsening geopolitical context and the troublesome shifts within global emerging markets had made Kazakhstan particularly vulnerable to negative macroeconomic headwinds. The United States Federal Reserve's decision to wind down its quantitative easing program—spurred on by the higher-than-expected growth and job creation in the US—has been a major factor behind the acceleration of capital flight from the developing world (inform.kz, November 11; lsm.kz, October 24).
Although Russia happens to be the biggest casualty of such a policy in the post-Soviet space, largely because of its rampant corruption and international sanctions triggered by Moscow's destabilization of Ukraine, Kazakhstan has also been seriously affected. In February 2014, Economy Minister Yerbolat Dossayev said that capital outflow from Kazakhstan amounted to over $22 billion per annum within the past four years and might intensify in reaction to Washington's new monetary outlook (bnews.kz, February 14).
Moreover, the continuing stagnation of demand in Europe and China's own economic slowdown both have curtailed Kazakhstan's industrial output, while the falling oil price—down by more than a third since June—is eating away at the country's export revenue. Earlier this year, the economy ministry expected Kazakhstan's 2014 GDP growth to be above 6 percent, but it stood at a meager 3.9 percent in Q1 and will not be higher than 4.1 percent in annual terms, according to the World Bank's latest estimates. The latter previously slashed Kazakhstan's growth forecast from 5.7 to 5.1 percent in June, and from 5.1 to 4.3 percent in October. Meanwhile, oil production decreased in January–October 2014 by 1.6 percent, compared to 2013, with the failed launch of the giant Kashagan oilfield having made it practically impossible to bring online more crude for export (kapital.kz, November 19; neftegaz.kz, November 13).
In this context, President Nazarbayev has ordered the government to once again tap the reserves of the National Fund (NFK), a sovereign welfare fund that was established back in 2000 and has since been fed with proceeds from oil sales. In February 2014, he authorized the allocation of more than $5.5 billion from the NFK to financially support banks, most of which are still saddled with bad loans, and to lend directly to small- and medium-sized businesses (inform.kz, February 18).
As of now, the NFK's aggregate resources stand at $76.8 billion. In neighboring Russia, the National Welfare Found and the Reserve Fund, both created in 2008 out of the single Stabilization Fund, currently have $75 billion and $82.7 billion worth of reserves, respectively. The two countries used similar stimulus techniques during the last financial crisis, with Kazakhstan having taken approximately $10 billion from the NFK in 2007–2009 to bail out troubled banks and to support the flagging construction sector (newskaz.ru, November 11; tengrinews.kz, September 3).
Unsurprisingly, the new economic policy, unveiled by Nazarbayev in his recent speech to the nation and called in Kazakh "Nurly Zhol" (Bright Path), foresees an even greater role for the NFK in macroeconomic regulation. Thus, some $3.9 billion will be transferred next year from the NFK into the state budget, of which $1.9 billion will be spent directly on the first phase of the Nurly Zhol program. As to the remaining amount, it is expected to go into five distinct areas, including low-interest lending to businesses; recapitalization of the Problem Loans Fund, a state agency in charge of overdue loans owned by private banks; infrastructure development within the special economic zones of Khorgos (east), Atyrau (west) and Taraz (south); urban planning for Expo-2017; and modernization of the Astana International Airport (akorda.kz, November 11).
According to Nazarbayev, Nurly Zhol will stretch far beyond 2015 and may well last until 2020. During the next three years, the government will take from the NFK $3 billion a year to fund the program's various parts, which are comprised of structural projects aiming to boost economic growth and ensure socioeconomic stability. He listed seven priority areas: 1) transport infrastructure development, mainly rail, air and highway interconnections between major cities; 2) industrial infrastructure development, especially in the special economic zones; 3) energy infrastructure upgrades, with an emphasis on power generation; 4) the modernization of public utilities; 5) the construction of social housing, at a cost of $1 billion in 2015–2016; 6) social infrastructure development (schools, hospitals, kindergartens, etc.); and 7) cheap lending to the real economy (zakon.kz, November 12).
It is clear that as the macroeconomic fundamentals continue to deteriorate, the Kazakhstani authorities have no other choice than to focus on short- and medium-term planning, instead of longer-term objectives. Therefore, the Kazakhstan-2050 strategy (see EDM, February 28, 2013), which President Nazarbayev first presented to the public in December 2012, is likely to be simply forgotten for some time since its implementation looks highly unrealistic in the present circumstances (akorda.kz, December 14, 2012). However, it still represents a broader strategic framework for Kazakhstan's political and socioeconomic development in the 21st century and has all the potential to last even beyond Nazarbayev's rule.