Kazakhstan Cabinet Reshuffle Promotes Massimov
Publication: Eurasia Daily Monitor Volume: 9 Issue: 174
By: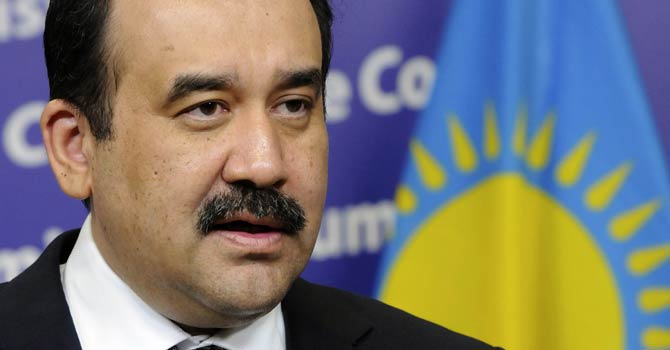 The first autumn winds in Kazakhstan's capital brought with them a major cabinet reshuffle that promoted popular, effective Prime Minister Karim Massimov to head the preeminent presidential administration and moved First Deputy Prime Minister Serik Akhmetov to the premier spot. President Nursultan Nazarbayev confirmed both appointments on September 24, after one of his advisors spoke to the press two days earlier about the possible shift (Tengrinews, September 22). The musical chairs at the top of Kazakhstan's government structures come amid widespread speculation and reported wrangling over who will succeed Nazarbayev to become the country's second president.
By most accounts Massimov has presided over a period of economic growth, increasingly diversified development and international prestige for Kazakhstan, despite the shock of the global financial crisis. There are, however serious doubts about the possibility that he might one day serve as president, mainly due to his reported Uighur background. In a political climate where ordinary Kazakhstanis are wary of Chinese encroachment, the ethnic sensitivities surrounding Uighurs in both countries are to be avoided (chinaincentralasia.com, September 20). Massimov has spearheaded much of Kazakhstan's relationship with China—encouraging investment but seeking to control the labor disputes, local community friction and environmental degradation often associated with the activities of Chinese State Owned Enterprises (SOEs) in Central Asia. Having studied in China, he orchestrated a key 2006 joint visit of a Kazakhstani delegation to Beijing and a Chinese delegation to Astana, wherein both met with China's and Kazakhstan's heads of state (Kazinform, November 21, 2006). Most recently, he was in Urumqi at the China-Eurasia Expo, where he opened his speech with a few lines of thanks in Mandarin (Tianshannet, September 4). Massimov has rarely visited the United States during his time in government, although he has conducted high-profile visits to various European Union countries and Israel.
Massimov has served as prime minister since January 2007—Kazakhstan's longest serving head of government—with previous posts as a deputy prime minister and assistant to the president. Several news outlets quoted Nazarbayev advisor Yermukhamed Yertysbayev as saying: "In five and a half years of work, [Massimov] has proved to be one of the most efficient managers in the country. He successfully performed economic management. There are currently several important issues in terms of political management: that is what the presidential administration does" (ITAR-TASS, September 24). This comment, among others, has led to speculation that while Massimov might not accede to the presidency, he is being positioned as a trusted, adept manager of a transfer of power, if and when such a role is needed. In heading the presidential administration, he will not only be close to Nazarbayev on a daily basis, but also will be able to prepare the apparatus for its first changeover since independence.
Massimov's personal goals also may have factored into the shift. According to a statement by Nazarbayev himself, Massimov submitted his resignation last year, but his able stewardship of the economy meant that it was not accepted until now. A number of outlets quoted President Nazarbayev as saying, "Usually, the government is changed when the situation is special, when the economic and social position of the country is weak, when society requires it. We do this because the prime minister offered his resignation; he did it even in the past year. When a person is tired and wants to change position, I understand this matter" (CA-News, September 24). That said, Massimov's new post will probably be just as tiring. This was not a move "to spend more time with his family."
The new Prime Minister Serik Akhmetov is widely viewed as a close ally of Nazarbayev's, hailing from the president's region, Karaganda, and serving as the region's akim—roughly equivalent to a governor of a US state—from 2009 to 2011. The two reportedly worked together at the Karaganda Metallurgical Plant during the Soviet period (Tengrinews, September 24). Akhmetov has also previously served as minister of transport and communications. He is widely viewed as a low-profile workhorse who likely will focus on furthering Massimov's legacy of carefully managed economic openness and focused fiscal discipline.
On September 21, Massimov's predecessor at the presidential administration, Aslan Mussin, was moved to head the Accounts Commission, which oversees the state budget. The former speaker of parliament and minister of economy and budget planning replaced Omarkhan Oksikbayev, who will become a member of parliament with the ruling Nur Otan party (Tengrinews, September 24).
Overall, the reshuffle indicates that Nazarbayev and his close advisors are seeking to continue Kazakhstan's current course for the foreseeable future and in preparation for a transition at the very top. The elevation of a political and managerial heavyweight like Massimov after a long tenure as prime minister means that he will play a key role, if not the key role, in that transition However, he is not seen as a threat to Nazarbayev's leadership or, for that matter, as a likely future leader. Massimov may buck popular will by pushing for a more comprehensive relationship with China. There are few indications of his favoring the United States or Western actors, and his relationships in Moscow generally are considered as good as most senior Kazakhstani politicians. That said, were he to favor a major shift away from Kazakhstan's signature multi-vector foreign policy strategy, he would not be where he is today.