Kazakhstan Cautiously Builds Ties With China
Publication: Eurasia Daily Monitor Volume: 20 Issue: 152
By: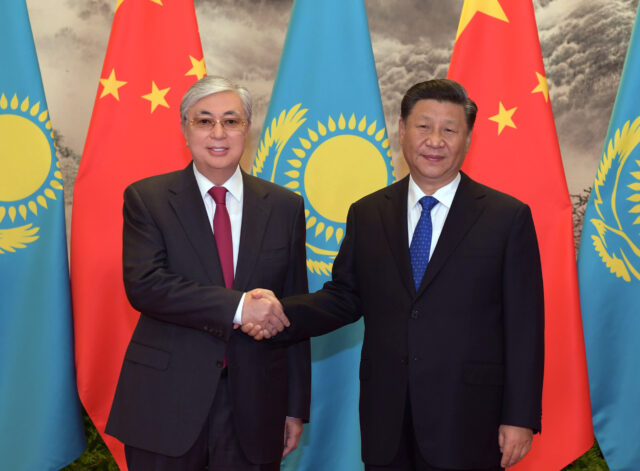 After the mass protests of January 2022, Kazakhstan has sought to distinguish itself from the economic and foreign policy failures of the former Nursultan Nazarbayev administration. In September 2023, Kazakhstani President Kassym-Jomart Tokayev shared his vision to ameliorate Kazakhstan's "dependence on raw materials, low labor productivity, insufficient levels of innovation, and uneven distribution of income," which have been driving the country's economic downturn in 2023 (Akorda.kz, September 1). Tokayev seeks to fulfill Kazakhstan's economic needs and strengthen its "multi-vector" foreign policy by finding new alternative partners to Russia, whose economy continues to deal with rampant inflation and the deleterious effects of Western sanctions (see EDM, October 2). On September 28, the Kazakhstani leader declared, "Kazakhstan has declared unambiguously that it will follow the sanctions regime" against Russia, further underscoring this pivot.
Unfortunately, Astana's options are limited. Perhaps the most obvious approach would be to boost economic relations with China. In May 2023, Tokayev held a series of talks with Chinese Communist Party (CCP) General Secretary Xi Jinping that witnessed the signing of multiple agreements to facilitate intensified bilateral cooperation in trade, energy, agriculture, and other fields (Fmprc.gov.cn, May 17).
Yet, despite these efforts, Kazakhstan still has extensive economic and political ties to the Kremlin. The intervention of the Russian-led Collective Security Treaty Organization (CSTO) during the January 2022 unrest in Kazakhstan played a decisive role in strengthening Tokayev's control over the country (Kommersant, January 6). Additionally, approximately 80 percent of Kazakhstan's oil exports are routed through Russia, though this arrangement has become problematic in recent months (Kazakhstan Today, March 2). Moscow has on several occasions blocked the flow of oil in an effort to punish Astana's attempts to distance itself from Russia. In response, Kazakhstan recently purchased two oil tankers to bypass Russia in an aim to export oil to Europe through Azerbaijan and Georgia (Inbusiness.kz, August 8).
Kazakhstan's efforts to bypass Russia on energy transit and trade is a nominal gesture to potential partners. These endeavors simultaneously reveal Astana's responsiveness to changes in public perceptions of Russia in Kazakhstan. A recent public poll showed a sharp increase in somewhat negative views toward Russia, rising from 4 percent in 2017 to 19 percent in 2023 (Vlast.kz, September 11). Societal unease in Kazakhstan arising from the recent influx of military-age Russian men fleeing the "partial mobilization" and economic struggles originating from the consequences of Russia's war against Ukraine have contributed to the growth in these unfavorable views.
Beijing has been quick to capitalize on waning Russian influence in Kazakhstan. In July 2023, China officially became Kazakhstan's top trade partner, accounting for 19.2 percent of all Kazakhstani trade (RBC, July 28). Tokayev lobbied Chinese companies to invest in Kazakhstan's economy at the Central Asia–China Summit in Xi'an, highlighting his country's reform agenda and economic diversification (see EDM, May 24). The two sides signed a $22 billion trade agreement and planned to increase bilateral trade from $31 billion to $40 billion (Akorda.kz May 19). As a result of this increased cooperation, the demand for specialists with Mandarin-speaking skills among employers in Kazakhstan has increased (Kursiv.kz, September 7).
The failure of Belt and Road Initiative projects in Kazakhstan, however, has negatively affected the population's perception of China. For example, the Khorgos dry port and special economic zone were meant to become a key trade hub for shipping Chinese goods to Europe. Yet, the project has been hampered by corruption and smuggling charges against Kazakhstan regarding its handling of border cargo. Bolat Nazarbayev, the younger brother of former President Nursultan Nazarbayev, was initially given control over trade via Khorgos. Although a new company took over logistics of the dry port in April 2023, it is unclear whether this company has any affiliations with Bolat's company (Orda.kz, May 5). Similarly, a corruption scandal involving top-level Kazakhstani elites in the construction of a Chinese light rail train in Astana has postponed completion of the project until at least 2025 (Kapital.kz, August 10).
The need to boost economic ties with China has influenced Kazakhstan's delicate approach to allow expanded Chinese usage of the trans-boundary Ile River. The basin contributes about 70 percent of the water inflow into Kazakhstan's Balkhash Lake. Recent discussions on building a nuclear power plant on the lake's shoreline highlighted that its water levels are dropping due to China's increase land development and expansion of the rice fields in the Xinjiang Uyghur Autonomous Region (Inbusiness.kz, September 6). Public anxiety in Kazakhstan regarding the proposed nuclear power plant has led to the promise of a nationwide referendum on the matter, expected to take place in the near future. Although Tokayev has stated that the lake's shallow waters are becoming a critical problem, he has avoided criticizing Beijing on the issue. Instead, he singles out Kazakhstan's weak negotiating position in respect to the general allocation of water resources from its trans-boundary rivers (Forbes.kz, May 5).
Astana has sought to calm the worries of its population by focusing on the mutual benefits of intensified ties with Beijing. Most recently, Kazakhstani society had mixed reactions to establishment of a 30-day visa-free travel plan between Kazakhstan and China. Public sentiments in Kazakhstan feared a significant influx of Chinese nationals and tough competition in the job market (Tengrinews, April 17, Informburo.kz, May 18). In response, Astana announced that both sides would share data on the number of issued visas to avoid illegal migration and dubious labor practices (Vlast.kz, September 20).
The legal status for those holding dual Kazakhstani-Chinese citizenship has also been discussed. Kazakhstani officials have warned that ethnic Kazakhs living in China, who hold Kazakhstani citizenship, would not be free from prosecution if they breached Chinese laws while in China. Some ethnic Kazakhs holding dual citizenship have been persecuted in so-called "re-education camps" in China (Azattyq, April 17). Astana, nevertheless, has continued to silence public activism over this issue, ostensibly in an effort to avoid harming relations with Beijing (Orda.kz, September 6).
Kazakhstan's position in boosting ties with China appears to be relatively weak. Efforts to expand cooperation with Beijing will have to toe the line between capitalizing on Russian weakness and responding to public concerns. A significant lack of popular support for Chinese economic projects and Tokayev's ongoing battle to gain legitimacy at home will likely limit the effectiveness of these efforts for the foreseeable future.