Kazakhstan Downplays NATO's Role in Central Asia
Publication: Eurasia Daily Monitor Volume: 9 Issue: 183
By: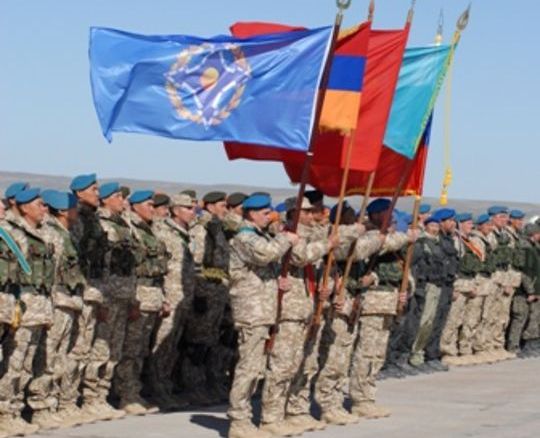 Kazakhstan has recently participated in international military exercises with its NATO partners as well as through the Collective Security Treaty Organization (CSTO) in what at first sight appears to confirm that its multi-vector foreign policy also strongly influences its defense and security policy. Nonetheless, the scope, intensity and seriousness attached to the country's defense and security relations with Moscow and its involvement in the CSTO goes far above the lip service it pays to cooperation with NATO. This critical distinction in Astana's defense policy is amply demonstrated by the country hosting the CSTO's first peacekeeping exercises from October 8 to October 17 (Interfax, October 3; see EDM, September 11).
In early September, Kazakhstan hosted its annual Steppe Eagle military exercise, which provided an opportunity for the United States and United Kingdom to train and showcase the Central Asian country's peacekeeping battalion (KAZBAT). The Steppe Eagle exercise also represented ongoing efforts to fully expand KAZBAT into a NATO interoperable brigade (KAZBRIG). Also in early September, Astana signed a new Individual Membership Action Plan (IPAP) with NATO for 2012 to 2013, representing its third cycle since becoming the first country in the region to join IPAP in January 2006. While NATO officials publicly welcomed this as a step toward deepening cooperation with the Alliance, Kazakhstan's Defense Minister Adilbek Dzhaksybekov was much more circumspect in his comments. Avoiding any political claims concerning the extent of Kazakhstan's defense cooperation with NATO, the minister restricted his recent reflections on the IPAP to developing the country's peacekeeping capacity and making more effective use of the Almaty-based Partnership for Peace (PfP) Training Center (Interfax, September 5).
However, the NATO PfP Center in Almaty is largely symbolic with very little practical impact on Kazakhstan's Armed Forces. Furthermore, the whole project to build peacekeeping forces that can take part in North Atlantic Alliance or UN operations in no sense reflects wider trends or capabilities in the country's military or security structures. The main problem facing KAZBRIG is the lack of expansion of the existing battalion (KAZBAT) into a brigade with three fully manned battalions; currently, only one battalion is fully formed. Linked to this, and inhibiting deployment options as well as the level of input into any future operations, is the lack of sufficient numbers of contract personnel (kontraktniki). A senior officer in Kazakhstan's Armed Forces told the author that Astana aims in the future to achieve a total of 65 percent contract personnel serving throughout the military; this figure would be higher in key formations. Nonetheless, while KAZBRIG remains a shell-like structure that is not properly formed, Kazakhstan's main contribution to the CSTO Collective Rapid Reaction Forces (Kollektivnye Sily Operativnovo Reagirovaniya—KSOR), the 37th Air Assault Brigade, is almost entirely manned by kontraktniki (see EDM, September 11).
Such an apparent anomaly partly underlies the conclusion of a recent survey in Kazakhstan among the country's 35 leading political scientists and international relations specialists, which showed that Astana's cooperation with NATO is considered to be the least beneficial among its multilateral partnerships. These specialists were asked to rank international and regional organizations in which the country participates with scores between one and seven, with the lower end score denoting low benefit. The analysts' list of five international and regional organizations with which Kazakhstan cooperates and that benefit the country politically and economically was topped by the UN (5.57 points), the Shanghai Cooperation Organization (SCO) (5.54 points), the CSTO (5.46 points), the International Organization of Turkic Culture (5.13 points), and the Customs Union/Common Economic Space (5.06 points). NATO scored an abysmal 4.35, even behind the Eurasian Economic Cooperation Organization (4.5 points) (Interfax, October 2).
The apparently low benefit scoring of NATO in this survey could be partly explained by Astana holding full membership in the other organizations while only developing its relations with the NATO alliance through PfP. However, in April 2012 President Nursultan Nazarbayev questioned why the Alliance even exists in the post–Cold War security environment, while later, paradoxically, Astana signed a reverse transit agreement with NATO concerning the use of the Northern Distribution Network to aid the Alliance's withdrawal from Afghanistan (Interfax, October 2; newskaz.ru, April 26).
The low benefit performance of NATO in the survey of Kazakhstan's leading specialists cannot be dismissed as only a public relations setback, since the equally low importance attached to its cooperation with NATO is embodied in Astana's 2011 Military Doctrine. Comparing the 2011 Military Doctrine with the previous version in 2007, it is striking how far back the references to NATO have been trimmed; the latest doctrine mentions such dynamics only while discussing strengthening Kazakhstan's peacekeeping capabilities (2011 Military Doctrine, 2007 Military Doctrine, www.mod.kz).
Clearly it is a noteworthy achievement to sign the new IPAP agreement, but quite another step entirely to meet these goals. The number of areas now regarded as off limits in Kazakhstani-NATO discussions includes anything linked to enhancing naval capabilities in the Caspian Sea, while many themes are restricted by the country's legislation of state secrets. These themes, on the other hand, are unmistakably present in the CSTO's first peacekeeping exercises hosted by Kazakhstan, Nerushimoye Bratstvo 2012, using its Iliyskiy, Shoshkala and Bereg training ranges. The command-staff personnel will rehearse forming a response to a crisis in a "notional" Central Asian state demanding the formation of a collective peacekeeping force; the scenario characterizes this as stemming from the activities of extremists, terrorists and domestic inter-ethnic tensions. The CSTO officially formed a peacekeeping component, at least on paper, in Dushanbe on October 6, 2007; and the agreement entered into force in January 2009. The total number of member states' defense ministry personnel assigned to CSTO peacekeeping is 3,500; however, employees of law-enforcement agencies and emergencies ministry personnel bring the overall total to 4,000 (Interfax, October 3).
None of these developments suggest that Astana will suspend its cooperation activities with NATO. But ahead of the withdrawal from Afghanistan in 2014 there are growing signs that Astana's security policy is distinctly Eurasian, rather than Euro-Atlanticist. Astana's efforts to boost the CSTO and deepen bilateral cooperation with Russia reveal that its defense policy will remain Moscow-friendly for the long term.