Belarus's Foreign Policy: Twists and Turns
Publication: Eurasia Daily Monitor Volume: 9 Issue: 183
By: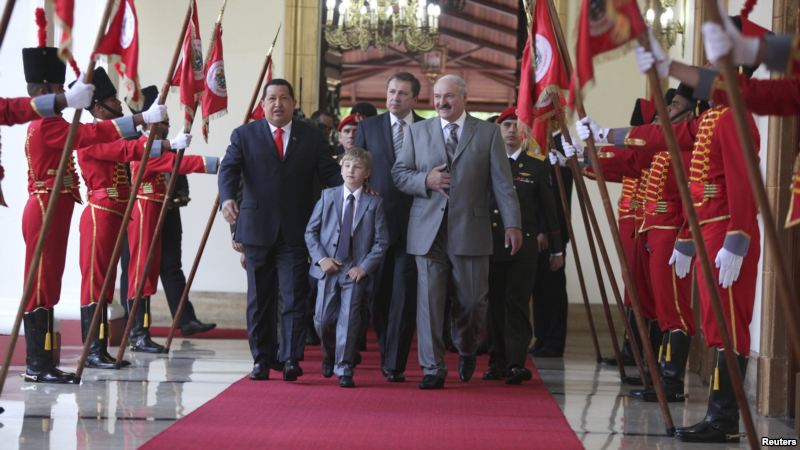 Minsk received bad news and good news this week concerning its foreign policy allies. Shortly after Georgian President Mikheil Saakashvili's United National Movement Party suffered defeat in the parliamentary elections, Venezuela's Hugo Chavez won reelection in Venezuela. Belarusian President Alyaksandr Lukashenka claimed that he was unable to sleep, waiting for the results from Caracas (Belarusian Telegraph Agency, October 8). The comment is revealing about the precarious nature of Belarusian foreign policy, which is marked by many contradictions but essentially has one overriding trend: slowly but inexorably it is being drawn into an orbit that is predominantly, if not exclusively, Russian.
The Belarusian president, according to the traditional Western view, has attempted to strike a balance between East and West—between membership in Russian-led structures and, principally, a relationship with the European Union. In recent years, his efforts have been relatively successful. Thus, in theory, Belarus combined membership in the EU's Eastern Partnership with a Russia-Belarus Union and the Collective Security Treaty Organization (CSTO), as well as the newly formed Customs Union with Russia and Kazakhstan. Such ambivalence allowed Belarus to circumvent some of Russia's most serious demands such as a greater commitment to the CSTO and recognition of the breakaway regions of Georgia.
But the opportunities for maneuver have been undermined by the EU's strong response to the violence in Minsk after the December 2010 presidential elections as well as the Belarusian KGB's continued retention of some 12 political prisoners, including the internationally known human rights activist Ales Bialatski, former presidential candidate Mikalai Statkevich and Young Front leader Dzmitry Dashkevich. They were further limited by the reported transgressions during the September 23 parliamentary elections, which were not recognized as free and fair by the Organization for Security and Cooperation and Europe (OSCE) monitoring group. In an interview with Mir Belarus, Lukashenka accused the EU of applying double standards to Belarus in an attempt to "overturn not only our history but our country as well" (BelTA, October 8).
Lukashenka also maintains that Belarus's efforts to join the WTO, following Russia's accession last August, have been prevented by a "political fence"—i.e. the EU has vetoed its entry, pending the release of prisoners and the introduction of more democracy. The president then undermined his own statement by suggesting that the veto was immaterial since Belarus will now effectively be working within the organization since Russia is its main trading partner (BelTA, October 8). Still, he acknowledged that Belarus, with an export-oriented economy, could not afford to isolate itself from the world. Lukashenka argued that Belarus is being stymied at every juncture by the EU, including Brussels politicians "who do not even know where Belarus is" (Nasha Niva, October 8). On the other hand he has actually promoted such isolation with a continuing refusal to reopen the office of the OSCE in Minsk, which closed 18 months ago (mfa.gov.by, October 4).
A week earlier, in an extraordinary speech to the UN General Assembly, Belarus's new Foreign Minister Uladzimir Makei requested that the international community should "revive the spirit of San Francisco" to deal with current world problems. His reference was to the founding meeting of the UN in 1945 to elaborate the June Charter embracing "multilateralism, justice, and cooperation." But unfortunately, in Makei's view, the promised happy future has not materialized because some countries have failed to recognize the limits of foreign policy goals and alternative forms of statehood. One example has been the economic sanctions placed on Cuba for choosing "an independent path of development." A key tenet crucial for international cooperation is the rule of law; and, in the Belarusian foreign minister's view, no "trendy concepts" like humanitarianism can justify "interference in internal affairs of sovereign states" (UN News Center, October 1). It is easy enough to substitute "Belarus" for "Cuba" in Makei's statement since the analogy is plain. In short, Belarus would like to bolster UN power to ensure noninterference in its internal affairs.
The statement, clearly authorized by the president, reflects Belarus' dilemma. Minsk is at loggerheads with Brussels over human rights issues, but believes that this is a matter for the state to decide. At the same time its participation in EU-funded and sponsored programs like the Eastern Partnership requires more than a token adherence to EU principles. Lukashenka claims that Russia's regime is equally strict and that the EU ignores such issues in Moscow's case because it needs Russian oil and gas. There may be some truth to that assertion. Yet, Russia is not part of the Eastern Partnership. It has not signed an agreement committing itself to internal democracy and human rights. Matters would be simpler if Lukashenka had not used the EU as an alternative to Russia in its quest to forge a middle road between the two. It also reflects Belarus's vulnerable economic situation with high inflation rates and susceptibility to a debt crisis—according to one report Belarus is the third most likely state in Europe to suffer such a crisis after Latvia and Slovenia (novinite.com September 12).
In recent times Belarus has managed to forge alliances within both the Eastern Partnership and externally—most notably with Georgia and Venezuela, respectively. As Belarusian analyst Siarhei Bohdan pointed out recently, Georgian President Saakashvili served as an intermediary between Belarus and the West and maintained the friendship even after the post-election crackdown in Minsk (BelarusDigest.com, October 5). Following the election, Lukashenka stated that he would "act in every possible way" to promote Georgia's return to the CIS (RT, October 4), an astonishing volte-face given that Belarus was part of what at times seemed like an anti-Moscow alliance led by Lukashenka and Saakashvili. Representing an alternative to Belarus's relations with its neighborhood, Anatol Tozik, Deputy Prime Minister and Chair of the Belarus-China Friendship Society, maintained recently that Belarus and China are on the verge of a "strategic partnership" (Belarusian Telegraph Agency, September 26). But although China has often been cited as a potential alternative to Russia, current relations are largely restricted to trade and investment.
Rather, it is the friendship with Chavez that perhaps best encapsulates Lukashenka's worldview—a leader who defies the United States at every opportunity and seems to embrace a neo-Communist outlook. Lukashenka's Belarus is steeped in the past. It continues to adhere to and revere Soviet achievements, war veterans, and the fight to save the world from Fascism in which Belarus played a key role, alongside Russia. Therefore, in Lukashenka's view, external enemies threaten the nation that he is creating in his own image and on his own terms. The Belarusian president is thus a figure of the past, resisting change in all directions, crushing all opposition, but nonetheless becoming increasingly neurotic about the emerging world and his constant quest to find reliable and uncomplaining friends within it.